10 Beautiful Vintage Wedding Invitations
As the saying goes, 'you never get a second chance to make a first impression' so what better way to give your guests a hint of your vintage wedding style than a beautiful invitation? Incorporate hues of your colour scheme, pretty details or retro fonts to reflect your theme and make those first impressions of your special day count.
Need a little inspiration? I've chosen 10 beautiful vintage designs from some of the industry's leading stationers guaranteed to have your guests anticipating your wedding day from the moment they land on their doormat.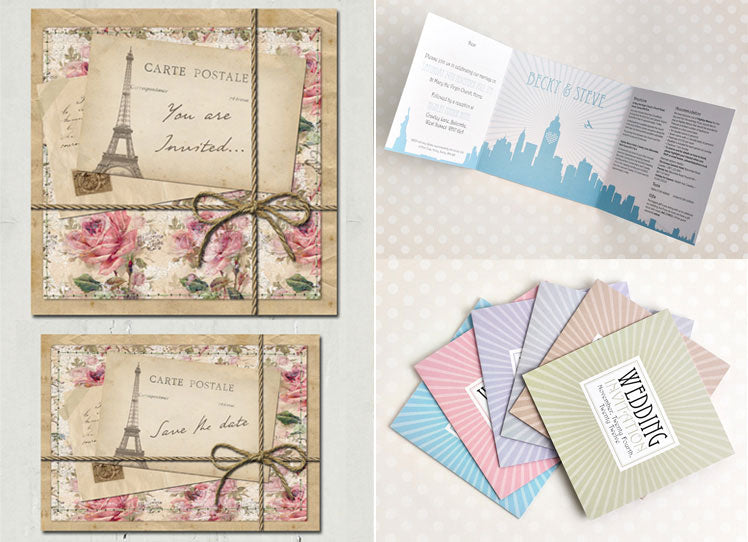 Left: Love Letters by Lucy Ledger | Right: New York by Michelle Fiedler
Sent with Love
Love Letters by Lucy Ledger is a beautiful collection of wedding stationery inspired by a pile of hand tied love letters from written by your adoring beau.  Featuring the Eiffel Tower to incorporate the romance of Paris, this wonderful collection is set against images of vintage rose blooms in hues of pink with a vintage tea stained paper effect.  Lucy has a collection of beautiful, quirky vintage inspired wedding stationery in her Couture Collection which consists of eighteen ranges all beautifully tailored to your requirements.
1920s Art Deco
New York is a stunning range of stationery from Michelle Fiedler.  The perfect invitation if you had a romantic proposal in New York or if you have opted for a 1920s Art Deco wedding theme, these stunning vintage wedding invitations have a fold out design featuring the famous New York skyline and are available in any colour or size to suit your budget.  Michelle has "spent many years in the design world and has a passion for perfection, gorgeous graphics and typography.  She can create everything you need for your special day".
Left: Floral Furrows by Sarah Wants | Right: Vintage Lovers by Bedcrumb
Vintage Charm
Floral Furrows by Sarah Wants.  A beautiful floral design full of the vintage charm of bygone fabrics, Floral Furrows is a stationery range which would complement the prettiest of wedding themes.  Sarah says she is "wildly inspired by the things I see and feel every day, so I love to recreate my country life on paper". Sarah's wedding designs are full of vintage, country charm and feature the most gorgeous details.
Love Birds
The Vintage Lovers range by Heidi Cannon of Bedcrumb are square invitations featuring hand illustrated frames with retro swallows and heart prints swirling over pretty dotty lace backgrounds. They are beautifully hand finished with a pink satin ribbon bow and a small swallow charm.   Bedcrumb feature a beautiful range of wedding stationery full of vintage elegance including love birds, tea party treats and antique roses.  "All the unique prints for bedcrumb stationery, cards and textiles are taken from Heidi's original scribblings with each product made with love and attention to detail in the UK".
Left: Margaret Suite by Rose and Ruby | Right: Red Carpet by A Bird and A Bee
Country Charm
The gorgeous Margaret Suite range by Rose and Ruby is full of vintage inspiration.  Featuring vintage floral garlands with ribbon detailing and ornamental bow monogram in gilt on beautiful blush pink card, these fabulous designs are perfect for a country garden event or pretty city wedding.  Rose and Ruby pride themselves on "marrying all of the influences that inspire them and all of the things that they adore; classically beautiful and timeless design combined with just a hint of modern pretty" – all of which ensures they design and create beautiful wedding stationery.
Hollywood Glamour
Red Carpet Invitations by A Bird and A Bee are vintage style cinema themed invitations and are designed to look like an old film poster.  The perfect stationery for film-lovers or 1940s Hollywood themed weddings.   A Bird and A Bee have a "'Very Vintage' collection of wedding invitations & stationery which draws its inspiration from bygone eras & evokes such themes as the golden age of cinema, seaside jaunts, incredible journeys and good old fashioned romance. Our designs feature vintage typography & classic illustrations from the 1920's, 30's & 40's for a timeless look".
Left: Vintage Flourish by Russet and Gray | Right: A Bespoke Design by Lemon Pie
Vintage Flourish
Vintage Flourish designed by Sarah Fawkes at Russet and Gray is a rustic and natural wedding stationery range designed using a decorative flourish and traditional typography.  This range looks gorgeous when made by hand on rustic kraft card and here is finished with a lace effect wrap hand tied with rustic twine.  Russet and Gray specialises "in bespoke wedding invitations and stationery. We have designs to suit all manner of wedding themes…whimsical pretty and floral, bold and modern, vintage, rustic, quirky or traditional".
Bespoke
Natalie at Lemon Pie Design is obsessed with design, colour, pattern and typography and her aim when creating new designs is to offer you something that is super-stylish, modern and chic.  I am sure you will agree that Natalie's fabulous wedding invitation above is full of vintage charm with a "bicycle made for two!"  A unique, bespoke design this fabulous invitation is quirky and, I am sure, carries a special message to guests from the Bride and Groom.
Left: Lace hand-crafted invitation by Inspired by Lisa | Right: Eleonora Suite by Rose and Ruby
Lace
This beautiful hand-crafted invitation by Inspired by Lisa features beautiful lace and ribbon detail with faux pearls and a satin ribbon tied tag with the bride and groom's names and wedding date.  A perfect invitation if the bride's gown and accessories feature pearl details.  Lisa says their mission at Inspired by Lisa is "to produce stationery of the highest quality, focusing on both design and crafting skill.  It is of the utmost importance to us that all of our customers get the individual attention that they deserve".
Classy and Timeless
Eleonora Suite by Rose and Ruby is an extremely elegant, chic hand-scripted monogrammed design backer print and a subtle gold border finished with a sophisticated black ribbon.  Classy and timeless, these beautiful vintage style wedding invitations would be perfect for a glamorous 1940s Hollywood style wedding where you can imagine your guests in black tie and full length gowns.