10 Dessert Tables to Wow Your Wedding Guests
Wedding trends come and go but we think the dessert table will be a firm favourite for years to come. Who can resist the prospect of a cake banquet with a sponge to suit every taste? Dessert table staples include a classic Victoria sponge, a dark rich chocolate cake and a selection of colourful macaroons and cupcakes. Why not ask your wedding party to bake their favourite cakes or hire a local baker to whip up a whole table of sugary treats that complement your wedding décor. With a full menu of delicious desserts on display your guests are guaranteed to go home happy. Our mouths are watering already!
Autumn bunting – Decorate your decadent sweet table with some hand-made bunting using ribbon and burlap to accentuate the rustic feel of your wedding. Before the wedding gather your bridesmaids together and get them involved in cutting triangles and letters for your customised cake bunting. Maximum impact for minimal effort.
Go miniature – Everything is cuter in miniature isn't it? We can't resist bite-sized sweet treats and think they're perfect for brides with the awkward combination of a sweet tooth and a figure hugging dress. Plus they can be nibbled after the ceremony and you'll still have room for dinner.
Take things outside – Eating cake al-fresco can be challenging particularly if the sun is shining and a persistent wasp takes a liking to your icing. However, we love the idea of setting up shelves or ladders stacked with cake and asking guests to help themselves. It also means there's no shame going for a second helping!
Say it with flowers – Covering your dessert table in flowers is a quick and easy way to decorate surplus space and create an abundant arrangement. The trick is to keep your flowers out with cake cutting distance so that guests avoid squashing the blooms as they slide out their slices.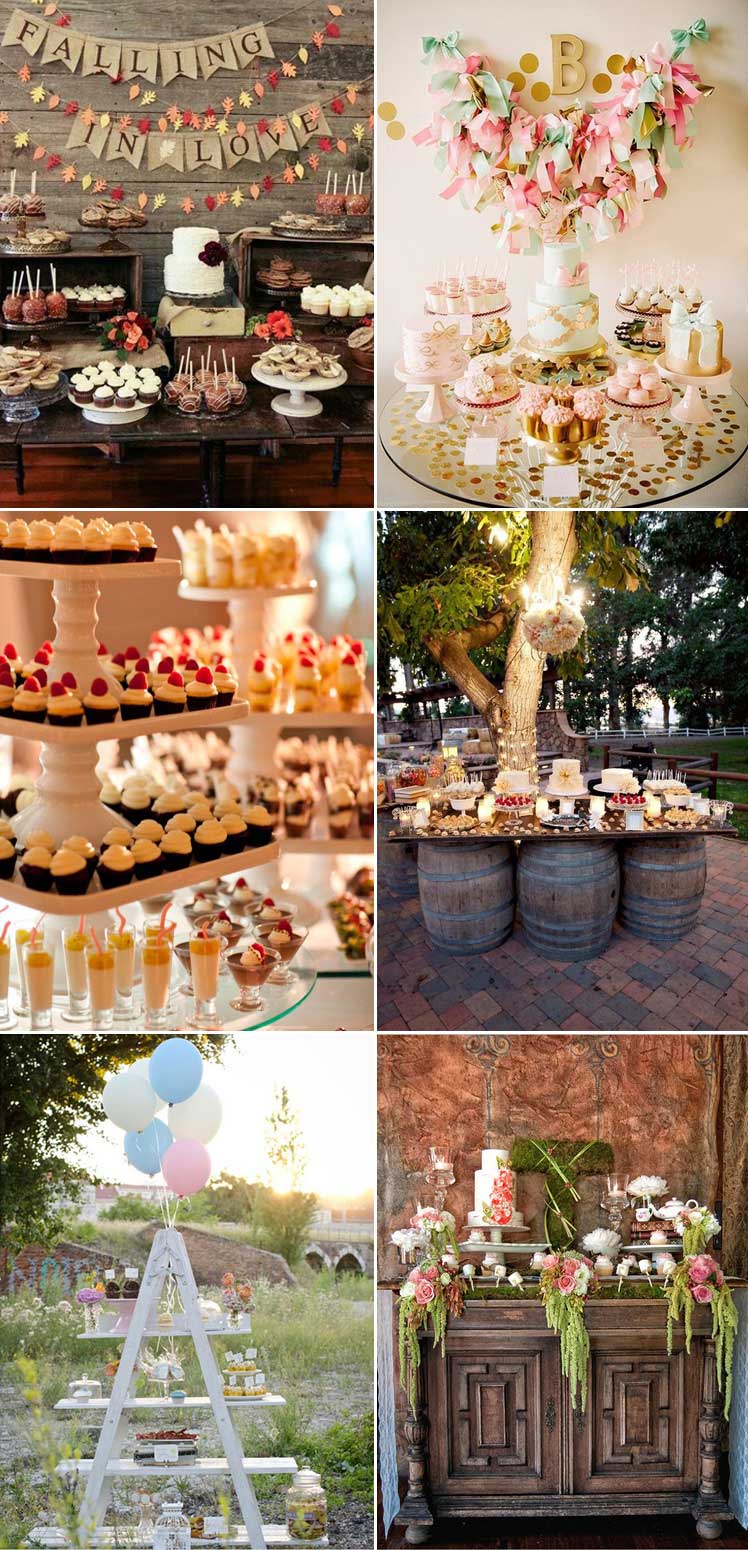 Images: Top Row – via Wedding Chicks | Middle Left – via Inspired by This | Middle Right – via Exclusively Weddings | Bottom Row –  via Wedding Chicks
Fans of vintage décor will have spotted a myriad of upcycled furniture being used at weddings in recent years. The height and width of a classic vanity table or dresser lends itself well to a pretty display of cake and flowers. What's more the drawers can function as spaces for cutlery and napkins.
Stay neutral – When it comes to weddings sometimes monotone is best (granted not during the speeches). Keeping cake simple with a tonal arrangement allows guests to focus on flavour rather than being distracted by rainbow colours.
Make a backdrop – Creative brides will have spotted a huge range of DIY backdrops whilst browsing the internet. One of the easiest ways to create impact on a budget is to fold multiple colours of card into circular fans and glue together to create a temporary background that compliments the colours of your dessert table. The background can even be used for some of your wedding photographs to introduce an alternative style to your snaps.
Images: Top Left – via the Cake Blog | Top Right – via Wedding Chicks | Second Row Left – via Style Me Pretty | Second Row Right – via Story Board Wedding | Third Row – via Exclusively Weddings | Bottom Row – via Wedding Chicks
Simple symmetry – The human eye responds well to symmetry, in fact some of the most attractive people in the world have the most symmetrical faces. With this in mind arrange your dessert table as a mirror image with your largest cake in the middle moving out towards smaller cakes and macaroons.
Pick a colour – If your wedding features a very prominent shade ask your cake designer to incorporate it into your dessert table with an accent colour pop on each cake. This will instantly tie your cake table into the rest of your wedding and make for Instagram worthy photographs!
Props – If your wedding has a particular theme or you are following a particular era, props on your dessert table are a must. Include a vintage suitcase and an old fashioned set of scales to display your mouth watering desserts. Making it look unique will entice your guests to indulge in a sweet delight.