10 Manicure Ideas to Make your Cocktail Ring Rock
Glitzy Secrets have a stunning collection of vintage-inspired cocktail rings. From striking emerald gems to antique jewels, there's a ring to suit every style, season or occasion. Find out how you can compliment your cocktail ring with the perfect manicure. Grab a cosy cupper and get ready to be dazzled…
1 Blush Petals Cocktail Ring
The Blush Petals Cocktail Ring is effortlessly beautiful and it's a must-have addition to your jewellery collection. Rose gold is perhaps the prettiest metallic shade out there, so use it as inspiration for a chic and feminine manicure. A combination of blush pink polish with shimmering rose gold detailing will look oh-so-fabulous – perfect if you're a girly girl at heart.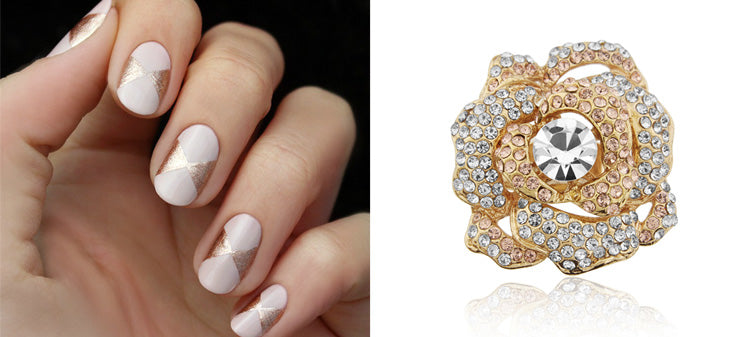 Manicure image via Lulus.com
2 Heirloom Drama
Classic, dramatic and seriously smouldering – we're talking about the Heirloom Drama Cocktail Ring.  When it comes to your manicure, I suggest rocking this ring with jet black polish for a simple yet stylish look. I also love the idea of using the vintage design as inspiration for your nails, so why not opt for black lace detailing? It'll fit in flawlessly with the Victorian style and you'll look absolutely exquisite.
Manicure image via Marine Loves Polish
3 Statement of Deco
Turn heads with the Statement of Deco cocktail ring. The combination of clear, emerald crystals makes for a fabulous addition to any outfit. Keep it chic with a sleek black manicure, or add a dash of sparkle with silver nail art. Perhaps paint your fourth fingers in a striking emerald green shade for a look of luxury.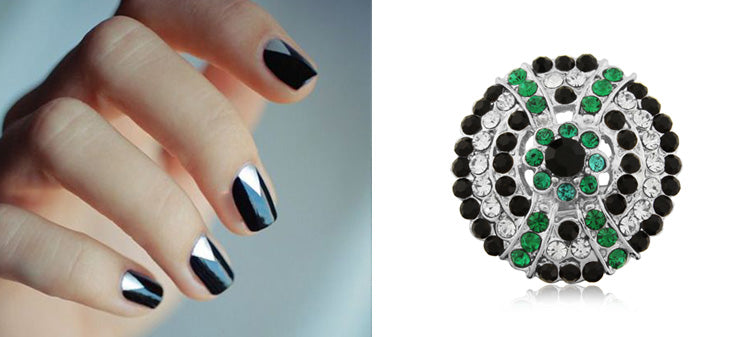 Manicure image via Fashionsy.com
4 Gatsby Drama
Channel your inner Daisy Buchanan with the Gatsby Drama Cocktail Ring. It's luxurious, decadent and completely glamorous. For an extra dose of drama, opt for an Art Deco inspired manicure with a black and gold finish.
Manicure image via Beauty Darling
5 Hollywood Starlet
Inspired by the late 1940s, the Hollywood Starlet Cocktail Ring is the perfect choice if you're in love with a glamorous vintage vibe. Watch it sparkle in the sunshine or as you sip champagne at a glamorous soiree. When it comes to your manicure, step into the spotlight and team it with hot red nails and a statement red lip. Gorgeous!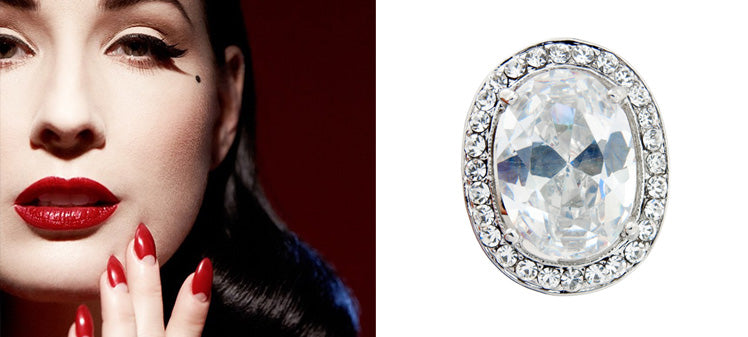 Manicure image via Byrdie
6 The Blues
It's impossible not to swoon over The Blues Cocktail Ring. The striking cobalt blue hues can transform any outfit – whether you want to wear it day or night, Summer or Winter. With a heavenly combination of jet black, silver and midnight blue jewels you're spoilt for choice when it comes to picking the perfect manicure. Wear alongside chic black nails or go all out with a cobalt and navy blue polish.
Manicure image via We Heart It
7 Precious Rocks
Sparkle your way through the day with the show-stopping Precious Rocks Cocktail Ring. You can never have too much glitz and glamour, so use the abundance of crystals as inspiration and pair it with a sparkling silver manicure.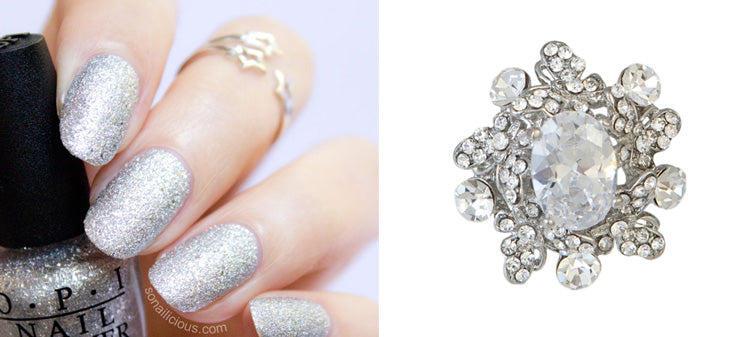 Manicure image via SoNailicious
8 Heiress Rocks
If you're a self-confessed magpie (I admit, I am) then you're going to adore the Heiress Rocks Cocktail Ring. The statement yellow cubic zirconia is surrounded by super sparkly crystals – every girl's dream! Yellow and silver are the perfect ingredients for a gorgeous manicure that you'll want to show off. An understated grey polish is perfect for wearing during the day, but I just love the thought of a dazzling silver shade to take you through into the night.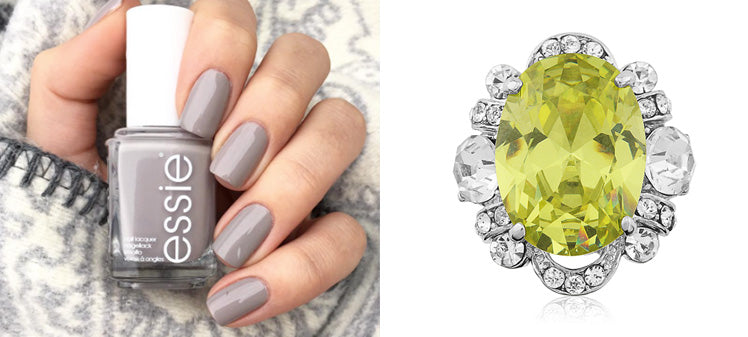 Manicure image via Essie
9 Rose of Treasure
The Rose of Treasure Cocktail Ring is the epitome of vintage elegance and it's the perfect opportunity to flaunt your manicure! Wear a chic matte grey nail polish during the day, but rock a metallic shade for a show-stopping statement in the evening. The contrasting metallic colours will make the pearl strand out beautifully.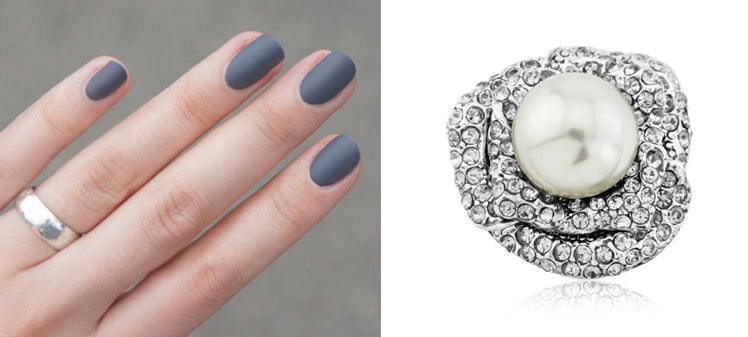 Manicure image via Into Mind
10 Vintage Glamour
A metallic manicure is an absolute must-have when it comes to the Vintage Glamour Cocktail Ring. Whether it's gunmetal silver or antique gold, it's going to look gorgeous against the drama of this cocktail ring. If you want to keep your nails simple, a nude polish will look equally beautiful with a subtle glimmer of gold – a fabulous fit for the festive season!
Manicure image via Sometimes Sweet