10 Wedding Centrepieces with the Wow Factor
Centrepieces might not be your biggest wedding priority but table dressings make such a difference to the look of your reception room. Well considered designs add a focal point to the table without getting in the way of guests and complete the overall décor by connecting each place setting together in a common theme. When it comes to choosing your wedding centrepieces, the options are almost limitless; from candelabra to birdcages & lanterns setting the scene. With so much choice, we've created a list of the 10 most beautiful and totally elaborate wedding centrepieces. Some of these may seem extravagant but there's no denying they certainly have the wow factor! And the best part? They can be paired down to suit your taste and budget, and still look stunning.
Candelabras and Candles
Bathe your wedding venue in golden candlelight with carefully placed glass cylinders either as part of a candelabra or on their own placed carefully at intervals along a long table. White or ivory church candles often have the most impact despite their simplicity. Dim the venue lights and compliment the candlelight with arrangements of fresh white roses and crystal glassware for a truly elegant affair.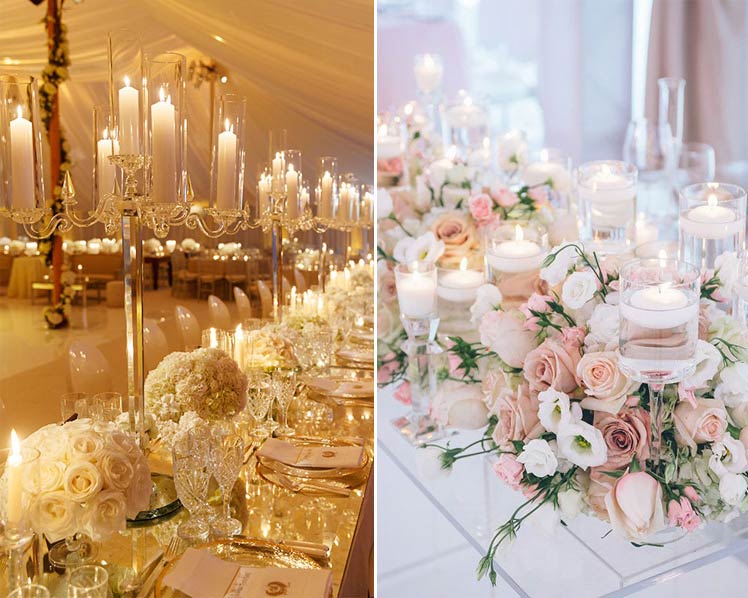 Images: Left via Colin Cowie Weddings | Right via Wed Luxe
Bring Nature Inside
Brighten up a minimal room with a touch of the natural world. Many couples bring the outside inside by using branches, ferns and foliage within their wedding centrepieces. If greenery isn't your thing, pick up some good quality faux silk flowers and attach them to stripped branches for a sleeker take on the natural look. For a finishing touch, hang strings of crystals across the branches and let them cascade down to the table below.
Images: Left via Fuscia Designs | Right via Wedding Ideas Magazine
Shaping Up
We were confident that umbrellas had never inspired centrepieces until we spotted a truly ethereal ivory shaped umbrella with a shower of crystals and flowers falling from its edges. Forming a fresh white canopy above the table beneath, this type of focal point will certainly get guests talking and is elevated enough to allow conversation across the table itself. Don't be afraid to try unique shapes like domes and curved canopies when ordering your centrepieces.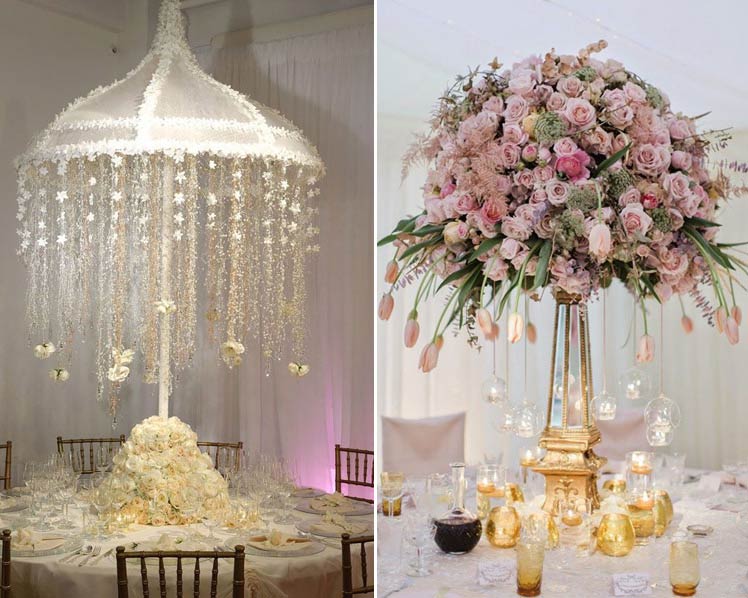 Images: Left via Preston Bailey | Right via Belle Magazine
Vibrant Colour
Sometimes a vibrant colour grouping can have the most impact when paired with neutral props. Roses are a classic favourite and have wonderful presence when gathered together on pedestals with tall gold urns. A subtle tonal range of coloured flowers contributes to the luxurious and opulent feel of an arrangement like this where the warmth of the metallic colours makes the bright shades pop. A red or purple and gold mix is the perfect choice for a winter wedding whilst lilac and pale pink can feel fresh in springtime.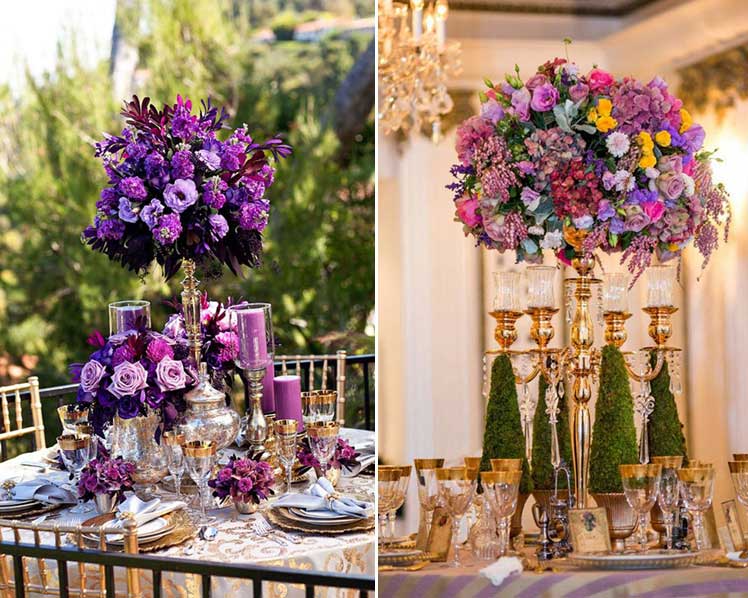 Images: Left via Belle Magazine | Right via Mod Wedding
Falling Flowers
It's easy to follow routine when it comes to centrepieces but we say step outside your comfort zone and think of flowers as props that will add a whole new dimension to your venue décor. Falling flowers have become popular as brides become more daring with their arrangements. Consider having your flowers cascading off the edge of tablecloths or floating upside down and arranged in a chandelier form. Allow your guests to really appreciate the flowers themselves by creating tactile arrangements that encourage discussion and admiration.
Images: Left via Cecilia Fox | Right via Style Me Pretty