15 Of The Most Beautiful First Look Wedding Photos
We all know that weddings are always full of emotion. From the moment you wake up until the moment you finally go to sleep at the end of a life-changing wedding day, you're riding an emotional rollercoaster and it is simply fantastic. Now, there's a new trend sweeping through the wedding world that's adding a whole new layer of emotion to your wedding day and that's the 'first look'.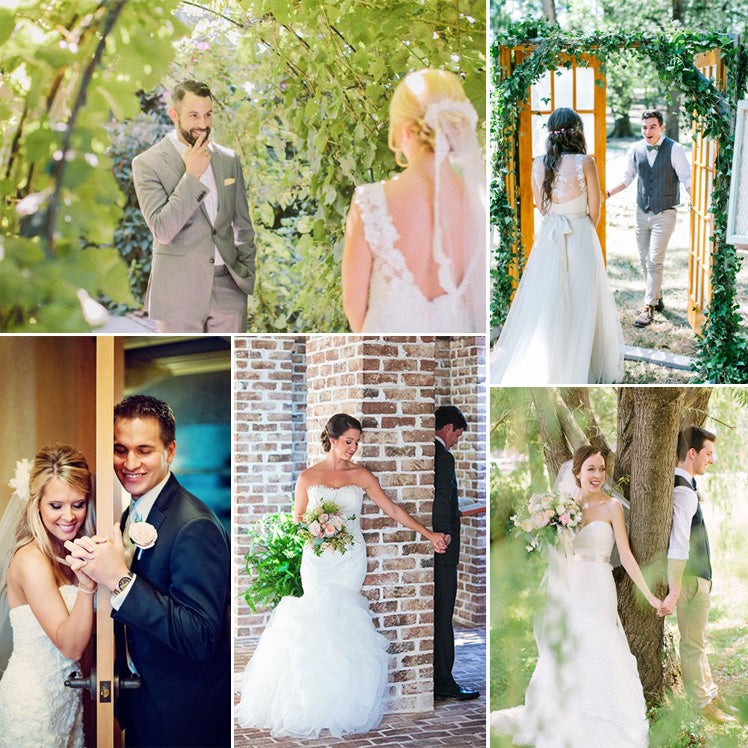 Images: Top Row Left via The Knot | Top Row Right via Ruffled | Bottom Row Left via Weddings by Scott and Ana | Bottom Row Middle via Brides | Bottom Row Right via Brides
The 'first look' has come to us, as so many new wedding ideas do, from the US. Instead of the bride and groom first seeing each other in front of all their guests at the start of their ceremony, they meet in private first for a 'first look' at each other in wedding garb. It's a moment for an exchange of words, an incredibly special kiss and all kinds of emotions. The 'first look' can be fun, it can be heartmeltingly beautiful and it could be part of your wedding day. So, whilst we share some of the fabulous 'first look' images that have made us smile and swoon, let's explore the reasons why you might choose to include a 'first look' in your day.
UK wedding tradition dictates that the bride and groom don't see each other from the night before the wedding until the moment the bride begins her walk up the aisle towards her groom. Lots of couples love the delicious sense of expectation that builds throughout the day until the moment when the music swells and the ceremony starts. We've all seen the images of grooms unable to take their eyes off of their beautiful brides at the moment and they're always wonderful.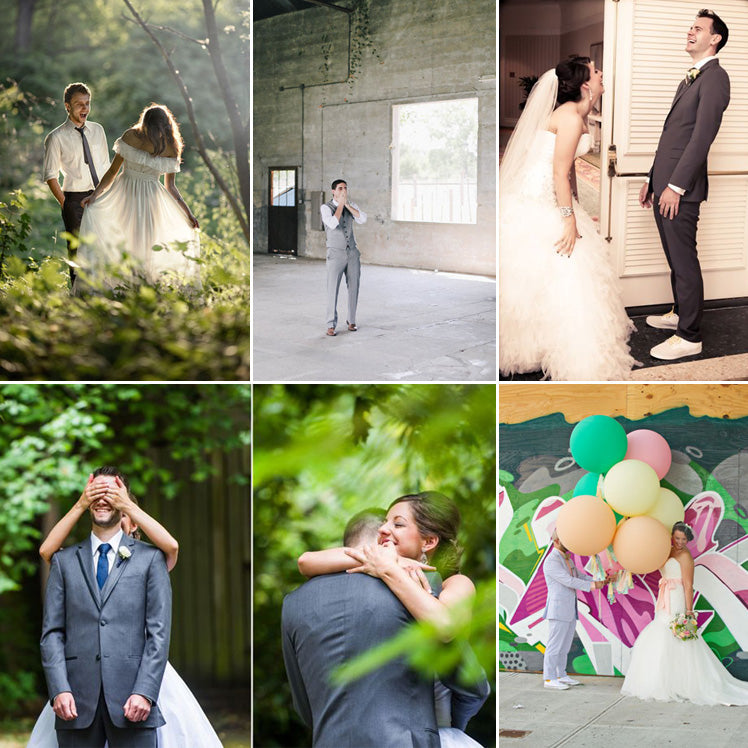 Images: Top Row Left via 500px | Top Row Middle via Style Me Pretty | Top Row Right via Bridal Guide | Bottom Row Left and Middle via The Knot | Bottom Right via Offbeat Bride
But now, just imagine that you could share this unforgettable moment in private, just the two of you, without the all of your guests trying to capture the moment on their camera phones or the music in the background or any other distraction. The 'first look' gives you this unrepeatable moment in a way that's most perfect for you. Peeking around a door, hidden behind balloons or walking down stairs towards your groom – this is an experience that's just for you two.
A 'first look' can often make the wedding ceremony itself easier and more memorable. Having seen your husband to be in private before seems to dispel so many nerves for brides that they can then relax and enjoy the ceremony more. Your guests still experience the thrill of seeing you for the first time, you and your groom have shared a secret moment together and you can be reassured with a kiss and a hug, the like of which I'm sure you'll never have seen before!
Images: Top Row Left via Style Me Pretty | Top Row Right via The Knot | Bottom Row Left via Bridal Musings | Bottom Row Middle via Elizabeth Anne Designs | Bottom Row Right via Andria Lindquist
However, a 'first look' does need a little planning. You need to make sure that this experience is private and there's no chance of a guest blundering into a deeply personal moment if you don't want them there. A 'first look' also takes time so you'll need to adjust your timings to give yourselves another half an hour time before your ceremony. Registrars would need to know your plans so that you can still see them before the ceremony to complete the formalities and of course, your photographer and videographer will need to work out the best spot for them so they can capture the moment without intruding. So a 'first look' can't really be an impulse thing. It needs a some planning to make it magical.
Ultimately, whether or not you choose to have a 'first look' is completely your decision – don't be swayed by family pressure, wedding trends or anyone telling you 'it's bad luck'. Out of all the millions of people in the world, you two have found each other so you've already got all the luck you need and few extra special moments together on your wedding day could certainly be something to cherish.