15 Of The Most Lavish Wedding Cakes Ever
We all love a great wedding cake and for some couples, the cake is the absolute centerpiece of the day. Over the last few years, increasingly intricate and super-sized cakes have been appearing at weddings. Is our love of the showstopper bake influencing our choices? Is cake taking over? Are these some of the most lavish wedding cakes ever? Let's indulge…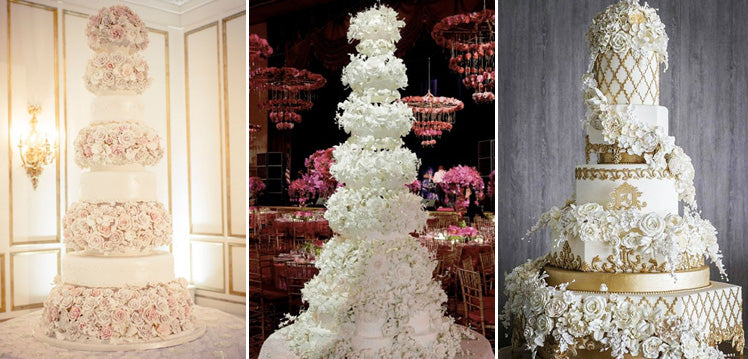 Images: Left via Style Me Pretty | Middle via Most Luxurious List | Right via LeNovelle Cakes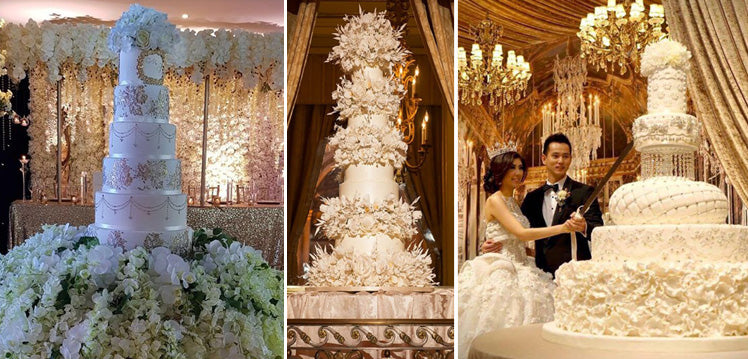 Images: Left via Asian Wedding Cakes | Middle via Sylvia Weinstock Cakes | Right via Deer Pearl Flowers
So where does the trend for lavish cakes come from? Well, you can actually trace it back hundreds of years when weddings were, in some ways, even more important than they are now. Back then, marriages weren't just about the couple, they were about families joining together, displays of wealth and much more besides. The wedding feast was a chance to impress your community and the wedding cake itself was right at the centre of all that.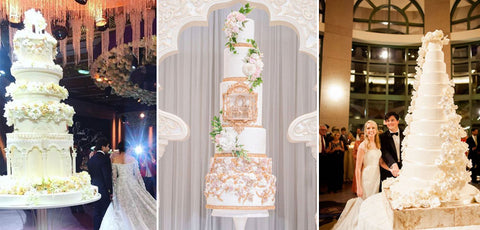 Images: Left via Refinery 29 | Middle via Fab Mood | Right via Southern Weddings
As sugar was so incredibly expensive, being able to afford enough 'white gold' to make a big wedding cake was a way to tell everyone how well you were doing without actually having to spell it out. White iced cakes were the pinnacle of the wedding world at the time and in some ways, they still are.
Images: Left via Preston Bailey | Middle via Pinterest | Right via Flickr
Lavish wedding cakes have always remained popular in some cultures and we're starting to see more of them. Whether we're being influenced by our own family histories and connections, our travels or the images that we're seeing online (not to mention our obvious love of cake!), lavish cakes could well the be coming trend.
Of course, with another Royal wedding taking place here in the UK, it's likely we'll be seeing plenty more lavish cakes in the not too distant future. Royal families around the world all adore a decadent wedding cake so we'll be watching carefully to see what confection Meghan and Harry opt for this spring. With the world's best cakemakers waiting for their call, we can be sure it'll be brilliant!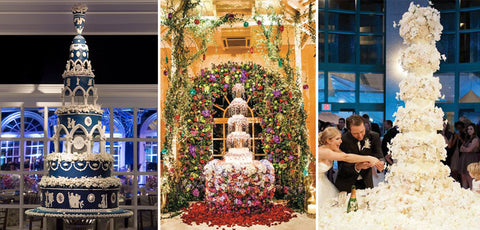 Images: Left via Deer Pearl Flowers (as before) | Middle via Brides Magazine | Right via Deer Pearl Flowers (as before)
If you're planning on going all out with a lavish cake for your own wedding, here's our guide to the essential design features that your impressive bake just has to include:
Lots of layers – lavish wedding cakes need to be BIG. Instead of limiting your design ideas to three tiers, remember that the sky is, quite literally, the limit. Bigger is better but, if you don't want to be eating cake for months to come, include fake tiers to make up the bulk of your design!
Decorations need to be impressive. Thousands of sugar flowers, crystals, intricate motifs and details should all be included.
Colour can be another essential. Think golden gilding and personal monograms for the ultimate look or opt for coloured flowers if you prefer.
Even the staging of your lavish wedding cake needs to be impressive. Flowers filled tables, amazing backdrops, lights or grand tables can all work. No one puts this cake in a corner!
However, as with ALL wedding cakes, the taste is the most important thing so whatever cake you choose for your big day, don't forget to sample lots of cake before you decide on your final design!