15 Swoon-worthy Destination Wedding Venues
I might have only just returned from honeymoon but these amazing wedding destinations have got me dreaming of my next trip abroad. Whether you want a beach wedding or a stylish city break, take a look at some of my favourite destination wedding venues.
Ponte Vineyard Inn – California, USA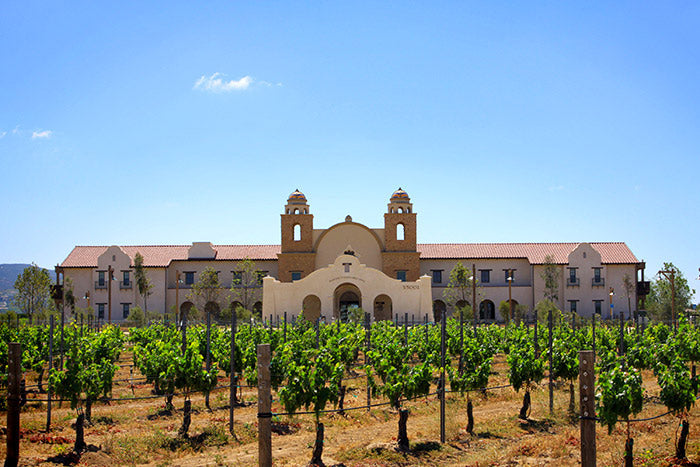 Image via Ponte Vineyard Inn
If you love wine as much as I do then a vineyard could be a perfect venue for you, this Californian vineyard is stunning! If you are looking to travel long haul for your wedding then take a closer look at this gorgeous location.
Belmond Hotel Caruso – Amalfi Coast, Italy
Image via Belmond
This luxury wedding venue is a former 11th century palace set on stunning cliffs along the Amalfi coast. With sun-drenched terraces, manicured gardens and coastal views, it is the perfect wedding venue for a dreamy Italian escape.
The Oberoi Udaivilas – India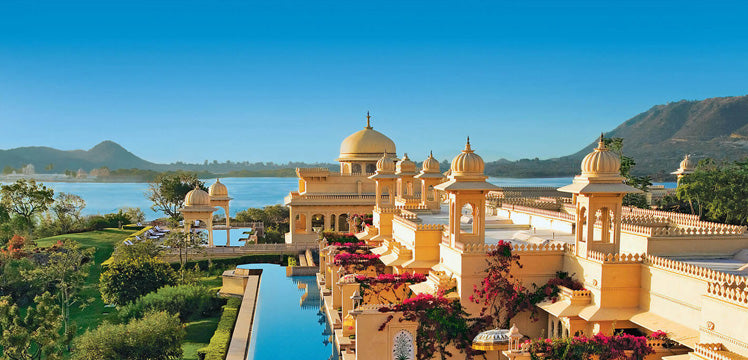 Image via Oberoi Hotels
This picturesque wedding venue is located along the Pichola Lake in India and is a peaceful and tranquil location for a chilled out wedding day. The venue is made up on a series of domes and gives you the feeling of a stunning palace – perfect if you want to be a princess for the day!
Dana Villas – Santorini
Image via The Bridal Consultants
It's no wonder that Santorini is one of the most popular locations for a destination wedding – this Greek Island has to be one of the most beautiful destinations in the world. Just a few minutes' walk from the capital of the island you will find the Dana Villas. With room for up to 60 guests and a panoramic views it's an amazing place to say 'I Do'.
Hotel De Glace – Quebec, Canada
Image via Hotel de Glace
A wedding abroad doesn't have to mean a wedding at a beachside location. Feel like Princess Elsa from Frozen for the day by marrying at the spectacular Hotel De Glace in Quebec – complete with an amazing icy aisle and a honeymoon suite with a bed made of ice.
George Peabody Library – Maryland, USA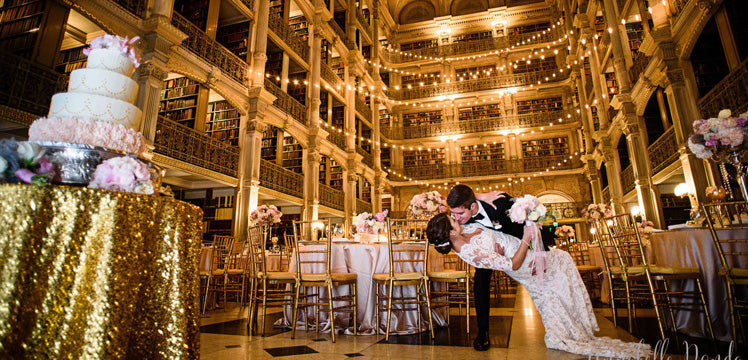 Image via Peabody Events
Lovers of literature will completely fall for this stunning library wedding venue in Maryland, USA. Couples can hold the most spectacular wedding reception in this gorgeous setting complete with high ceilings and thousands of leather bound love stories.
New York Botanical Gardens – NYC, USA
Image via NY BG Events
The New York Botanical Gardens is just as beautiful inside as it is outside. If you love the idea of a chic New York wedding day then this sophisticated venue will suit your style perfectly.
The Oberoi Hotel – Bali
Image via Oberoi Hotels (as before)
If you are searching for the perfect tropical location for your big day the head to Bali for a dreamy and romantic trip of a lifetime. The Oberoi Hotel in Bali is located on the fashionable Seminyak beach and the grounds are dotted with Balinese Temples that will look stunning in your wedding pictures.
Kuramathi – Maldives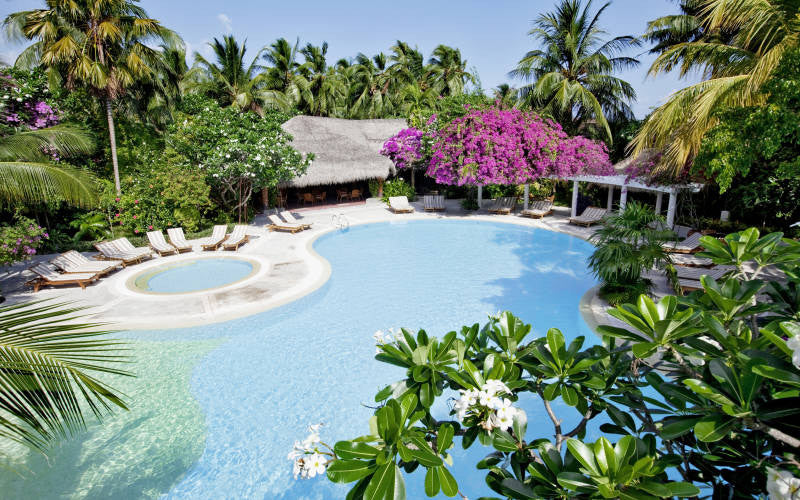 Image via Kuramathi
A popular island with newlyweds, Kuramathi in the Maldives will be the perfect place for your wedding ceremony, you can then continue your stay and head straight into your honeymoon where you can enjoy snorkelling, a sunset cruise and a selection of amazing restaurants. It's just worth remembering that you can't legally marry in the Maldives so you would need to have the legal side of your marriage before you head out for your blessing.
The Fairmont Chateau Lake Louise – Alberta, Canada
Image via Fairmont
Whether you are planning a destination wedding in the summer or the winter, Chateau Lake Louise will be a picture perfect location. During summer the vibrant blue lake will be absolutely stunning in your wedding photos. In the coldest winter months you could even get married on the lake as it freezes solid.
Sensatori Resort – Ibiza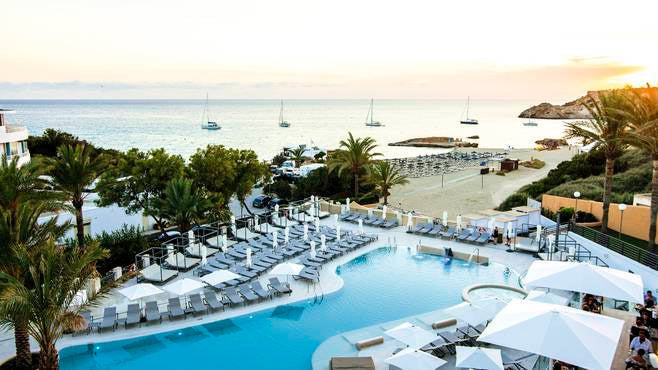 Image via Thomson
Ibiza's not just about all night parties and day long hangovers by the pool! This stunning location is a short flight for you and your guests and you are pretty much guaranteed the sunshine! The Sensatori Resort will be a perfect wedding venue where you can hold your ceremony and then relax and enjoy the sunshine.
Domaine De Verchant – South of France
Image via Domaine de Verchant
This beautiful 18th century French mansion is surrounded by vineyards and has its very own glass walled spa which is perfect if you want your wedding venue to also be a place of relaxation. This venue can hold up to 150 guests so ideal if you are planning a larger wedding abroad.
El Cortijo De Los Caballos – Spain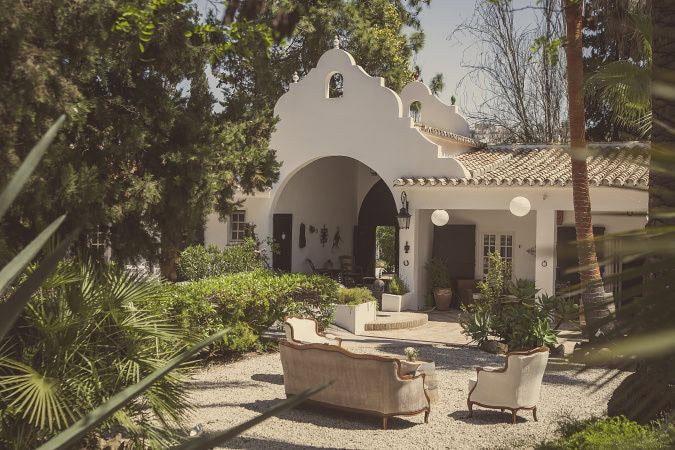 Image via Wedding Venues in Spain
Spain is a great choice if you are planning a wedding abroad that won't break the budget and it will just be a short flight for your family and friends to travel. This picturesque little venue is just a ten minute drive from Marbella and a five minute drive to beautiful beaches. The venue sleeps 28 guests so ideal for more intimate weddings.
Vaux Le Vicomte – France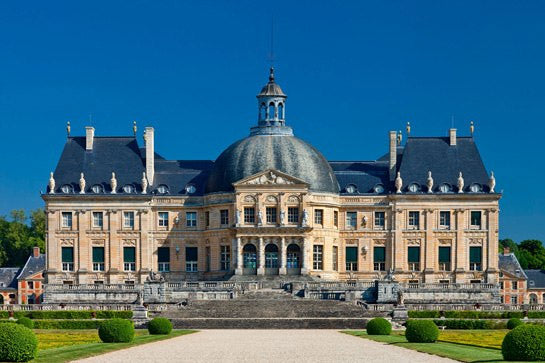 Image via Vaux le Vicomte
This 17th century baroque French chateau is a destination wedding venue with real wow factor – if you are looking for a luxury wedding venue that will wow your guests then this is it!
Coral Sands Hotel – Bahamas
Image via Coral Sands
When you picture a wedding abroad, you think beaches, palm trees and crystal clear waters – and this is exactly what you get with the Coral Sands Hotel. They have their own team of specialists who will work to help you create your dream wedding.