15 Wedding Ideas Your Guests Will Appreciate
Of course your wedding day is all about you and your relationship but it's also an excuse to lavish the love on your guests. Oh yes, your friends and family are the people that make your big day come alive so it's always so great to include a few touches that really show them just how important they are to you. If you're in the midst of planning and want to make your day special for your guests, here are 15 ideas that your guests will appreciate…
Good information – now this one sounds so simple but to be able to relax, guests need to be able to plan. Include some information with your invitations that will help them do just that – accommodation options, taxi numbers, maps and more, all these things will definitely be appreciated before the day even starts.
A warm welcome – no one likes arriving at a party and feeling uncomfortable so make sure that groomsmen are on hand to welcome guests and point them in the right direction from the start.
Images: Top Row Left via Southbound Bride | Top Row Right via Every Last Detail | Second Row Left via Aisle Society | Second Row Right via Darling Don't Panic | Third Row Left via Rock My Wedding | Third Row Right via Intimate Weddings | Bottom Row Left via Weddingomania | Bottom Row Right via The Wedding Scoop
Personalised treats – anything that shows you've thought about each guest and have done something special for them rather than just falling back on generic products is always going to win you lots of brownie points!
Comfort baskets – we all go to weddings with a few essentials in our bags but without so much that we might need. A little basket containing emergency essentials is a great touch.
Prompts – you know your wedding plans inside out but your guests don't. A few visual prompts telling them what's happening when or where they need to go will make everything much easier.
Practical treats – whether you give your guests flip flops, sunglasses or fans, practical treats that make life that much more comfortable definitely make guests smile.
Spot-on speeches – nothing kills the atmosphere at a wedding quite like speeches that don't hit the mark. Make sure that they're not too long, too rude or too dull. Yes, it's a tough thing to get right but every guest will love you if you can manage it.
Display guest books – most guests put a lot of thought and care into completing your guest book and when they know that you want to display their words after the big day, it becomes even more meaningful.
Entertainment options – not everyone likes the same thing so giving guests different ways to get into the party spirit will ensure that everyone has a great time. Races and lawn games are fun for younger guests while older guests might appreciate things they can do from a comfortable chair.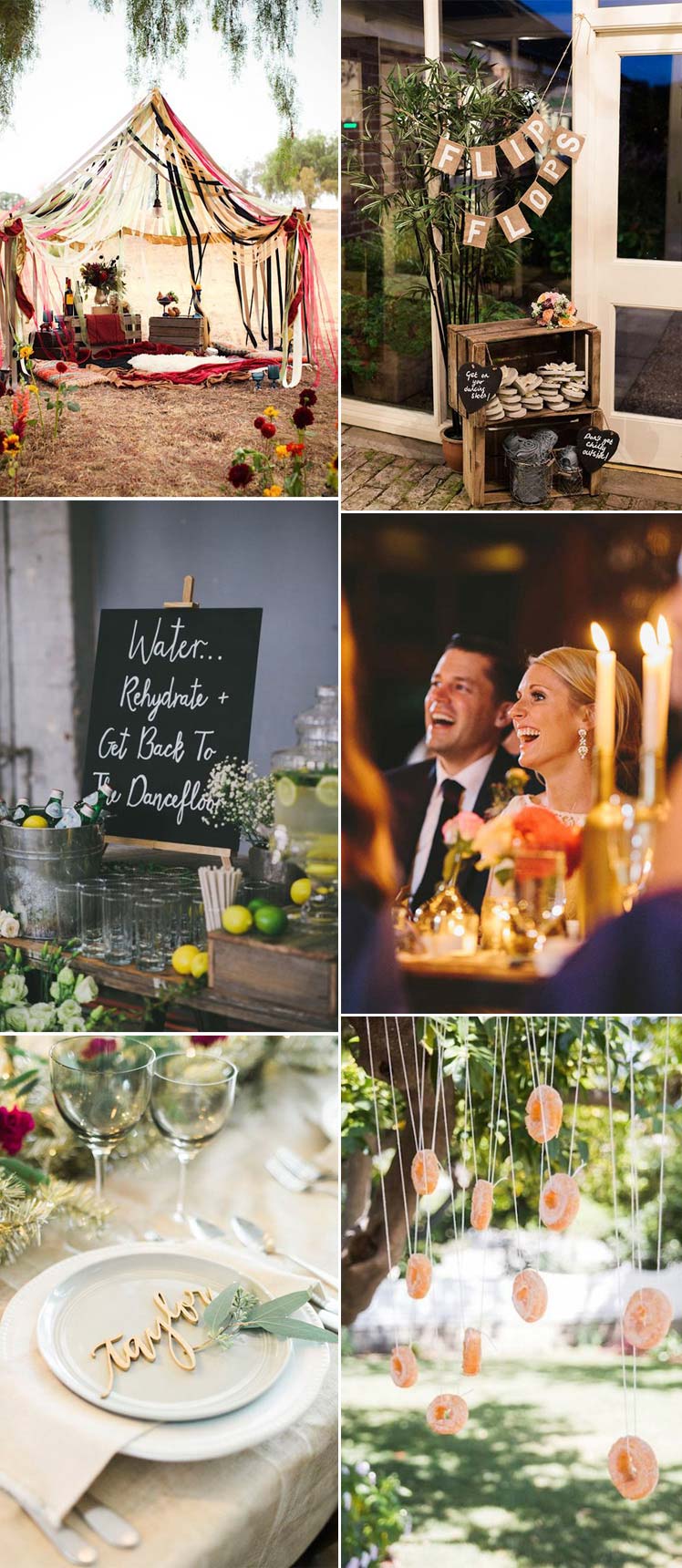 Images: Top Row Left via Plan Your Perfect Wedding | Top Row Right via Whimsical Wonderland Weddings | Second Row Left via The Lane | Second Row Right via The Knot | Bottom Row Left via The Wedding of My Dreams | Bottom Row Right via You & Your Wedding
Non-alcoholic options – a good proportion of your guests won't be drinking and there's nothing worse than seeing everyone else is being served fabulous cocktails while you get nothing more than a glass of cordial. Make sure that the non-drinkers feel just as special.
Anniversary messages – these are a lovely thing to ask guests to do and when you read their messages on your first anniversary, you'll appreciate them taking the time to write such brilliant messages for you.
Wraps – so many weddings now include outside elements but for guests to be able to enjoy these, they need to be warm. Provide baskets of wraps for those who feel the cold so they can keep cosy and enjoy the fun.
Memories – everyone loves to get a little nostalgic at weddings so setting up a display of old family photos or even images from your time together gets everyone talking and feeling the love.
Some time out – wedding days can be long, tiring, overwhelming and emotional so providing guests with some space to escape to if they need will most certainly be appreciated.
Thank you – nothing is more appreciated than post-wedding thank you cards. Yes, they're time consuming to write but a heartfelt note from you will mean more than you'll ever know.