5 Beautiful Boho Wedding Colour Palettes
The Boho wedding trend is here to stay and we are so in love with these relaxed, laidback celebrations. If you're planning to embrace Bohemian styling for your big day, you need the perfect colour scheme to really bring everything to life. Here are five beautiful boho wedding colour palettes that we absolutely adore – just don't ask us to choose our favourite!
Botanical Greens are perfect for a bohemian colour scheme for your special day. Opting for such an organic colour palette instantly adds a big dose of natural beauty to your wedding and you can embrace the trend for foliage too. Bright, fresh greens work really well for spring and summer weddings or bring in silvered greens for a wintery wedding. You can add touches of other colours too for contrast and even coral, peach and blush tones work well here too.
Images: Left via Wedding Chicks by Birds of a Feather Photography | Middle via The Conscious Bride by Jenny Maden Photography| Right via Ruffled Blog by Gina & Ryan Photography
Mixed Brights are a fantastic colour palette for a boho wedding theme. Think of carnivals and fiestas and add as many bright colours as you can through your day. Bring in coloured crockery and glassware plus lots of seasonal flowers. Then, add in even more colour where you can so look at bridesmaid dresses, decorations, your accessories and every element of your wedding. Bright tones look great in blank canvas venues and are perfect for outdoor celebrations.
Images: Left via Green Wedding Shoes by Lauren Gabrielle Photography | Middle via Deer Pearl Flowers | Right via 100 Layer Cake On Instagram by By Amy Lynn Photography
Mustard might not be the first colour that you think of when you're planning your wedding but if you're hosting an autumnal celebration, it really should be on your shortlist of palettes. Mustard is such a warm tone that can bring a touch of sophistication to a boho theme. The key to getting this colour to work however is to use it relatively sparingly throughout your wedding. So, think about mustard ribbons trailing from your bouquet, a few coloured statement flowers in your decorations, a colour tied for your groom, mustard candles on your tables or even coloured cardigans for your bridesmaids.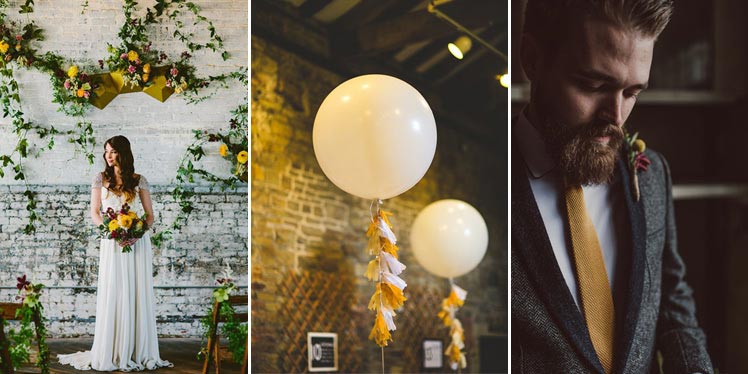 Images: Left via Style Me Pretty by Redfield Photography | Middle via Love My Dress by S6 Photography | Right via Lucy Spartalis
Neutrals are probably the one of the most popular palettes for boho weddings but we should reassure you now that neutral definitely doesn't mean boring! To get the most from your neutral colour scheme, create as much texture and interest as you can so think about using lots of different materials. Macrame hangings are a great idea or opt for pampas grass for decorations instead of flowers for a really on-trend look. Mix up fabrics too so tweeds, laces and tulles look great against fringed designs and even a few sequins.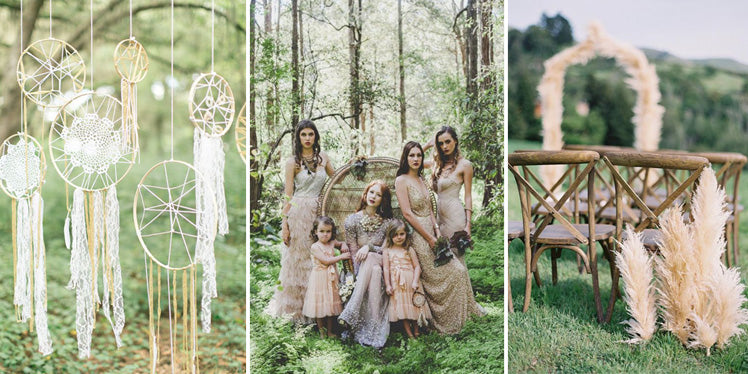 Images: Left via 100 Layer Cake by Amalie Orrange Photography | Middle via Invites Weddings | Right via Ruffled Blog by Carlie Statsky
Hot Pink could well be the most unexpected of the boho colour palettes in this list but for a summer wedding, it really can't be beaten. Pops of pink against foliage and wood look absolutely amazing and nothing works better with succulents! Again, don't go over the top with hot pink – it can be used relatively sparingly and it will still create a HUGE impact. You could add a few coral touches if you'd like to tone it down a little but nothing is more free-spirited than a hot pink that just doesn't care who sees it!
Images: via Bespoke Bride by Eureka Photography
When you're planning your colour scheme, Pinterest really is your new best friend. Create a board and start pinning the images that appeal and the colour combination that you really love. From here, edit your board to give you your final colour palette and then search again for images that fit this perfectly. Made sure that the images you save show the right colours AND the right style and vibe too so that when you share your board with your suppliers, they can see exactly what look you want for your big day.