5 Stunning Colour Schemes For An Autumn Wedding
Oh autumn, you're a deceptively beautiful season and I love you so much. From warm browns, reds and oranges to chillier shades of grey and green, there's no doubting the fact that the colours of this season make for the most fabulous wedding colour palettes. So, whether you're an autumn bride or if you just adore the delights that this time of year can bring, why not use autumnal shades for your wedding? Here are five stunning colour palettes that are just perfect for an autumn wedding…
Berry Reds
Images:Top Row Left via Style Me Pretty | Top Row Right via Burnett's Boards | Bottom Row Left via Wedding Chicks | Bottom Row Right – Ruby Rebel Earrings by Glitzy Secrets

Think autumn and you think of berries and the amazing variety of reds that fill the hedgerows at this time of year. A red berry palette is warm, rich and absolutely heavenly, especially if you add a few touches of luxurious gold too. Why not include berries in your bouquet or use them to decorate your tables and cake? You can also hire in ruby red glassware or golden cutlery and don't forget to bring a touch of colour to your bridal ensemble – Glitzy Secrets' Ruby Rebel Earrings are my top pick.
Pale Pink & Dove Grey
Images: Top Row Left via Southern Weddings | Top Row Right – Misty Rose Headband by Glitzy Secrets | Bottom Row Left via MOD Wedding | Bottom Row Right via The Wedding Scoop

I adore the slightly frosty feel to this colour scheme and it's great for weddings that take place in late autumn as the icy days of winter approach. The pale pink touches soften the grey tones and this is a colour scheme that manages to balance really masculine and feminine colours brilliantly. Guys in dove grey suits, maids in pink and grey diaphanous gowns and bouquets that use silvery grey succulents are all ideal. I also think that adding a pink headband to your outfit is a superb finishing touch.
Emerald & Metal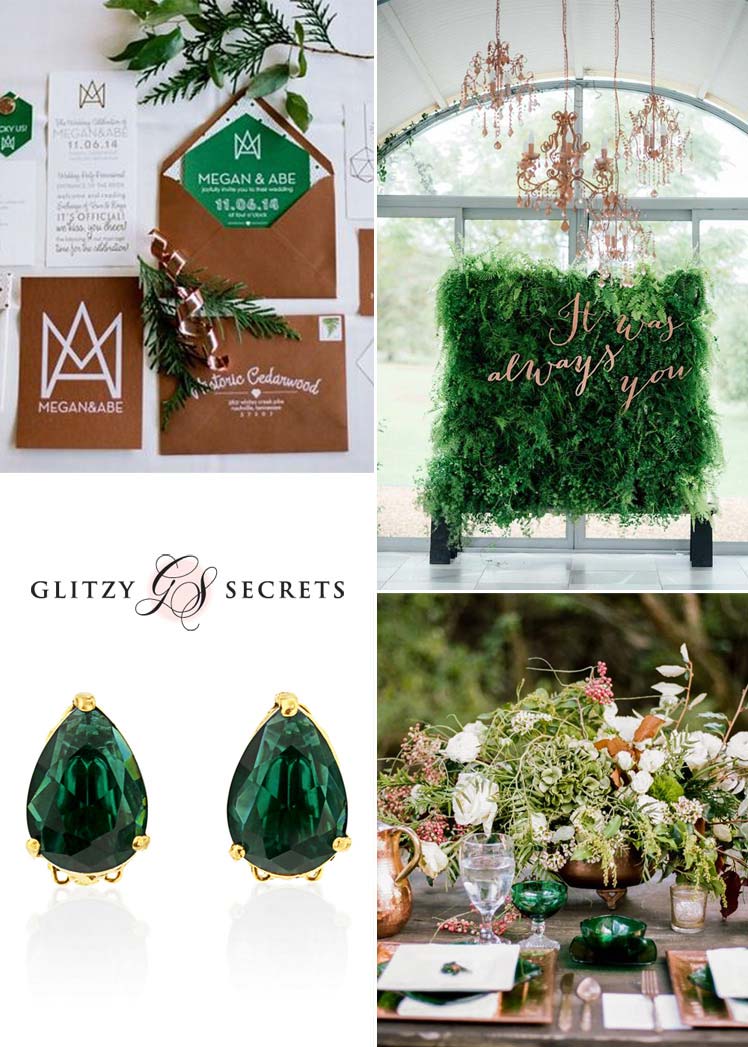 Images: Top Row Left via Cedarwood Weddings | Top Row Right via Confetti Daydreams | Bottom Row Left – Emerald Elegance Clip On Earrings by Glitzy Secrets | Bottom Row Right via Style Me Pretty (as before)

Emerald greens are simply divine for autumn as the evergreen brightness brings a pop of colour to the season. I like warm metals alongside crisp greens in autumn and golds, coppers and bronzes are all perfect partners for emerald. Obviously, using lots of foliage in your decorations is a great idea (and it's super cost effective too!). You could also add metallic cake toppers, chandeliers and much more to your day and I am so smitten with hammered copper jugs, charger plates and cutlery on tables alongside deep green glassware. Complete your look with Emerald Elegance Clip on Earrings from Glitzy Secrets or give them as gifts to maids.
Autumnal Neutrals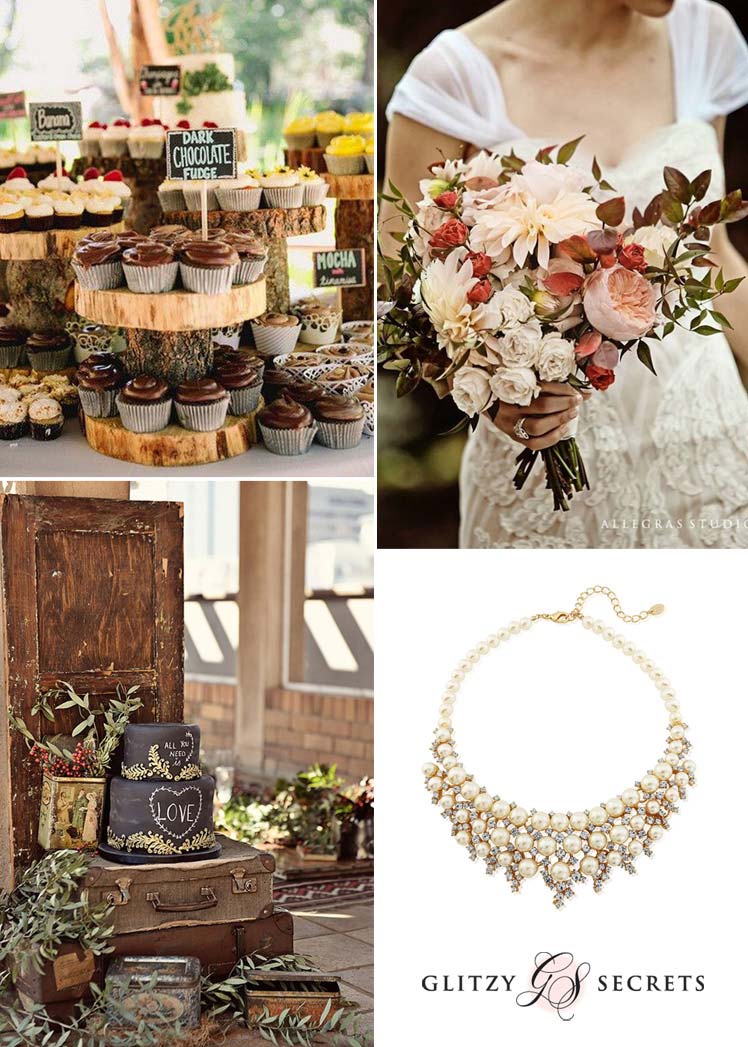 Images: Top Row Left via Deer Pearl Flowers | Top Row Right via Flower World | Bottom Row Left via Want That Wedding | Bottom Row Right – Treasured Romance Necklace by Glitzy Secrets

If you'd prefer a more rustic feel to your day then an Autumnal Neutral palette is perfect. Warm browns and creams blend so well together and you can use as many tones of brown as you find in the natural world at this time of year. Mix up textures too using woods, metals, leathers and even tin alongside softer creams for a balanced look and fabrics such as lace, hessian, linen and tulle are also great choices. For added luxury, why not include some creamy pearls in your outfit and a statement pearl and gold necklace such as Treasured Romance Necklace from Glitzy Secrets is elegant, refined and totally wearable post-wedding.
Navy & Orange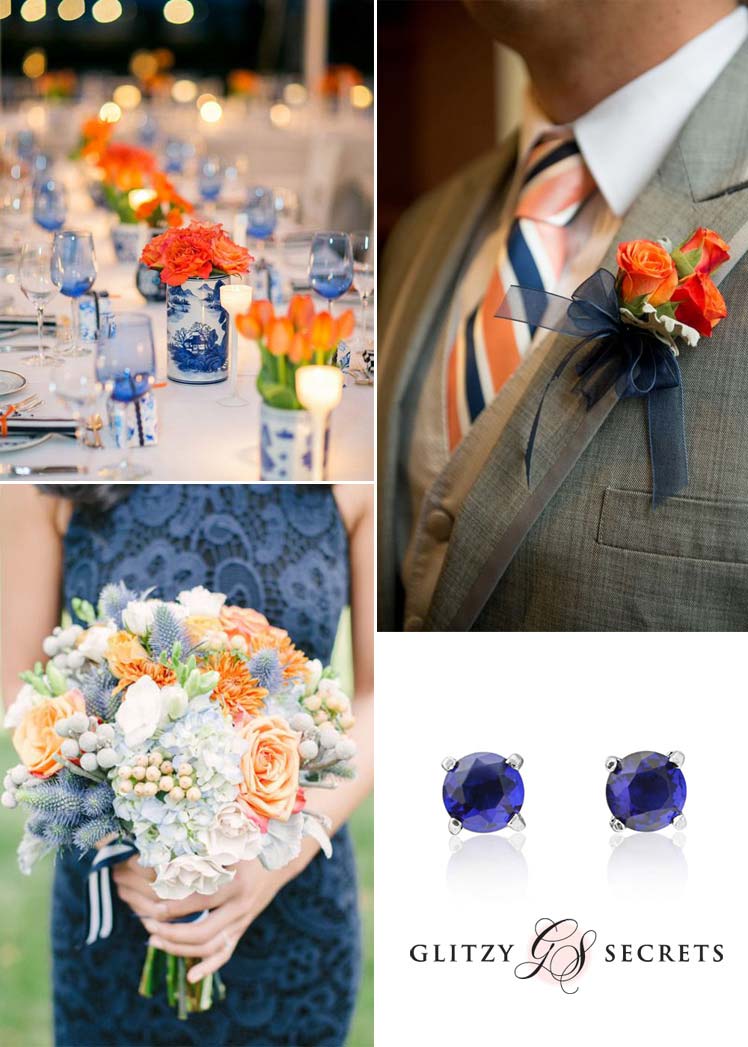 Images: Top Row Left via Junebug Weddings | Top Row Right via Every Last Detail | Bottom Row Left via Style Me Pretty (as before) | Bottom Row Right – Striking Sapphire Earrings by Glitzy Secrets

Let's finish up with a bright and bold colour palette that manages to be both sophisticated and seasonal all at the same time! Navy and orange is a classic pairing and it's spot-on perfect in autumn. Use light touches of contrasting orange against timeless navy for the best effect and I love pairing pops of orange orange with dreamy blue and white on tables – orange tulips with blue and white ceramic containers are simply beautiful. Guys can include hits of orange in their ties and brides, opt for Striking Sapphire Earrings from Glitzy Secrets to work with your theme and be your something blue this autumn!