A Photo Shoot with Benjamin Roberts Featuring Glitzy Secrets Bridal Jewellery
At Glitzy Secrets, we love a photo shoot! Whether it's one of our own, a collaboration or loaning jewellery or hair accessories to a magazine or company for their new collection, there's nothing quite like seeing the results after the amount of planning and sheer hard work that goes into a photo shoot. So when we were asked to provide bridal jewellery to complement Benjamin Roberts' new collection for their latest shoot, we were naturally delighted.
The choice of many brides, Benjamin Roberts is renowned for beautiful wedding gowns which are cut to fit and flatter. With exquisite detail and a style to suit practically every bride, it's no surprise the label is a huge hit with journalists and stockists.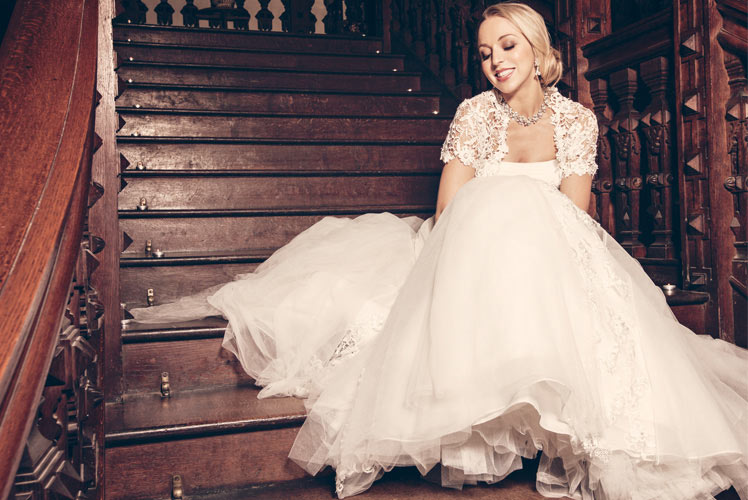 Gown 2058A with lace jacket 2058 by Benjamin Roberts. Model wears our Starlet in Pearls Necklace and Petals and Pearls Earrings.
We spoke with the lovely ladies at Benjamin Roberts about the inspiration and location for the photo shoot. They told us "We choose Stradey Castle for the location of our Signature collection photo shoot because its classic decadence which was just right for our collection. Our gowns are rich and elegant and the setting reflected them perfectly! We wanted something different for our photo shoot and the settings of Stradey Castle definitely provided this. The grandness of all the rooms and furnishings gave us goose bumps (in a good way)!"
To complement the elegant collection, we selected a range of timeless bridal jewellery featuring classic Austrian crystals and pearl designs. From elaborate bejewelled necklaces and chandelier to the simplest of stud earrings and delicate bracelets, our focus was to put together a selection of accessories for the stylist to mix'n'match to perfectly enhance and accentuate Benjamin Roberts wedding dresses.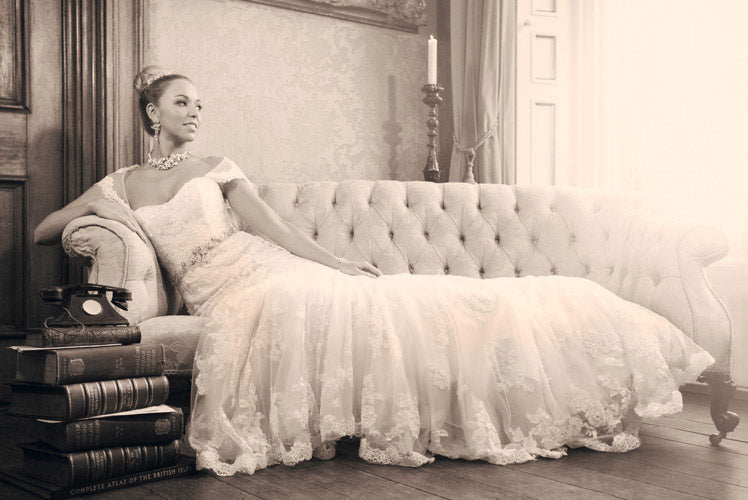 Bridal gown 2392 by Benjamin Roberts featuring our Enchanting Pearl Necklace and Enchanting Pearl Earrings.
The results of this beautiful photo shoot can now be seen gracing the pages of your favourite wedding magazines and, we think you'll agree, the team at Benjamin Roberts have excelled in showcasing their Signature collection. We were certainly delighted to have contributed and worked with such a popular label.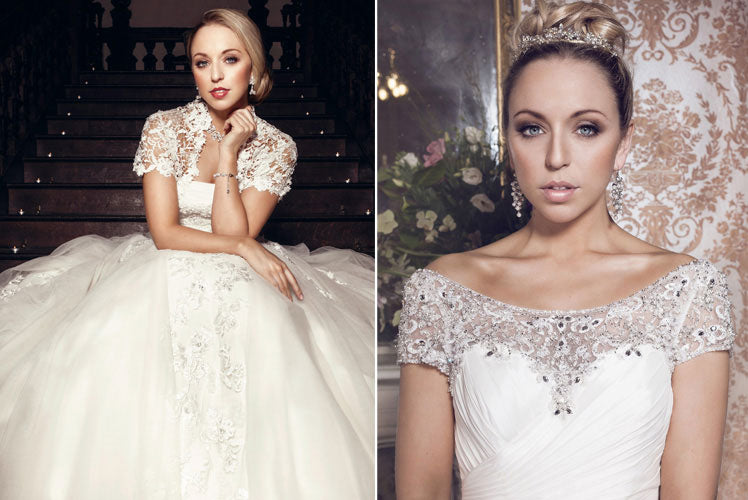 Left, wedding dress and bridal jewellery as before and featuring our Pearl Starlet Bracelet. Right, wedding dress 2383 by Benjamin Roberts with wears our Pearls of Drama Earrings.
To enquire about this beautiful collection, please contact:
Your nearest Benjamin Roberts stockist or telephone Benjamin Roberts direct on 01792 564710.