Comparing Meghan Markle's Two Wedding Dresses
The Royal wedding might be behind us now but Meghan's big day style is going to impact the wedding world for some time yet. And, with not just one but two brilliant bridal ensembles, Meghan gave us LOTS to love! So, we're taking an indulgent look at the new Duchess's day and evening style and showing you how to replicate her look for your own wedding day. It's time for you to steal some Royal style!
A wedding day look fit for a Duchess
We had all waiting a LONG time to see Meghan's wedding dress and it absolutely didn't disappoint. Givenchy's Claire Waight Kellar designed a clean, classic gown for Meghan that couldn't have been more flattering. The white, bateau necked dress was made from gorgeous, heavy satin and was teamed with the most exquisite accessories for a truly elegant look that was universally adored.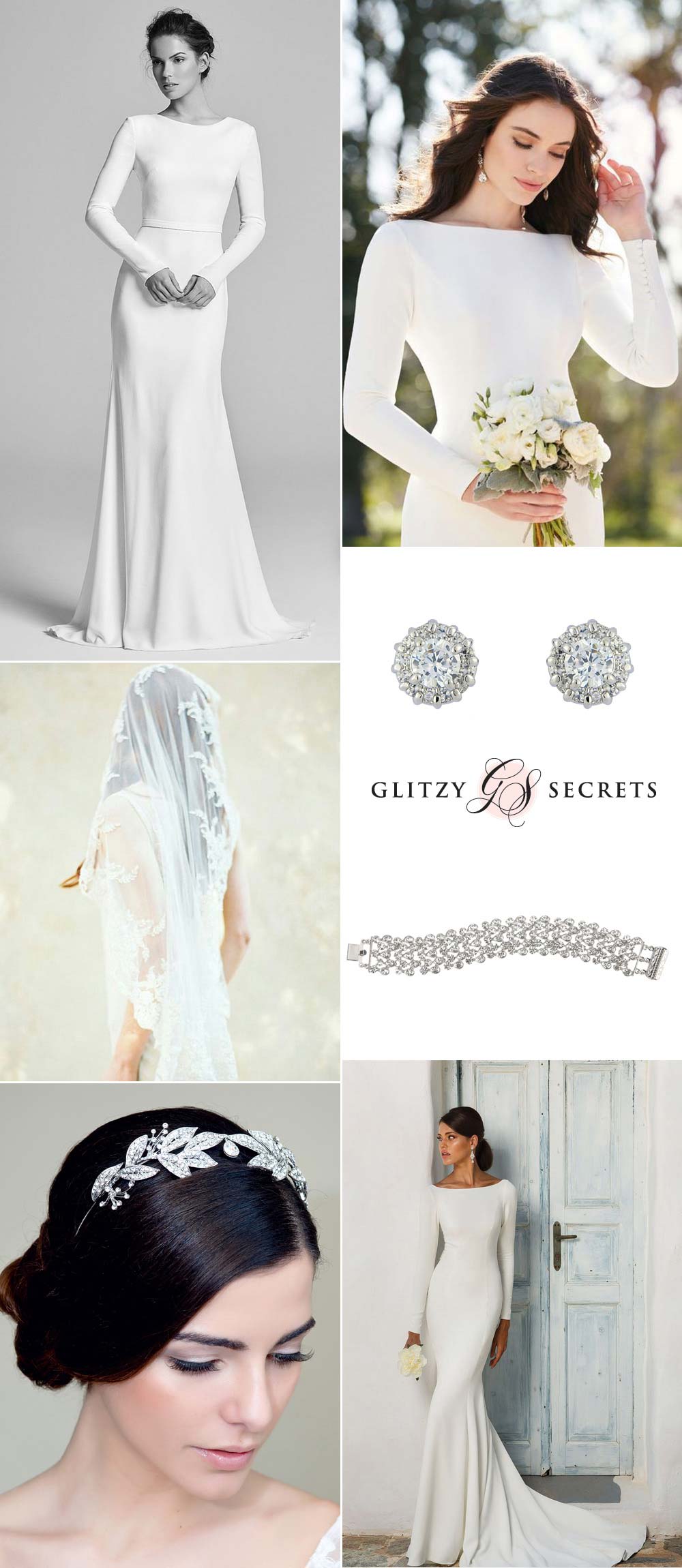 Images: Top Row Left via Suzanne Neville | Top Row Right via Martina Liana | Second Row Left via Pinterest | Second Row Right – Eternal Elegance Earrings and Silver Screen Starlet Bracelet by Glitzy Secrets | Bottom Row Left via Vintage Wreath Tiara | Bottom Row Right via Justin Alexandra
To replicate Meghan's look, look for a gown that gives you the style and simplicity that you want. The Bridal Edit is a great place to browse lots of designers in one place or hit Pinterest and save your favourites before you start shopping. Bateau necklines are incredibly flattering and we're also seeing more and more gowns with sleeves in bridal collections too. When it comes to fabrics, look for a heavy satin or even a Mikado silk, both of which will give your dress lots of structure.
Meghan's stunning veil was designed for her and included floral motifs from around the Commonwealth. To steal her style, choose a cathedral length veil for your own wedding day. Team this veil with a classic low chignon for a super elegant hairstyle that works perfectly with natural, flawless makeup.
Finally, you absolutely need beautiful accessories and, of course, Glitzy Secrets has everything that you need. Meghan wore beautifully simple earrings for her wedding ceremony and for a similar look, these Eternal Elegance earrings give just the right amount of sophisticated sparkle. Glitzy's Silver Screen Starlet bracelet couldn't be prettier or more appropriately named if you're taking your inspiration from Meghan and it really complements a bridal gown with longer sleeves.
Lastly, you're going to need a tiara. The Vintage Wreath tiara is truly fit for a Princess, Duchess or anyone looking for a classic tiara that oozes elegance. An absolute must-have for true style.

An alternative evening look
Following the Duchess of Cambridge, the new Duchess of Sussex also changed for her evening reception. Meghan stepped out with her new husband on her arm wearing a gorgeous Stella McCartney dress. It was perfect for Meghan, showing off her curves, those amazing shoulders and her modern style.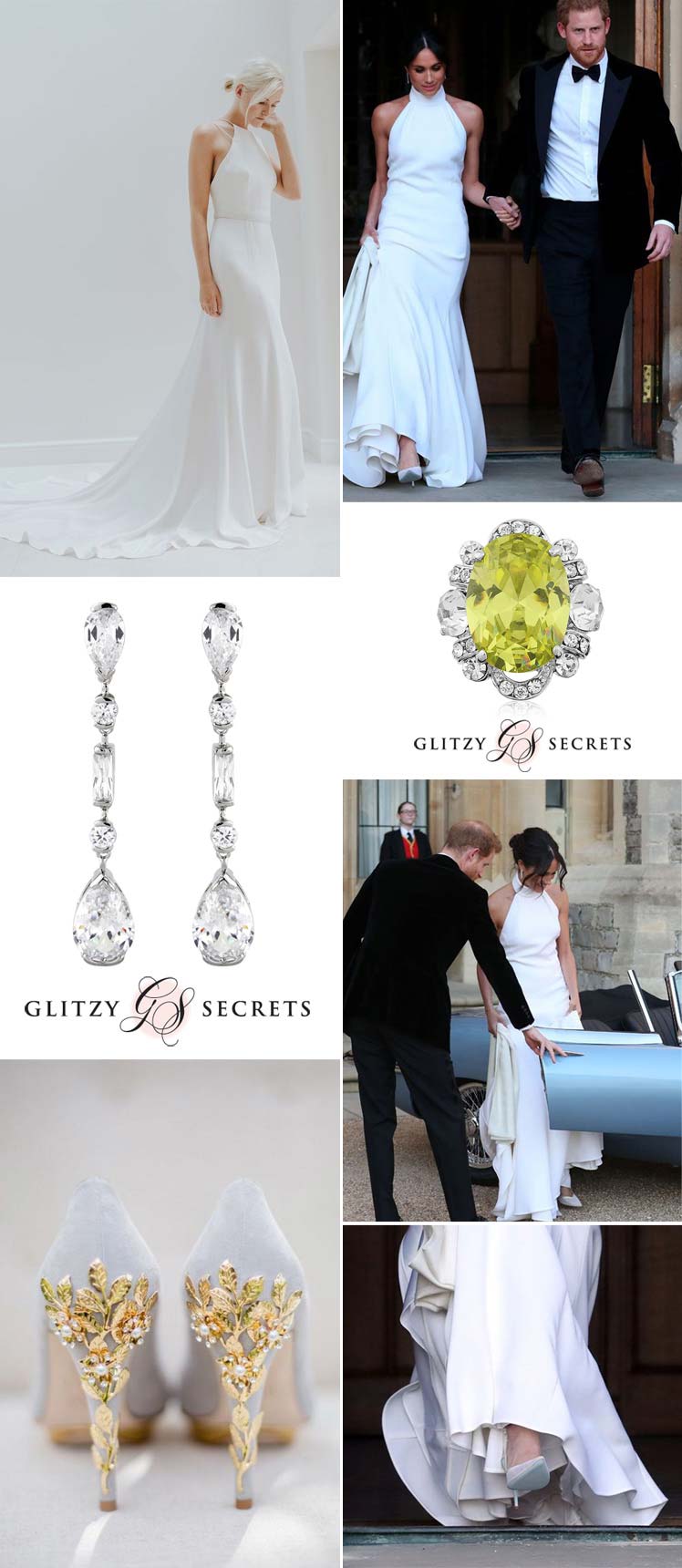 Images: Top Row Left via Charlotte Simpson | Top Row Right via Galvan at Net-a-Porter | Second Row Left – Starlet of Grace Earrings by Glitzy Secrets | Second Row Right – Heiress Rocks Cocktail Ring by Glitzy Secrets | Third Row Left via Catherine Deane | Bottom Row Left via Celina Photography | Bottom Row Right Heiress Rocks Cocktail Ring
Lots of designers have included a halterneck dress for brides in their recently collections and no doubt we'll be seeing more of them now. Opt for a fitted bodice and a frothy full skirt if you want your look to be maximum Meghan!
Killer heels were also part of Meghan's evening ensemble and if you want to replicate this, go for whatever designer, style or colour that you want. If you've always wanted a pair of Jimmy Choos or Louboutin heels, this is your chance. Think of them as an investment as you'll definitely wear them again!
Finally, complete your look with stunning accessories. Starlet of Grace earrings match the statement pair that Meghan wore to her party and a large, coloured statement ring brings a touch of fun and glamour to this look. The Heiress Rocks cocktail ring will get plenty of attention but even this rock won't be able to out-sparkle you!