Dreamy Inspiration for an Evening Wedding
If you want to plan an extra special and romantic wedding day then consider holding your wedding ceremony at dusk. A wedding in the evening can be a magical celebration and is also perfect for couples that are planning on a budget and want to be able to celebrate their nuptials with all their wedding guests.
By celebrating in the evening, you will find that you spend less on drinks – as drinks receptions tend to be shorter as you head straight to dinner. You will also find as your wedding guests are not joining you until later in the day, you will only be providing one meal per guest rather than the more traditional wedding breakfast followed by evening food.
If you love the idea of a romantic ceremony at dusk then take a look at some of my favourite ideas for an evening wedding.
Images: Top Row Left via Inspiration Say I Do | Top Row Right via Brides | Second Row Left via Inked Weddings | Second Row Right via Bodaclick | Third Row Left via Huffington Post | Third Row Right via Delaney Catering | Fourth Row Left via Tulle and Chantilly | Bottom Row Left via Bliss Bridal | Bottom Row Right via Emmaline Bride
If you are saying 'I do' in the evening, that doesn't mean you can't have an outdoor wedding ceremony – candles, fairy lights and outdoor heaters can help make your evening ceremony feel cosy and romantic.
If you worry about your guests getting cold then consider serving some warming pre ceremony drinks such as hot cider or hot chocolate with a kick of brandy or Baileys. You could also provide your guests with cosy blankets to wrap themselves in to keep them from getting cold.
Lighting will be an essential thing to consider for your evening wedding – unlike a day time wedding you won't be able to rely on the bright sunlight providing all you need. Speak to your photographer about what is needed to make sure you get the most amazing photos that will still show off all the details of your wedding day. For a dreamy way of lighting your venue, use giant pillar candles in glass hurricane lanterns and hang strings of light bulbs to give a romantic finishing touch. And of course fairy lights will probably play a big part in lighting your romantic evening ceremony.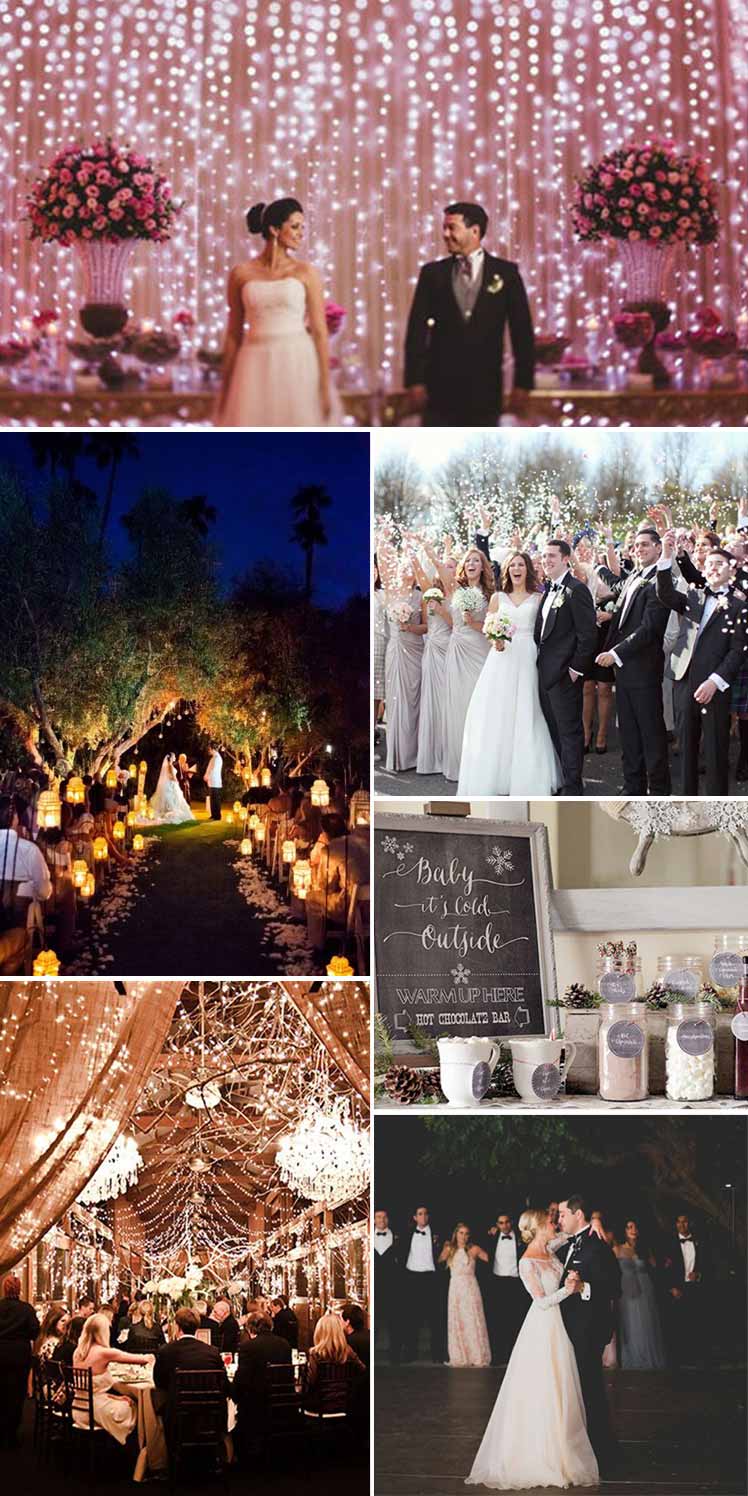 Images: Top Row via Aliexpress | Second Row Left via Emmaline Bride (as before) | Second Row Right via Colin Cowie Weddings | Third Row Right via Brides (as before) | Bottom Row Left via Huffington Post (as before) | Bottom Row Right via Green Wedding Shoes
With an evening wedding you can also have lots of fun with your food, you may prefer to keep things a bit more low key and informal so rather than a more formal sit down wedding breakfast, why not use your venue's outdoor space and celebrate with a hog roast or an amazing barbecue – your guests are guaranteed to love it and it will also be much more cost effective than a sit down dinner.
With an evening wedding celebration you could also opt for more glamorous attire for your wedding guests – how amazing will your wedding photos look with a glamorous black tie dress code – your guests will look amazing in traditional tuxedos and sweeping ballgowns and it will leave you with some ultra glam wedding photos.
You could also nod to your evening wedding style with a spectacular star themed wedding day – and we just happen to have a whole article looking at some of the most beautiful star themed wedding ideas for you to browse and be inspired by.