The Party Season Dress Code Guide
Welcome to party season 2015! It's time to kiss goodbye to evenings on the sofa in your pyjamas and head out to festive gatherings to celebrate the season with your nearest and dearest. Smart occasions, work parties and family events all fill our diaries at this time of year and each invitation comes with its own expectations so now's the time to take a look at the somewhat confusing world of party season dress codes and understand what these social conventions really mean…
White Tie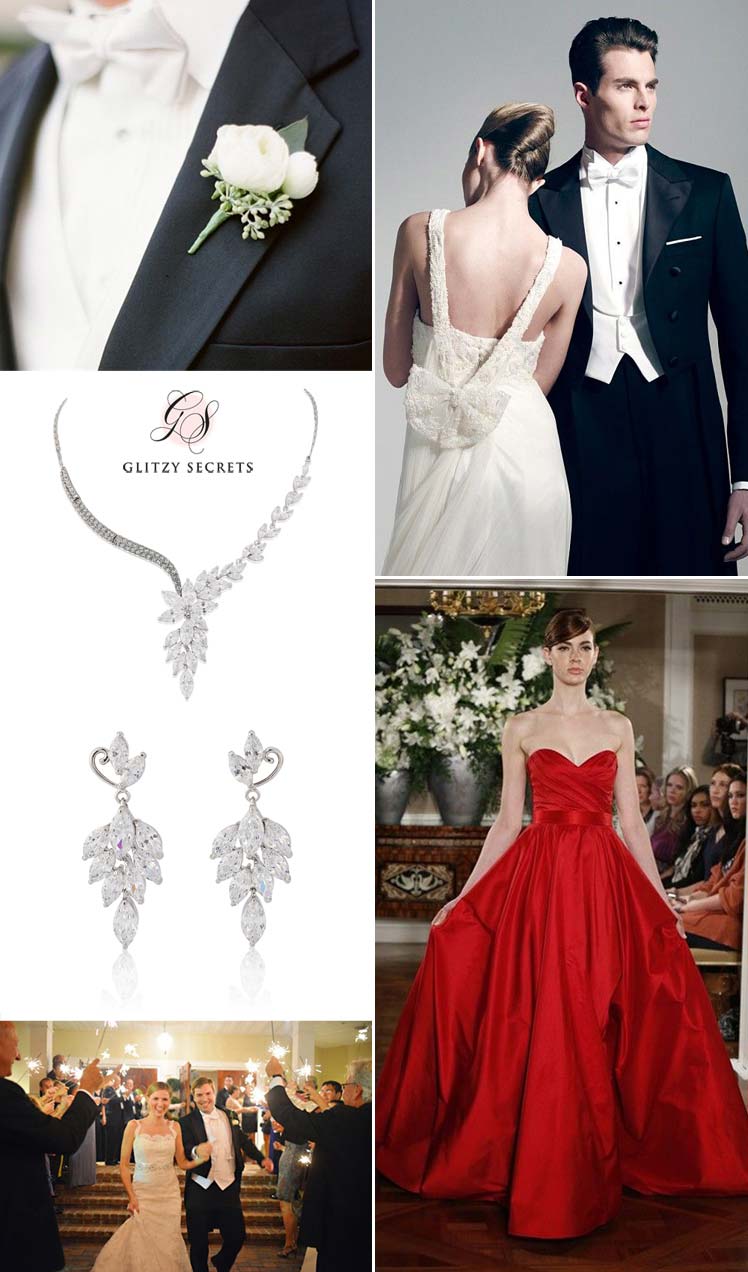 Images: Top Left via The Knot | Top Row Right via French Wedding Style | Middle Left – Cascades of Crystal Necklace and Cascades of Crystal Earrings by Glitzy Secrets | Bottom Left via Brides | Bottom Right via Katherine Courtney on Tumblr
Let's start with the smartest of all dress codes – white tie. It's pretty rare but is still used for formal evening events, particularly balls, and even some winter weddings. White tie can also be referred to as 'evening dress' or even simply as 'tails' on invitations so keep your eyes peeled! The guys will need a black single-breasted tailcoat, black trousers (with braid down the outside of each leg), a white Marcella shirt (with winged collar) and, of course, a white tie. Shoes are usually black patent and, if he's feeling dapper, a white silk scarf is the perfect finished touch.
For women, a formal evening dress is the only option here and it must be full length – trousers and shorter dresses are absolutely not the done thing for white tie occasions. You'll be happy to hear though that jewellery, including headpieces, should be bold and eye-catching and you'll also need a dainty, elegant evening bag and a wrap for travelling.
Black Tie
Images: Top Row via Style Me Pretty | Bottom Row Left – Forties Movie Star Necklace and Forties Movie Star Earrings by Glitzy Secrets | Bottom Row Right via Anthropologie
Black tie is becoming more and more popular for weddings and for more formal Christmas events. If you see 'dinner jackets' or 'tuxedos' on invitations, you'll be expected to don black tie too. Most men know what a dinner jacket looks like but just remember that your shirt for this needs a turn down collar and not a wing collar. You should definitely hand tie your bow tie but never wear cummerbunds and waistcoats together – fashion nightmare!
The dress rules for women are more relaxed for black tie events and a smart dress, whether long or short is absolutely fine (just avoid anything too short!) and colours are encouraged. You can wear black or nude tights with plenty of fine or costume jewellery. However, put your tiara back in the safe as you don't wear these at black tie occasions.
Now, after these two rather rigid dress codes, it all starts to get a bit muddled so if you're unsure, it's best to ask around, check what others are doing and use your own knowledge of the event in question and the hosts themselves.
Cocktail
Images: Left via Redemption | Bottom Row Right via Her Campus | Bottom Row Right via Kate Spade
Invitations that specify cocktail dress for example can involve black tie for men or simply smart suits. Women might wear a shorter length dress (of any colour and shape) or even smart trousers and a glamorous top. You can certainly use stunning costume jewellery to dress up an outfit and I have to admit that sometimes, I arrive at events with a change of jewellery in my bag to give a different look quickly if I need it! A modern alternative to the clingy cocktail dress would be a dramatic silk shift dress or fabulous separates.
Festive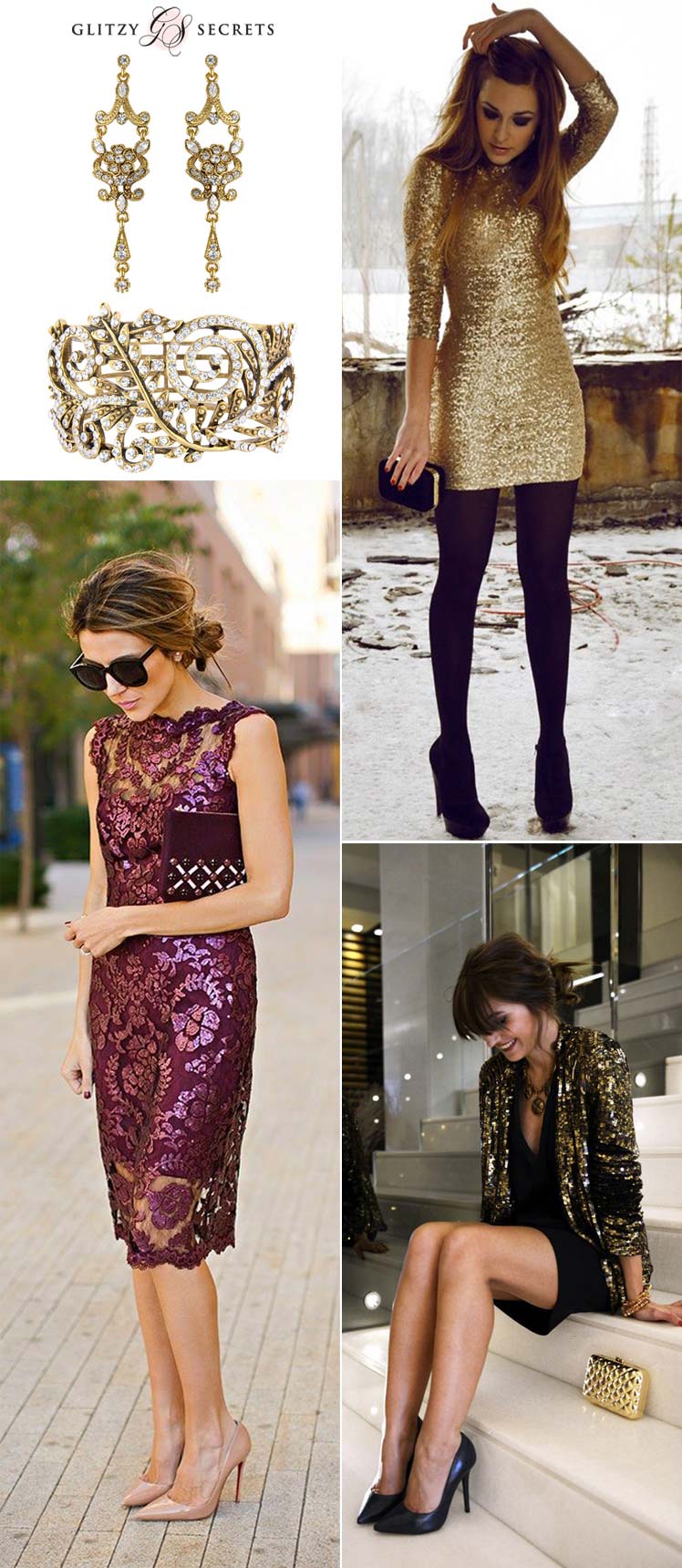 Images: Top Row Left – Antique Chic Earrings and Treasured Beauty Bangle by Glitzy Secrets | Top Row Right via Outfit Trends | Bottom Row Left via Hello Fashion | Bottom Row Right via Lookastic
Again, office Christmas parties can involve anything from black tie to an informal dinner. For a typical party evening with a Festive dress code, an outfit that's sparkly and fun is always a good idea. There are plenty of great dresses in the shops at this time of year or why not add a sequined blazer over a classic little black dress? Team with sky-high heels and great sparkly jewellery for a really party perfect ensemble. I'm a big fan of skinny black trousers and statement tops for evenings like this and again, fabulous heels and a gorgeous clutch bag will keep you looking super glam.
Festive Casual
Images: Left via The Berry | Middle – Vintage Heiress Earrings and Heirloom of Treasure Cuff by Glitzy Secrets | Right via Popsugar
As for the festive period with family, there's always the Christmas jumper! If you'd prefer to wear something more classic, how about a short tweed skirt, chunky knit jumper and boots? You can give your look a fashionable edge with your accessories but this outfit would see you through Christmas with the in-laws, trips out and country excursions that combine walking with a drink at the pub! For a chic city look, skinny trousers, boots or heels and a heavenly coat are all your need. Add some chunky jewellery and statement sunglasses if the sun is shining (or if you're over indulged the night before!)
My last piece of advice would be to not feel constrained or worried by dress codes – they're there to help you and there's always room for a big dose of seasonal individuality!