Fabulous Accessory Ideas for 2017 Bridal Trends
2016 has introduced a number of new wedding trends: from industrial marble themes to copper colour palettes – we love keeping up with the latest styles and looks. Which is why today we're talking about hot bridal trends for 2017. From bows to Bardot necklines, we've got it covered…
Bows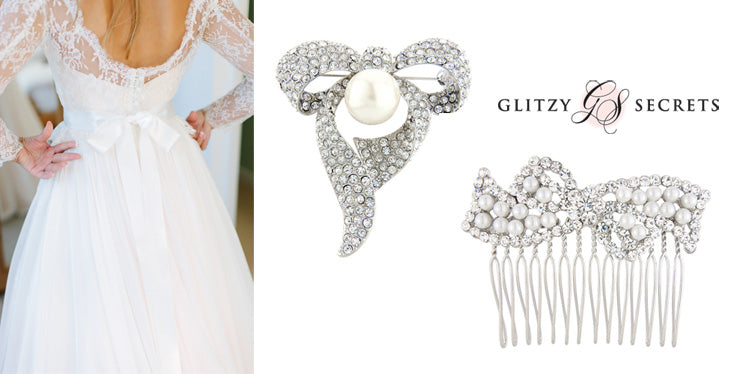 Images: Left via Rock My Wedding | Glitzy Secrets – Bow of Elegance Brooch and Bow of Pearls Hair Comb
I personally adore a dainty bow wedding theme – it's feminine, delicate and oh so pretty! Bows also work beautifully when incorporated into your bridal outfit.  They look very elegant on wedding gowns – simply tie a ribbon around your waist and you've got a completely unique gown. Accessorise this look with beautiful bow details – the Bow of Elegance looks fab pinned onto a faux fur shrug. On the other hand, the Bow of Pearls Hair Comb will add a touch of sparkle to any hairstyle.
Pantone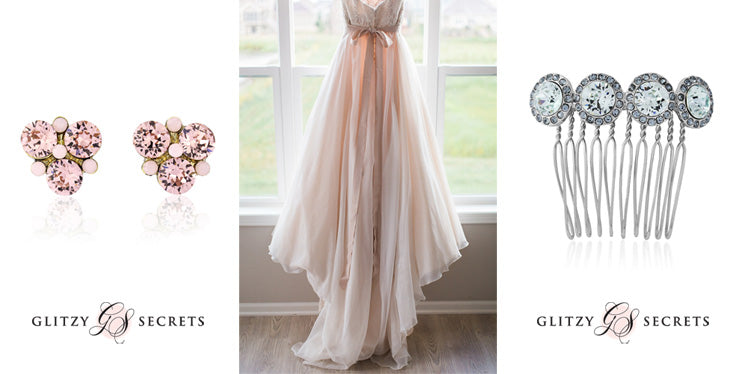 Images: Left – Paradise Pink Earrings by Glitzy Secrets | Middle via Style Me Pretty | Right – Waterfall of Love Hair Comb by Glitzy Secrets
Pantone's colours of 2016 were of course Rose Quartz and Serenity Blue, and it seems that brides are still loving this heavenly duo when it comes to choosing their bridal outfits. Blush pink gowns are a gorgeous, girly option but lets not overlook soft watercolour blue! However, if you don't fancy wearing a coloured wedding dress you can easily accessorise using these two beautiful colours. Our Paradise pink earrings will add a subtle pop of colour to your look, whereas our Waterfall of Love Hair Comb looks stunning in a loose up-do.
3D Florals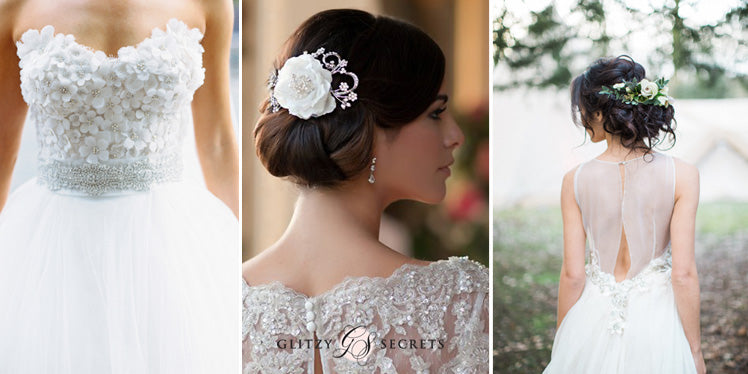 Images: Left via Style Me Pretty (as before) | Middle – Flower of Elegance Hair Flower by Glitzy Secrets | Right via Rock My Wedding (as before)
Floral-print gowns have started appearing more and more this year, particularly when it comes to Spring and Summer weddings. But the next big thing is 3D florals – we're talking lots of embroidery and elaborate floral detailing. This look is perfect if you're a bohemian bride, or even if you're looking for a gown with a difference. One of the easiest way to flatter a 3D floral gown is through your hair accessories – a botanical flower crown or a 3D floral headpiece will finish your look off wonderfully. Have you seen our beautiful collection of bridal hair flowers?
Plunging V Neck Dresses
Images: Left via Style Me Pretty (as before) | Middle – Bejewelled in Vintage Cuff by Glitzy Secrets | Right – Pearl Heiress Necklace by Glitzy Secrets
A plunging V neck wedding dress is made for a fashion-forward bride who wants to make a statement. This neckline combines a hint of sexiness with an abundance of elegance. A statement piece of jewellery is an absolute must-have for this style – whether it's a dazzling necklace or glitzy bracelet. You'll sparkle your way to your wedding day!
Bardot Necklines
Images: Left via Style Me Pretty (as before ) | Middle – Starlet of Grace Earrings by Glitzy Secrets | Right via Whimsical Wonderland Weddings
Off the shoulder dresses and tops have become hugely popular lately, and it seems this fab fashion trend has taken the world of weddings by storm. A Bardot neckline is not only beautifully romantic; it has a subtle sexiness to it while still remaining modest. Accessorise this neckline with glamorous drop earrings – as your shoulders are exposed statement earrings will help to balance your look out. Plus, this style of earrings looks just stunning with an elegant up-do. Our Starlet of Grace drop earrings are the perfect choice!
Have you spotted any other bridal trends for 2017?