Geometric Gorgeousness for a Modern-Vintage Wedding
I'll start this feature by saying here and now that I LOVE geometrics. They're bold, confident and oh-so eye-catching and that alone would make them perfect for weddings. But they're also much more than that. Geometrics are adaptable and flexible in ways you might not have imagined. Here's my guide to geometric wedding details that suit all kinds of celebration.
Art Deco Geometrics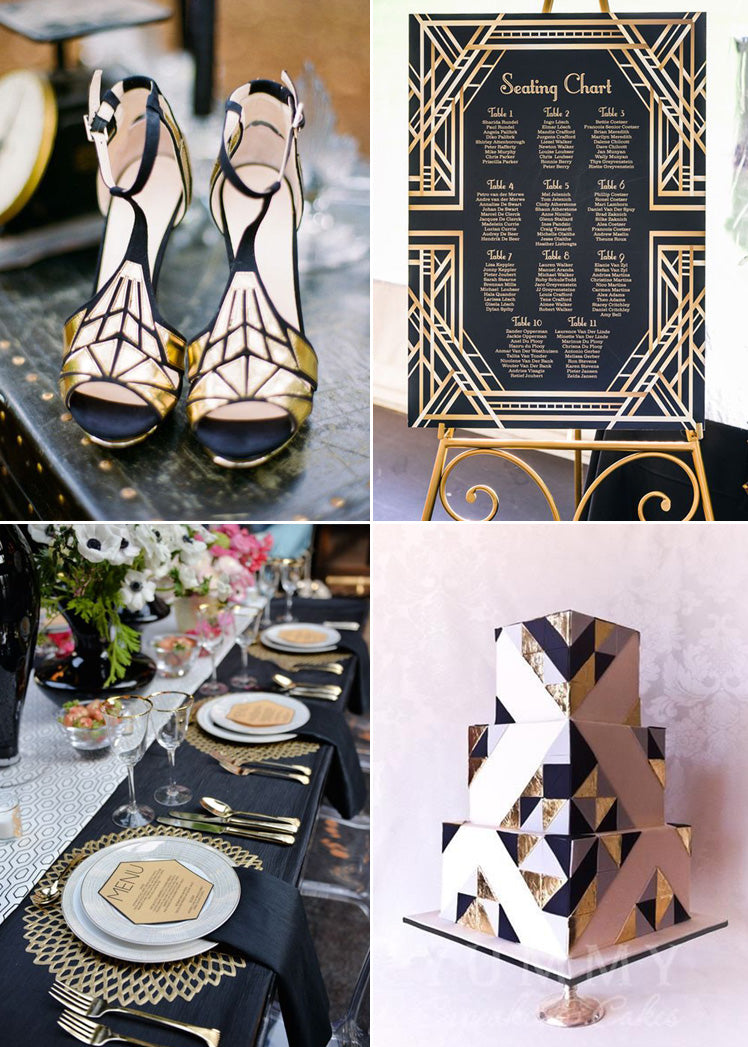 Images: Top Row Left via Style Me Pretty | Top Row Right via Events by Whim | Bottom Row Left via MOD Wedding | Bottom Row Right via Yummy Cupcakes and Cakes
If you're looking for a vintage wedding theme that never goes out of fashion then Art Deco is perfect. It was also an era when geometric shapes and patterns were too the fore which makes it doubly brilliant for weddings. Bring in a black and gold colour palette with plenty of sophisticated touches and your wedding will be all kinds of beautiful.
To give your Art Deco inspired wedding a slightly modern twist however, use those vintage touches sparingly. Concentrate on focal points so table settings, cakes and table plans work well and will have the biggest impact without getting lost in the day.  Then, mix in lots of geometrics to bring your wedding style to life.
Bright Geometrics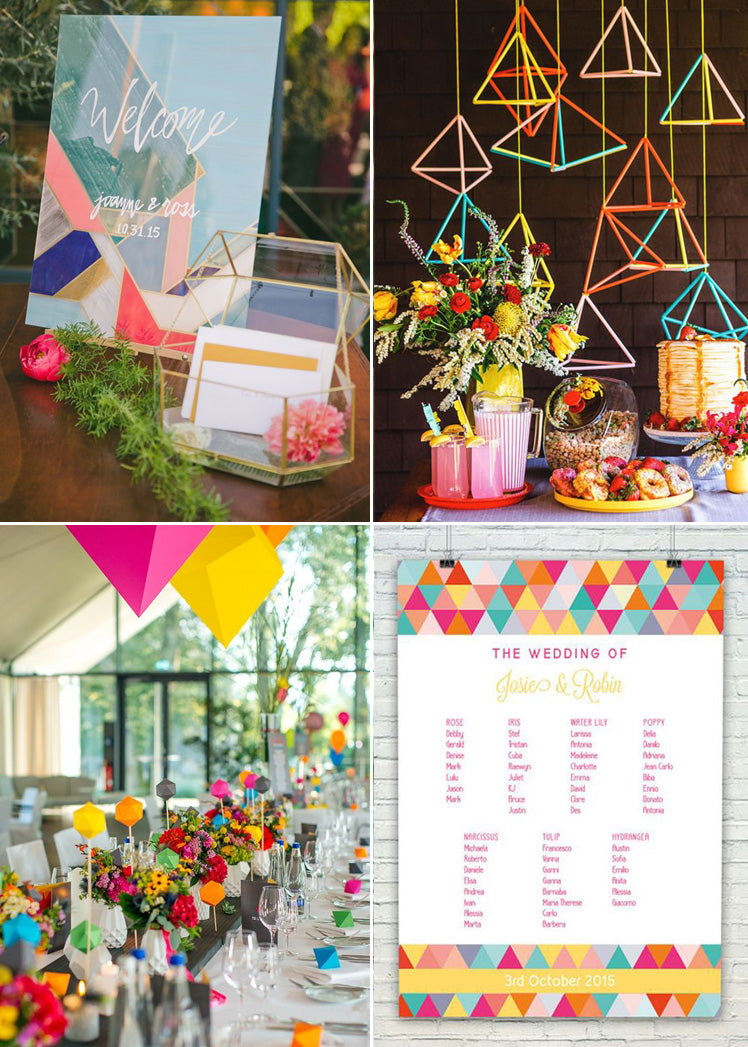 Images: Top Row Left via Falon B Weddings | Top Row Right via Green Wedding Shoes | Bottom Row Left via Bespoke Brides | Bottom Row Right via Etsy
Lots of bright colours can make your wedding such a fun occasion. Not only that but also this look can work really well with a 70s or 80s inspired day. I love geometrics that inspire unexpected wedding details so coloured, hanging geometric mobiles or bright 3d shapes interspersed with floral decorations are absolutely fabulous.
The key to using bright colours is to still work with a colour palette so opt for no more than four or five bright hues. Then, build in a little bit of contrast so crisp white table lines, slate greys or even a bit of bare wood work perfectly. This makes your brights pop all the more but stops them from being too overpowering.
Romantic Geometrics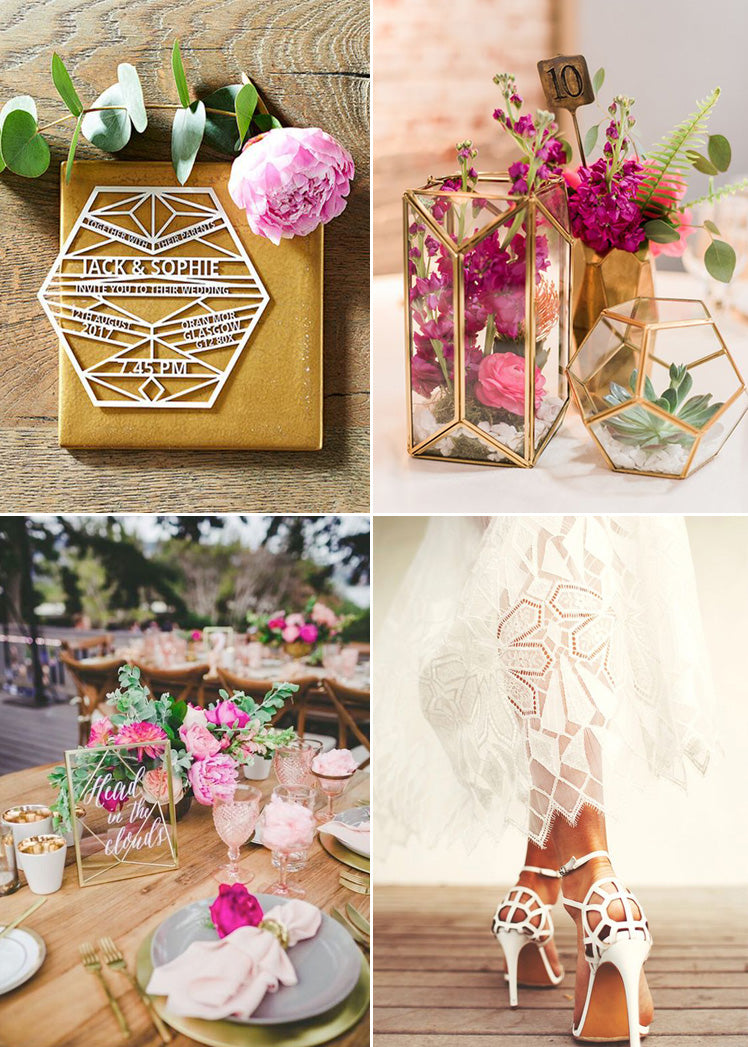 Images: Top Row Left via Etsy (as before) | Top Row Right via Ruffled Blog | Bottom Row Left via The Bohemian Wedding | Bottom Row Right via Grace Loves Lace
Geometrics can definitely be romantic; it's all about the colours that you use and the overall balance of your wedding day look. Choose a typically romantic colour scheme such as pinks and golds and then look where you can add in your geometric details. Delicate laser-cut geometric stationery is a great touch for example and even fine geometric detailing on a lacy gown or on your shoes is another wonderful touch.
Lots of soft, organic shapes alongside your geometrics will totally create that romantic look. Flowers spilling from geometric containers or flowing calligraphy inside a glass photo frame will create contrast, romance and more than a hint of luxury.
Minimalist Geometrics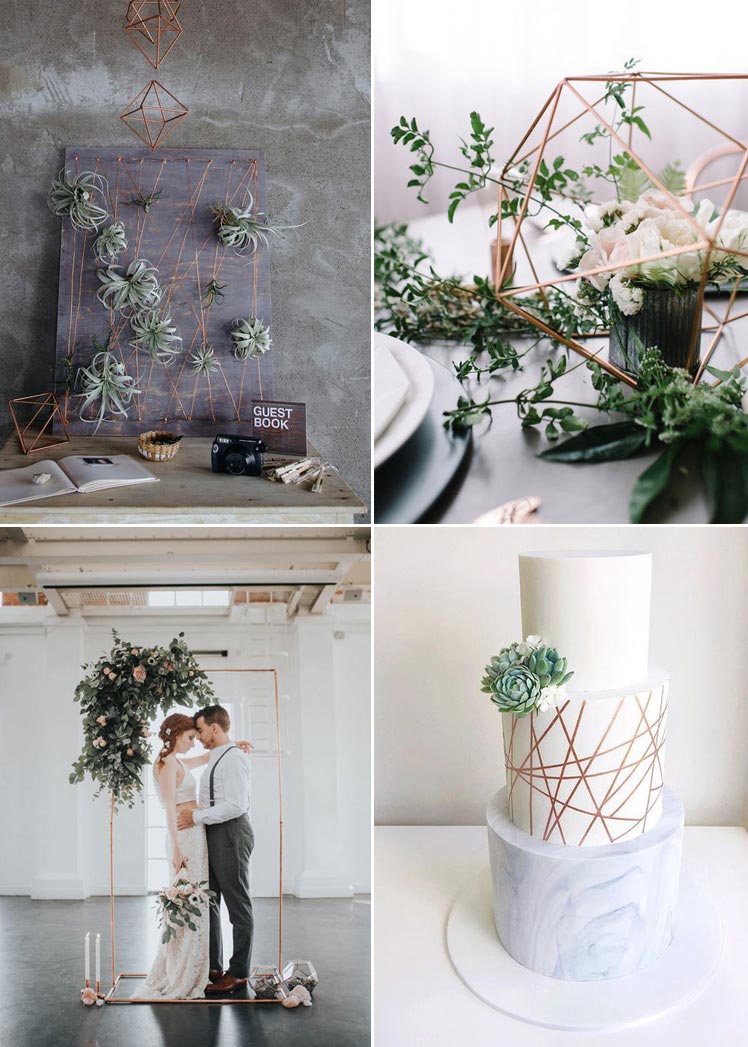 Images: Top Row Left via Rock My Wedding | Top Row Right via 100 Layer Cake | Bottom Row Left via Want That Wedding | Bottom Row Right via Instagram
Of all the geometric looks, the minimalist take on the trend is possibly the most modern. Imagine this at a cool industrial venue or in a creative blank canvas space and you've got a look that's stripped back luxury as its finest. Whites and greens should be the mainstays of this colour scheme along with copper and bronze touches plus a couple of darker tones for contrast or even a hint of marble.
Minimalist geometrics tend to embrace the asymmetric but there's also plenty of nature in there too. However, instead of flowers, think about foliage and succulents alongside candles in large geometric holders and hanging features too. A minimalist theme should also be more than a little bit luxe and the metallic geometric touches bring perfect balance to this wedding theme.