Getting Married Home or Abroad – The Pros and Cons
It's almost that time of year when you can just about see your summer holiday on the horizon. Travelling to new and exciting locations certainly makes me think about weddings abroad so today, we're asking the question – home or away? If you're currently considering your wedding options, here are a few things to think about…
Location

Images: Left – The Lou's via Coco Wedding Venues | Right via Wookie Photography
I just had to start with this one didn't I? One of the definite draws of a wedding overseas has to be the range of locations that are available. Does the prospect of a beach or vineyard wedding appeal? If so, then a destination wedding could well be for you and these are certainly special, once in a lifetime experiences. That said, we're not short of amazing wedding locations here in the UK and, with so many available exclusively for entire weekends, you can escape without having to remember to pack your passport. Of course, location could potentially cause issues too. Overseas weddings usually cost more for guests to attend and might involve them having to book more time off work. Weddings closer to home aren't without their niggles either – you are still likely to have to arrange accommodation for guests because it's probable that quite a few will still be travelling to be with you.
The Weather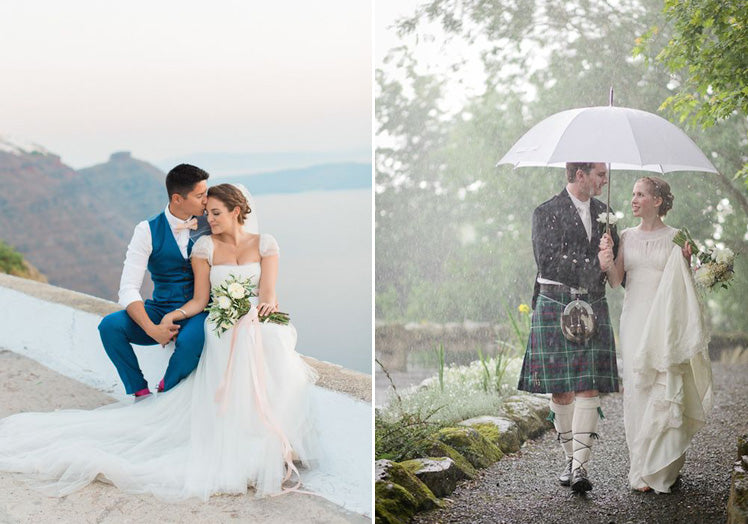 Images: Left via Bridal Musings | Right via Rock My Wedding
The prospect of warmer, sunnier and more predictable weather is a BIG draw for destination weddings. Imagine the joy of marrying and celebrating outside and let's not forget the gorgeous photos. That said, in super hot climes, outdoor wedding ceremonies can really only take place in the late afternoon or early evening so you lose a big chunk of your day and even the sunniest places have the odd downpour. Weddings at home are more unpredictable when it comes to the weather but this can be a good thing – you'll have come up with contingency plans well in advance and there really is nothing more wonderful than a beautiful bright day in the UK.
Food & Drink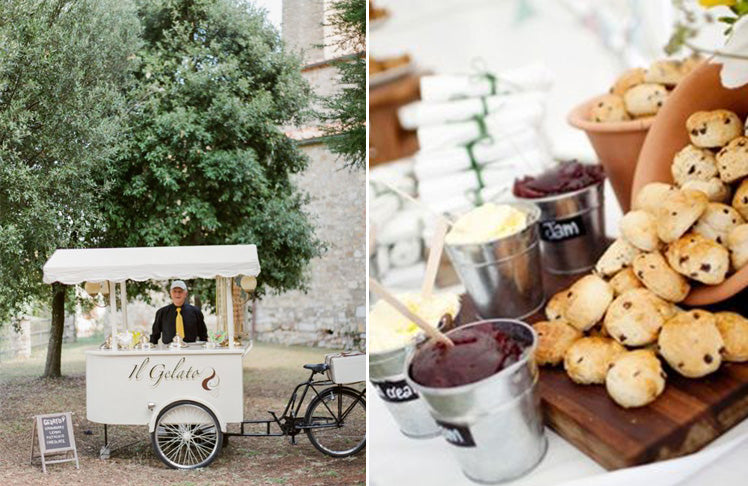 Images: Left via Style Me Pretty (as before) | Right via The Natural Wedding Company
If you've chosen somewhere known for fabulous food such as France, Italy or Greece then your wedding guests are certainly going to be in for a culinary treat. For foodies, it doesn't get any better than fresh, seasonal produce matched with some of the best wines in the world. On the other side of that, it's clearly much harder to taste your menu before the big day and if your friends and family aren't such adventurous eaters, they're not going to love it as much as you. Back in the UK, wedding food has improved HUGELY over the last few years and now the range and quality is just superb. You'll be able to taste your menu beforehand and bring in speciality suppliers for the best flavours. Of course, this might not beat dining al fresco in an Italian olive grove or looking out over French vineyards…
Your Guests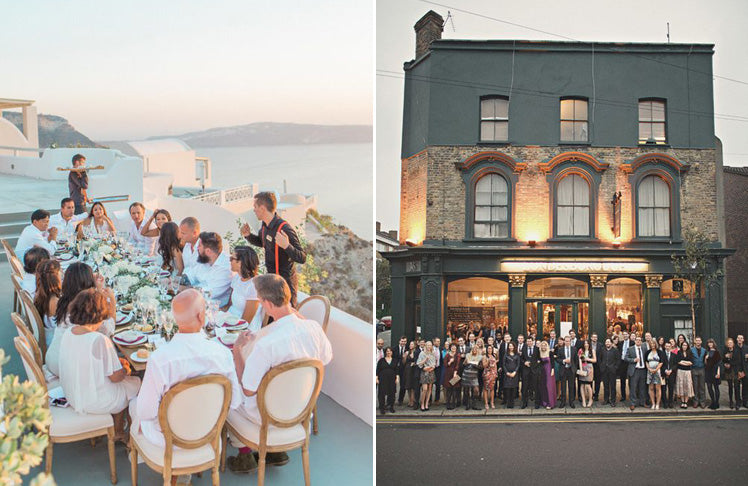 Images: Left via Style Me Pretty | Right via Rock n Roll Bride
For your guests, destination weddings can be brilliant. They can give them time out and even a little sneaky holiday – who doesn't love that? On the flip side, travel and accommodation costs can quickly mount up, more days of precious holiday will have to be used and let's not forget that your choice of venue might not be theirs. If we stay in the UK, we can reach almost anywhere in a day and there's always the possibility that you won't need to travel far or even stay over somewhere which keeps the cost down and makes all the arrangements much simpler. That said, it is always fab to do something different and invite guests to somewhere they definitely haven't been to before.
Planning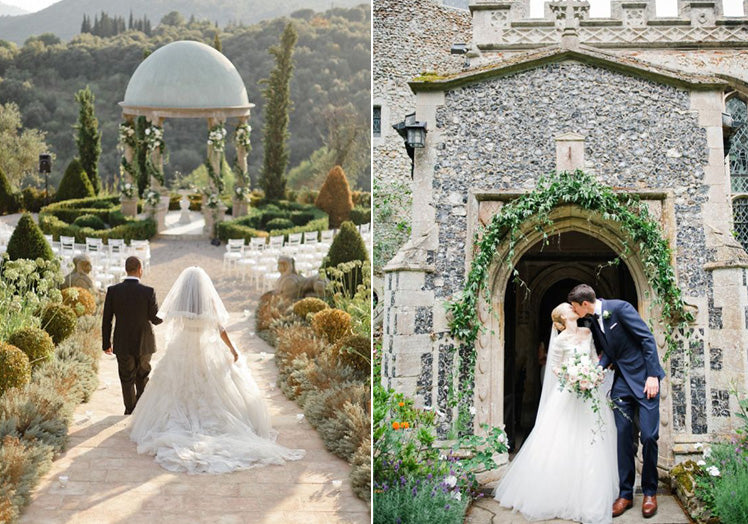 Images: Left via French Wedding Style | Right via Love My Dress
This might be the last point but it's definitely a big one – what's going to be easier for you to organise?! Marrying overseas comes with lots of legal quirks and regulatory points that you absolutely need to know about and, if you're not sure on the language, you're going to need to work with a wedding planner who can be your eyes and ears on the ground. Of course, lots of UK-based wedding suppliers offer overseas services and even if you're working with professionals based elsewhere, Skype, email and the Internet makes communication so simple. Planning a wedding in the country where you live can be easier, not least because you know the language and it's easier to meet suppliers face to face. But, when you're planning closer to home, it's very easy for it to take up A LOT of time and create an equal amount of work!
What are your choosing to do for your wedding and have you decided to go home or away?