Gorgeous Ways To Sparkle At Your Christmas Party
A Christmas Party offers the perfect excuse to sparkle your way through the season and here at Glitzy Secrets we believe you can never have too many sequins! It's time to grab the pair of glittery heels you've had your eye on, as today we're talking about the ways you can sparkle.  Sparkles, glitter and sequins are the hottest trend at the moment and we couldn't be any happier about it, so it's time to embrace the season and get glitzy!
Images: Top Row Left via Frou Frou Fashionista – Tumblr | Top Row Right via Bridal Musings by Paige Winn Photo | Second Row Left – Enchanting Dream Tiara by Glitzy Secrets | Second Row Right via Love My Dress by Rock and Rose Photography | Third Row Left via Asos | Third Row Right – Deco Drama Earrings by Glitzy Secrets | Bottom Row Left via Je Suis Vernie | Bottom Row Right via Styles Weekly
A chic manicure will add the perfect finishing touch to any Christmas party outfit. We've got our hearts set on a show-stopping red nail polish covered in gorgeous gold glitter – pair it with a red lipstick and you're guaranteed to turn heads as you walk into the room.
When it comes to your Christmas party make-up, we suggest going all out with the glow! Opt for highlighter to give your skin a luminous and healthy look, teamed with subtle champagne eyeshadow that shimmers under the fairy lights. As mentioned, a bold red lip will add impact and it's a wonderful fit for the festive season.
We are huge fans of statement cocktail rings and we have a dazzling collection to choose from – just imagine how incredible they will look with a metallic manicure. If you love wearing show-stopping earrings, channel your inner-magpie and browse our collection of swoon-worthy chandelier earrings on Glitzy Secrets. They're a fab way of adding instant drama to your outfit and you'll feel like the belle of the ball.
If you're stuck for ideas when it comes to sparkling crystal hair accessories, our range of headbands will certainly capture your heart. Our Garland of Eden has a vintage-inspired vibe that will look stunning at your Christmas Party, whether you're wearing an elegant up-do or relaxed waves.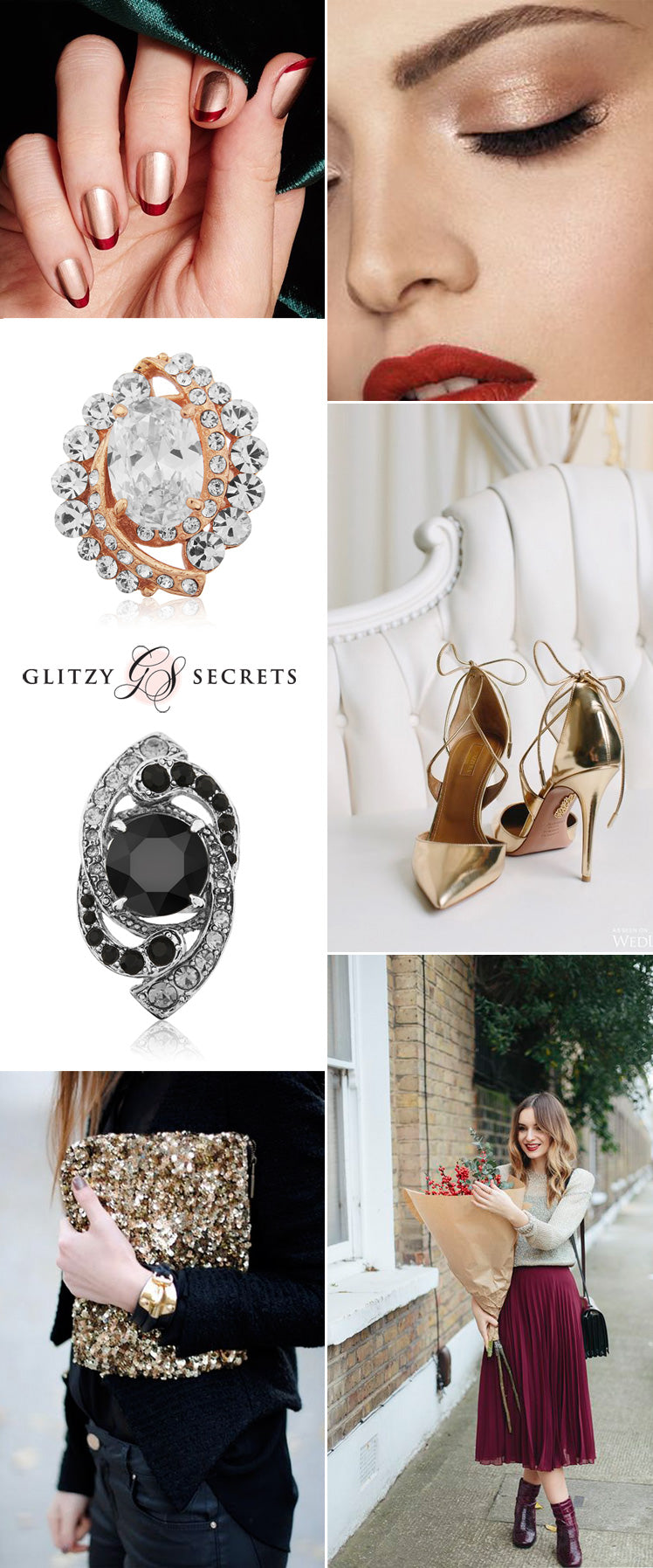 Images: Top Row Left via Pinterest | Top Row Right via Become Gorgeous | Second Row Left – Gatsby Romance and Heirloom Drama Cocktail Rings by Glitzy Secrets | Second Row Right via Wedluxe by Mango Studios  Bottom Row Left via My Luscious Life | Bottom Row Right via What Olivia Did
The party season means it's time to revamp your festive wardrobe – any excuse! Whether you want to impress your friends and family or your colleagues, embrace the season and find an outfit that you'll adore wearing. Shimmering velvet dresses and gowns adorned with sequins are set to stay in the spotlight this season and they're a gorgeous way to make sure you sparkle throughout your Christmas party. However, if you want to wear a classic LBD there are lots of other ways you can add a touch of sparkle to your outfit. Opt for a cute clutch bag covered in gold sequins or don a pair of on-trend rose gold heels to complete your look.
If you want to keep your Christmas party outfit understated with a nod towards the season, we suggest teaming a subtly shimmering jumper with a velvet skirt. If you're a jeans-wearing kind of girl, opt for trousers with subtle pearl embellishments.
We can promise you that you're going to dazzle your way through December!