Grace Kelly – The Wedding of the Century
With the growing hype and publicity of Nicole Kidman's new film "Grace of Monaco", launched at the Cannes Film Festival this week, our attention has turned to what was dubbed by reporters as the "Wedding of the Century".  Grace Kelly, admired for her beauty and poise and an icon of classic American style married Prince Rainier III of Monaco in 1956.  Following Monaco tradition, they had two ceremonies – one civil and one religious.
Civil Wedding
The first, a civil ceremony, was held on 18 April 1956 in the palace's baroque throne room.  Grace wore a pale pink taffeta dress covered in cream-colored Alencon lace.  The dress, which was designed by Helen Rose, had a fitted bodice, flared skirt and high rounded collar.  Grace accessorised with white kid gloves and a Juliet cap.
The ceremony was performed by Monaco's Minister of Justice in front of 80 guests.  Following the ceremony, the couple held a reception for the citizens of Monaco so that each one could shake hands with the new princess. A gala celebration was held at the Opera House that evening.  As their gift, the people of Monaco gave the couple a cream and black Rolls Royce convertible which they used following the religious ceremony the following day.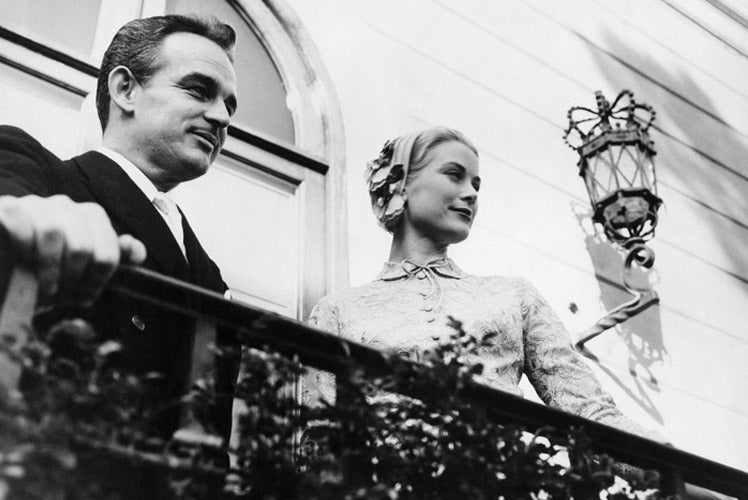 © REX/Everett Collection
Religious Wedding Ceremony
At 9:30 am on 19 April, Grace and Prince Rainier had a high mass religious ceremony at the St. Nicholas Cathedral conducted by the Bishop of Monaco. The Cathedral was adorned in flowers including white lilacs, hydrangeas, lilies, and snapdragons. During the ceremony the couple did not look each other and exchanged their vows so quietly that it could not be heard whether they spoke English or French.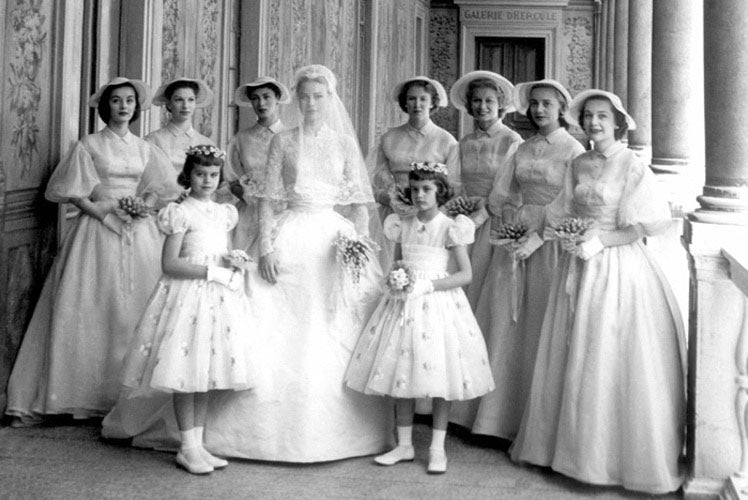 © REX
The matron of Honor was Grace's sister, Peggy.  Six bridesmaids were in attendance wearing yellow organdy dresses with small collars and billowing sleeves designed by Priscilla of Boston. Grace also had six junior attendants (4 girls and 2 boys) who were all dressed in white.  The bridesmaids carried bouquets of tea roses while the flower girls carried white daisies.
The wedding was attended by 600 guests including Hollywood stars such as Cary Grant, Aga Khan, David Niven, Gloria Swanson, Aristotle Onassis, Ava Gardner as well as Heads of State, and overseas diplomats.  It is estimated that 30 million people also watched the wedding on television.
The celebratory luncheon reception was held in the Palace Court of Honor where the bride and groom cut the six-tier wedding cake with the Prince's sword.
At the end of the ceremony, a message was read out from the Pope.  The couple then drove through the streets of Monte Carlo in their open-top Rolls Royce, waving to thousands of well-wishers.
Wedding Dress
Grace's wedding gown was designed by MGM's costume designer Helen Rose and was presented as a gift from MGM Studio.  It was a high-necked, long-sleeved gown with a fitted bodice made from 125 year old Brussels rose point lace, a billowing skirt made of twenty-five yards of silk taffeta, one hundred yards of silk net, peau de soie and tulle.  Grace accessorised with a Juliet cap that was decorated with seed pearls and orange blossoms, and a circular silk net veil made from over 90 yards of tulle which was especially designed so that the bride's face could be seen.  It featured appliqued lace motifs which included two tiny love birds.  Her pearl and diamond earrings were created by Van Cleef & Arpels. Grace's shoes were designed by David Evins from Evins, New York and a copper penny was built into the right shoe for good luck.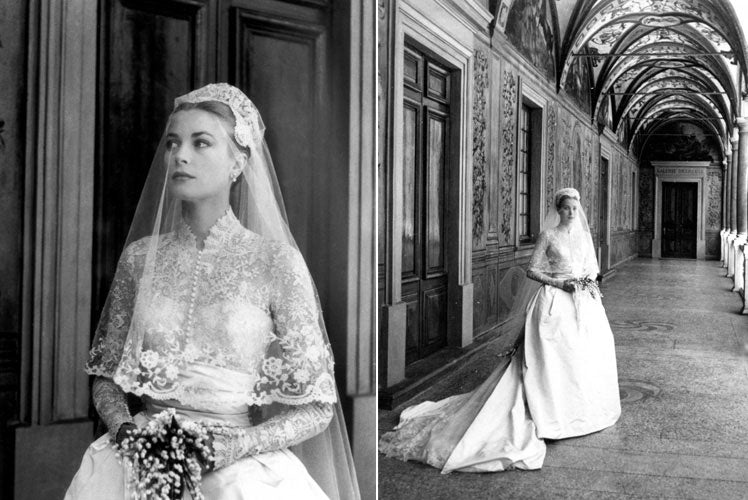 © REX/Sipa Press
Grace chose a simple bouquet of Lilly of the Valley tied with silk ribbons which had sprigs attached to them. She left the bouquet on the altar of the Chapel of St Devote after the wedding.  She also carried a small prayer book.  The chief hairstylist at MGM Studios, Sydney Guilaroff, styled Grace's hair in an elegant updo.
Steal the Style
You can add a modern twist to Grace's style with Glitzy Secrets' stunning Beautiful Romance Headpiece which features floral accents enhanced with clear crystals and light ivory faux pearls set amongst delicate lace and satin leaves.
Glitzy Secrets' beautiful Timeless Elegance Earrings are also the perfect classic pearl earrings for achieving Grace's elegant style.
Beautiful Romance Headpiece
and
Timeless Elegance Earrings
by Glitzy Secrets