Grammy Awards 2014 Style Steal: Designer Earrings for Less
The 56th Grammy Awards on Sunday 26th January had us all buzzing in the Glitzy Secrets' office.  It is a magical night when the music industry's biggest stars hit the red carpet.  We love to see who is sparkling and this year saw a real metallic trend.  There were gowns from Gucci, Valentino, Lanvin and Emilio Pucci to name a few.  Accessories are also key to perfect stunning Grammy style and we were thrilled to see vintage style earrings making their mark.  We have included four of our favourite looks with our tips to steal their designer earrings for less!
Taylor Swift –
The 24-year-old multi nominated singer looked absolutely stunning in a long sleek silver metallic Gucci gown which she described as like "chain mail".  Her shoes were Jimmy Choo 'Mariah Ankle Strap Platform Sandals' which, unfortunately, are no longer available to buy.  With such a crystal-embellished gown, Taylor kept her jewellery to a minimum with gorgeous silver drop earrings by Lorraine Schwarts and a pair of rings.
Steal Taylor's style with Glitzy Secrets' stunning Mademoiselle Earrings.  Priced at £19.00 these exquisite drop earrings are full of Silver Screen glamour from the 1940s featuring a large sparkling clear Austrian crystal set in silver tone.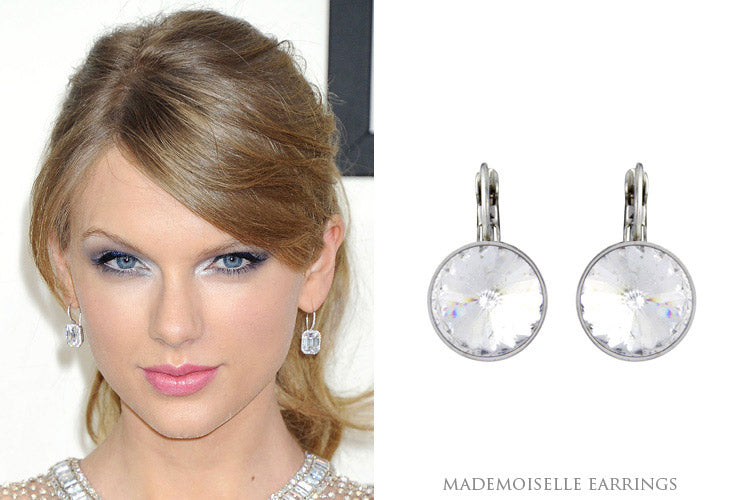 © Broadimage | Rex
Katy Perry –
Katy was definitely the Master of Quick Change at this year's Awards wearing no less than four outfits! She graced the red carpet in a stunning Valentino sheer blush gown which was covered in music notes.  The gown is not even available yet as it is currently opening the Valentino Spring 2014 show in Paris.  During the ceremony Katy let her long hair down and slipped into a couture gown by the fashion house, which was unveiled during its Spring 14 show last week. Her on stage outfit was a bizarre black crucifix- inspired dress and was followed by a red wine-coloured dress with a tutu skirt and a snake design wrapped around the waist.
We loved her dazzling baby blue backless gown with pearlesque shades of aquamarine which she wore to the Universal Music after show party.  With a low-cut neckline and halterneck tie, Katy kept her jewellery to a minimum with a beautiful pair of pear cut drop earrings.
Steal Katy's style with Glitzy Secrets' gorgeous Silver Screen Beauty Earrings.  Priced at £18.00 these stunning drop earrings could easily be mistaken for diamond designer earrings with a five digit price tag.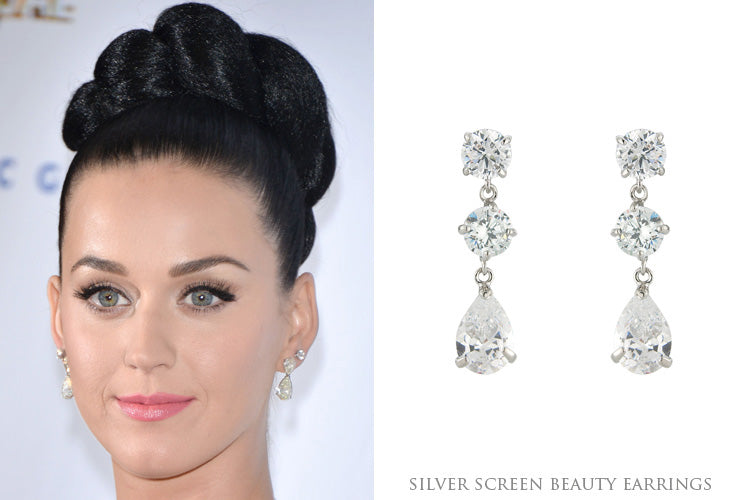 © Startraks Photo | Rex
Colbie Caillat –
The 28-year-old singer nominated in the Best Song Written for Visual Media Category, wore a stunning statement red haute couture gown, created by Dubai designer Ezra Santos featuring red flower detail at the neck and chest with a sliver of opening across the front as well as a sophisticated sheer back.  Colbie chose Claude Morady 1930s drop vintage diamonds which looked stunning with her unique braided updo.
Steal Colbie's style with Glitzy Secrets' chic Deco Dream Earrings.  Priced at £24.00 these beautiful 1920s inspired drop earrings feature a sparkling crystal fan design.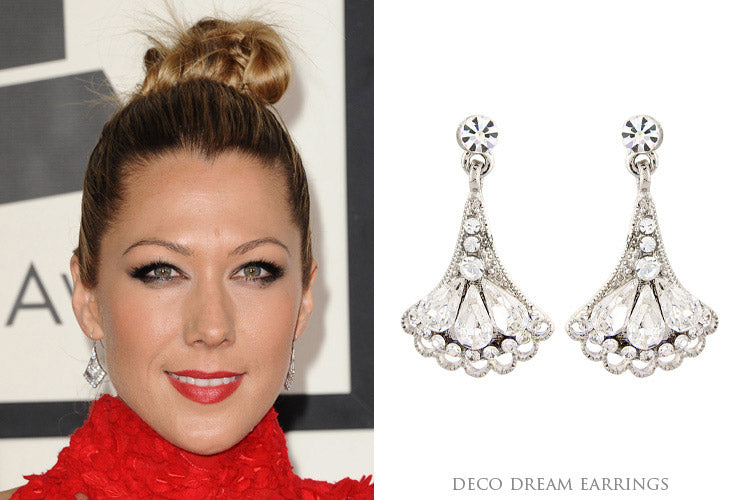 © Startraks Photo | Rex
Kacey Musgraves –
The double Grammy winner Kacey Musgraves donned two outfits for the Awards.  She looked stunning as she graced the red carpet in a sophisticated pale nude ruffled floor-length Armani Prive dress, Jimmy Choo shoes and gorgeous Forevermark Diamond "The Center of My Universe" stud earrings.  For her centre stage performance, Kacey stole the show with her country girl style.  A fuschia pink bodice with plunging neckline covered in intricate beadwork and a short swingy deep purple skirt trimmed with gold tassels accessorised with pale blue light-up cowboy boots!
Steal Kacey's red carpet style with Glitzy Secrets' Eternally Timeless Earrings.  Priced at £19.00, these silver tone stud earrings feature a large central Austrian crystal surrounded by a myriad of petite sparkling crystals.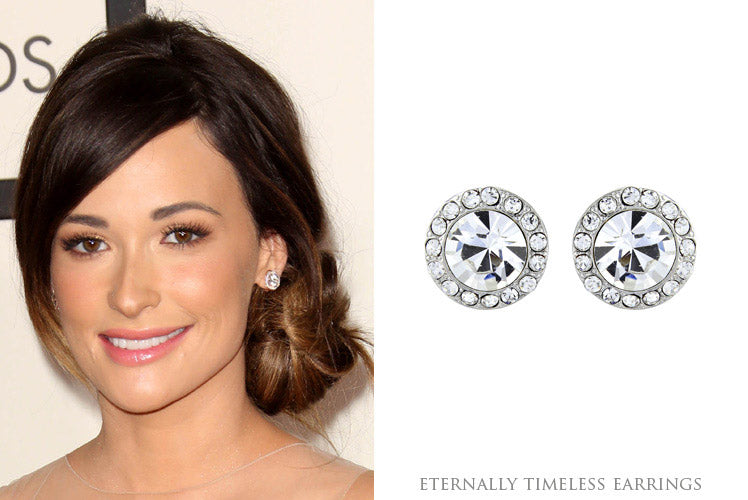 © Jim Smeal | BEI | Rex