January's Garnet – This Month's Birthstone Wedding Theme
I should probably come clean right at the start of this feature and admit that I am huge fan of red and the warm jewel tones of January's birthstone, garnet, are really making me smile. It's a deceptively adaptable colour – it certainly looks fantastic with gold, it's rather fantastic with blues, it's dreamy with off-whites and it's altogether stunning with a whole range of berry inspired tones. So really, whether you're planning a classical wedding, a bohemian big day or any style of celebration in between, garnet is certainly a colour to consider.
Firstly, let's look at how to wear this colour if you're the bride and there are certainly lots of ways you can incorporate it in your outfit. Think coloured shoes, ribbon belts and let's not forget the brightly coloured petticoat that peeps out in frothy bliss from underneath a shorter skirt. You can obviously bring in pops of colour with your jewellery and garnet earrings, necklaces and rings would be beyond perfect.
It rather goes without saying that flowers are a perfect way to add colour and garnet also lends itself so brilliantly to this. You could of course opt for a vibrantly tinted bouquet, full of red, or you could, as in this gorgeous image, mix in other hues and use trailing ribbons for added interest. I am also rather in love with the floral brooch worn in this image – dahlias are such heavenly blooms and I do so swoon for the unexpected so wearing your flowers rather than carrying them is a great idea. With flower crowns still being so on-trend, this is certainly something else to consider and don't forget those divine wrist corsages as another option.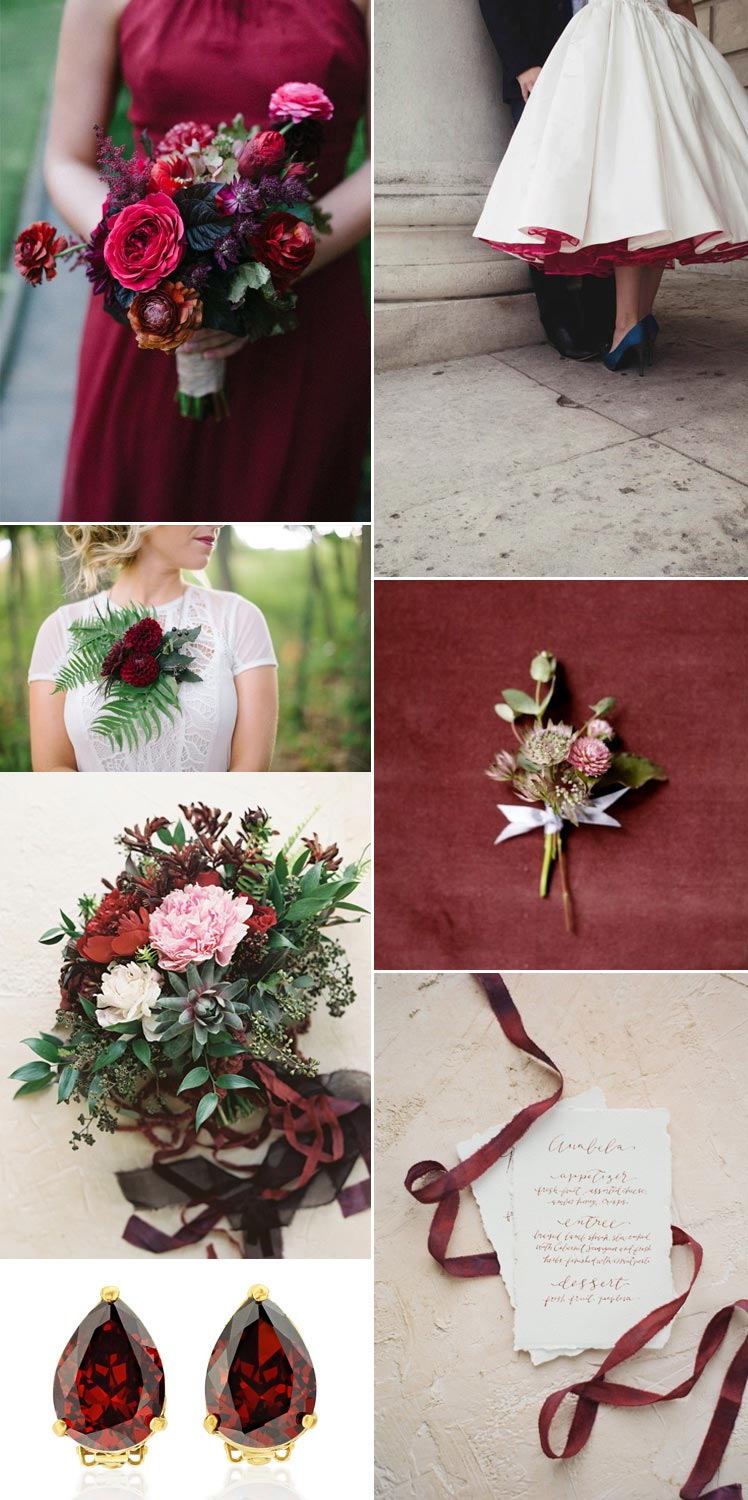 Images: Top Left – Christine Sagologos via Style me Pretty | Top Right – Amy Radcliffe Photography via Rock n Roll Bride | Middle Left – Ashley D Photography via Green Wedding Shoes | Middle Right – via Once Wed | Middle Left – Lani Elias Fine Art Photography via Once Wed | Bottom Left: Ruby Rock Clip On Earrings by Glitzy Secrets | Bottom Right: Lani Elias Fine Art Photography via Magnolia Rouge 
Bridesmaids wearing garnet gowns would also be just fabulous and it's not hard to see why so many designers include this colour in their collections. I also adore the bridesmaid's bouquet in shades of reds with pink bursts against the coloured dress here. It's added real depth to the overall look and to my mind, it's just heavenly. This idea would also allow you to incorporate seasonal flowers into the bouquets, which can be helpful in terms of cost too.
Garnet is also a great choice for the guys – grooms with warm red buttonholes, ties or waistcoats would be fantastic and the rich tone works equally well with rustic tweeds and sharp suits. Again, the versatility of this shade is just fabulous.
When it comes to dressing your tables, there are so many options here too. Bare wood or crisp white linen are both wonderful foils for this colour and if you add in a touch of luxurious gold, the results can be astoundingly pretty. Think gold bowls piled with fruits and golden cutlery lying alongside. Add in garnet fabrics and stationery with coloured ink and you've got everything you need to wow your guests.
I couldn't finish this piece without a little look at food and drink and, whilst I'm not one for fully theming the menu, red wines and colourful cocktails are a bit of a must-have here! Deep red treats such as these yummy macarons would be altogether delightful and a stylish naked cake with the lightest touch of white icing finished with naturally delicious fruits would be a worthy showstopper for this versatile and charming wedding theme.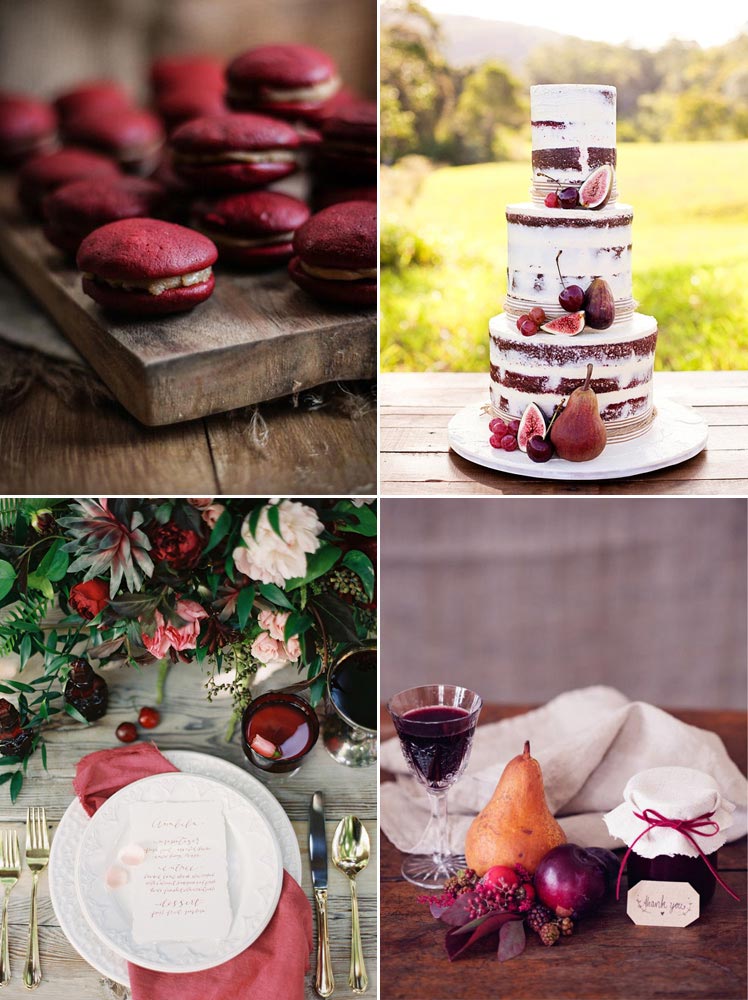 Images: Top Left – via Foodista | Top Right – Jennifer Oliphant Photography via Polka Dot Bride | Bottom Left – Lani Elias Fine Art Photography via Once Wed | Bottom Right – Peaches & Mint Photography via Burnett's Boards