Make-Up Inspiration for a Spring Wedding
We've put together some different make-up looks for those brides who are tying the knot in Spring. This glorious season is all about renewal and rejuvenation so soft, pastel accents and earthy tones are always a popular choice for brides. But we've got something for everyone, so if you're saying 'I do' in Spring take a look at our latest beauty looks…
Bronze goddess
Being a Spring bride doesn't mean you can't go for a glitzy, glamorous look. Highlighter is a must-have when it comes to wedding make-up, just don't overdo it as you don't want to look too shiny in your wedding photographs. Add bronzer on the areas of your face that would catch the sun naturally – your cheekbones, nose, chin and forehead. Creamy, gold eye shadow will look gorgeous with a light bronzer. Finish with a matte blush lipstick for a rose-gold bridal look.
Images: Left via Mon Cheri Bridals | Right via Elle
Peach and coral
Peach and coral are the colours of Spring, and will give you a healthy glow for your big day. A dusting of champagne eye shadow, teamed with peach blush and a nude, coral gloss will look stunning, whilst still looking natural and bright.

Images: Left via Pinterest | Middle via Total Beauty | Right via Le Magnifique Blog
Pretty pink
Blush pink is a gorgeous colour to use for your bridal make-up, particularly for a fresh, Spring wedding. Apply a pale pink shimmer to your lips and cheeks, and pop a shimmery champagne eyeshadow to your lids for a natural, rose-pink bridal look. This style is ethereal and enchanting, and will gorgeous on any bride!

Images: Left via Brides Magazine | Middle via Refinery 29 | Right via Real Simple
Natural/Fresh faced
Do you want the 'barely there' make-up look? A few sweeps of mascara on your top and bottom lashes will give your eyes a wide-open, awake look. Line your eyes with white eyeliner if you want to achieve beautiful, big eyes. For your cheeks, choose a blusher that matches the colour of your cheeks naturally when you're flushed. A matte peach lip will complete this style perfectly.

Images: Left via Glamour | Middle via Cosmopolitan | Right via Harper's Bazaar
Bright colours
You can still pull off a statement lip in Spring – don't be fooled! Rather than going for a bold red, why not wear beautiful berry purple or a bright peony pink? If you keep your eyes subtle and cheeks softly blushed, a strong lip will look beautiful and vibrant.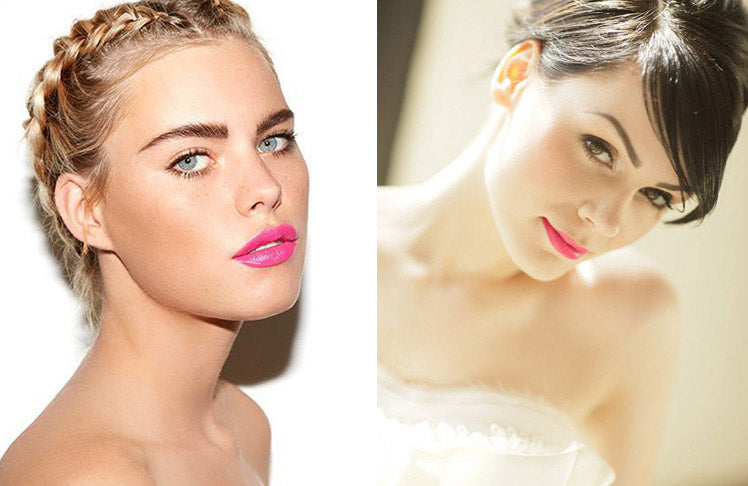 Images: Left via Allure | Right via Style Unveiled
Earth tones
If you want to achieve a natural make-up look for your wedding day, earth tones will enhance your features and will suit the season perfectly. Complement brown, orange and taupe shades with a chic, nude gloss and you're good to go.
Images: Left via Byrdie | Right via Vogue