My Queen of All Wedding Hairstyles: The Loose, Soft Updo
After almost 10 years (ouch, that makes me feel old) in the wedding industry, I've seen a gazillion (ok, that may be a slight exaggeration) big day dos and provided bridal hair accessory advice to tens of thousands of brides-to-be but, if I had to choose my all-time favourite wedding hairstyle, I'd go for a feminine, loose up-do every time. A side chignon, a loose bun or a ponytail, this pretty style is my clear winner as I'm a huge fan of 'soft' wedding hair. To be honest, I also adore a romantic down-do but keeping loose looking fabulous throughout day is very, very difficult unless you have your stylist on hand. This is why the loose up-do takes my award for Best Wedding Hairstyle. With the femininity of an all-down hairstyle and the practicality of an up-do, a soft, loose up-do is not only a super flattering style (in fact, I don't think I've ever seen a bride the 'do doesn't suit), it also works with almost every hair type and can be achieved with shoulder length hair and longer.
It seems my favourite wedding up-do is the red carpet hairstyle of choice too so I've chosen my top 6 celebrity soft up-dos and asked some of the wedding industry's most talented hairstylist to tell us what they love about this style and some secret style tips.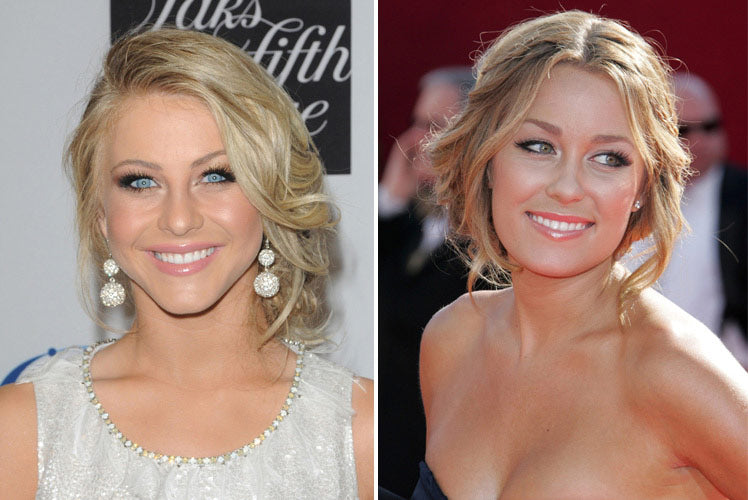 1. Julianne Hough goes for side-swept tousled glamour © Startraks Photo | 2. Lauren Conrad opts for boho beauty © Matt Baron/BEI/REX
Unstructured and Tres Romantique
With his work featuring on covers of You & Your Wedding and Wedding to the national bridal catwalks, Severin Hubert of The Hepburn Collection is one of the most respected stylists in the industry. Specialising in red carpet-worthy hair, there's no doubt that Severin's Parisian heritage has influenced the magic he creates for brides in the UK and internationally.
"If you're a bride who doesn't like the too structured look then the soft updo is the one for you. This style is fitting for any type of wedding but especially perfect for a garden/beach themed wedding…tres romantique!! With this style there are may options; you can create a side bun, low bun in the centre, twist the hair or add some braids to give that whimsical look; the list is endless. This style will also suit any hair accessory; try embellishing with fresh flowers for a Spring/Summer wedding.
Hair that is shoulder length or longer is best suited for the soft updo; don't worry too much if you think your hair texture is not suitable, we have the magic creation of clip-in hair extensions that will give volume and length if you need it.
Tips for achieving this style is all about adding texture and not to over think it, after all the beauty of this style is you can go as messy as you like. Pulling tendrils around your face will give you that dreamy look that will make your groom tremble at the knees. Hair spray will also be your best friend for this style so keep one close to hand."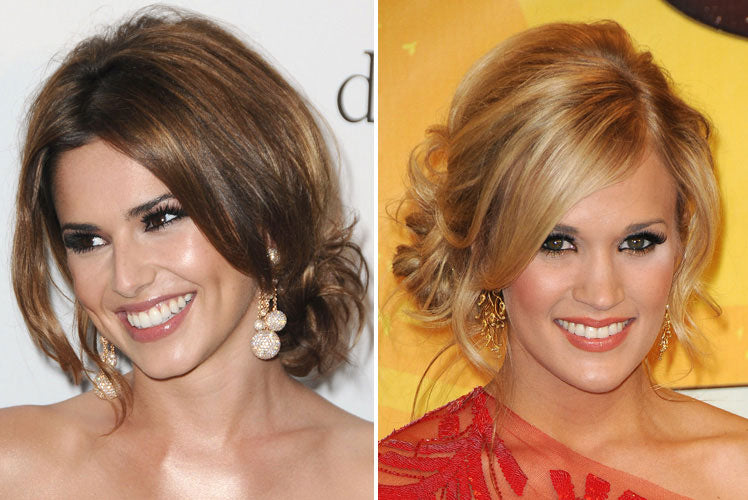 3. Cheryl sports a messy low knot © Sipa Press/REX | 4. Carrie Underwood goes for Hollywood Glamour with side-sweeping fringe © BDG/REX
Red Carpet Romance
From Wedding Hairdresser of the Year 2012 to judge for the Wedding Industry Awards, James White of James White Hair has established himself as one of the UK's leading wedding hairstylists. Working on photo shoots and fashion shows worldwide, James' signature style of "unique, simply yet timeless" is recognised by the industry and adored by his clients.
"A relaxed updo provides a sense of romance and softness to a look. It's the look that's always prominent on the red carpet with the A-listers. Whether the hair is off to the side of the base of the neck with loose curls or symmetrical, it allows you to show off the back of your wedding gown. Worn with or without a fringe, this favorite classic hairstyle allows a bride to easily insert a hair accessory to finish of the style.
Step 1: Hair is curled using Hot tongs and pinned to allow to cool in shape.
Step 2: Once hair has been allowed to cool, release all hair and section zones off. Side zones, top and back zones.
Step 3. Work on the back zone first, build up the curls in the desired area of the chignon and grip in to place.
Step 4. Take the top zone and add backcombing in the crown area to add height and shape. Take the section of hair back and grip into the chignon that's already been created.
Step 5. Then take side zones back and grip into the chignon. Leave and loose hair out to soften around the face.
TOP TIP: when creating a relaxed up style, ditch the brush and use you hands. This well help create that soft relaxed feel."

5. Eva Longoria flaunts a loose wavy pin-up do © Sipa Press/REX | 6. Jennifer Lopez goes for a 60s vibe with a relaxed beehive pleat © Media Punch/REX
The Mr Darcy-Worthy Do
Winner of the Wedding Industry Award for wedding hair for the East of England, Amelia Garwood boosts a wealth of qualifications and now runs her own Academy specialising in Dressing Long Hair, Hair Sculpture and Wedding Hair too. Admired for her talents throughout the East of England, Amelia also went on to train in Bridal Make-Up at the renowned London Collage of Fashion.
"A 'loose up do' is especially popular with brides at the moment as it is a subtle vintage style. This look gives a nod to the demur classical styles of regency England and Jane Austen. Every bride wants a Mr Darcy to sweep them off their feet. With this hairstyle you can embellish it with a variety of hair accessories, pins look great in the fullness at the nape of the neck, a comb looks fabulous either at the back centrally or on either side and a side tiara looks stunning as most of these styles have side partings. The side with the least hair could carry an ornament.
You start preparing the hair by adding some movement to it, either by using heated rollers or tongs. Then use your hands to work some smoothing balm through the mid lengths and ends and then loosely pin the curls up at the back leaving some tendrils to frame the face. The trick to making a hairstyle look softer is to cover the tops of the ears, don't put too much tension on the sides of the hairstyle. Finish with some hairspray to hold the style. The softer hairstyle is very flattering and suits straight or wavy hair types that is medium to long in length. Saying that though even if they have shorter hair you can always add hair extensions to create the style!"