October's Opal: This Month's Birthstone Wedding Theme
October is certainly one of my favourite months of the year – as the clocks go back and autumn really encroaches, I look forward to shimmering frosts and gently twinkling lights. October's birthstone, Opal, is the perfection reflection of this beautiful combination as soft iridescence and warm glints catch the eye. Oh yes, there's no doubt about it – Opal would be a brilliant base for your wedding theme…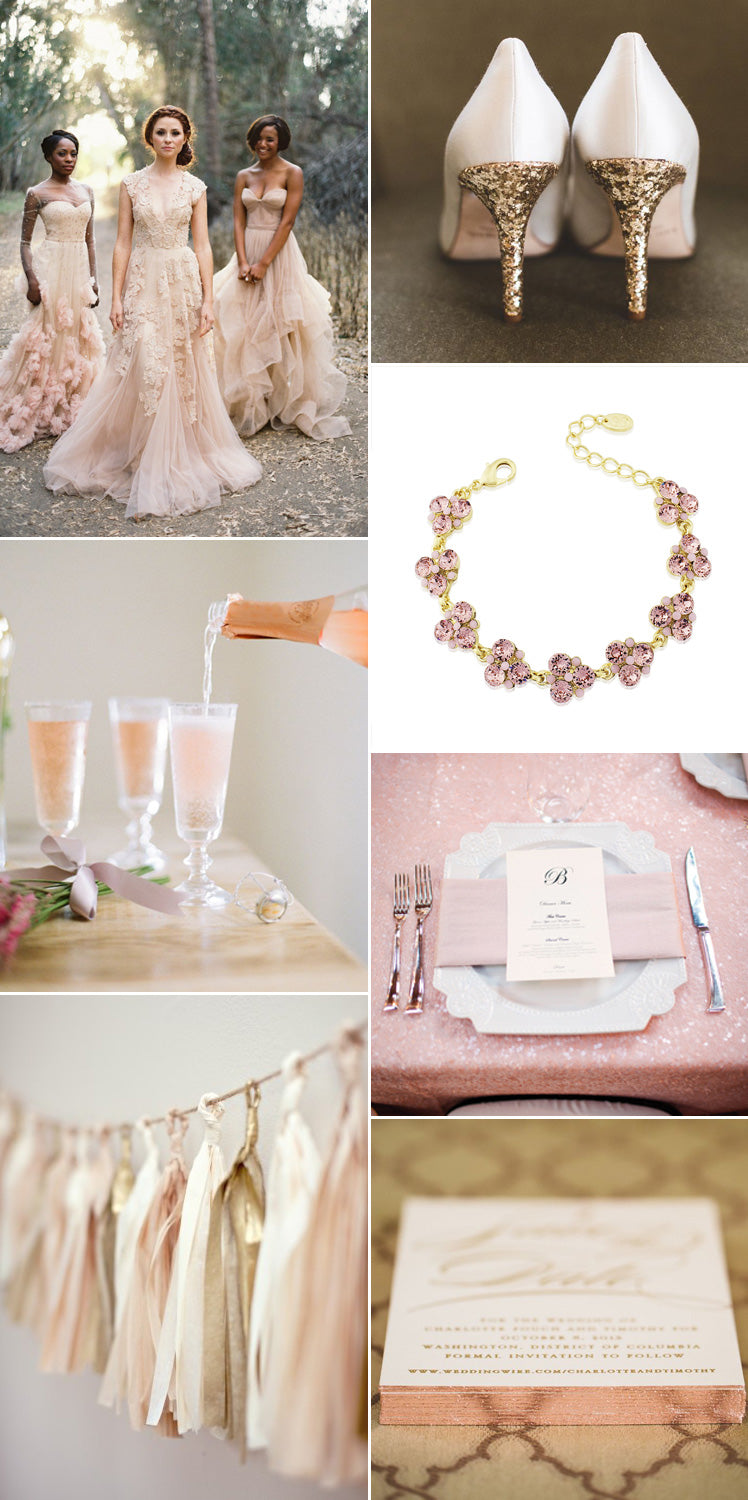 Top Row Left: via
Style Me Pretty
| Top Row Right:
Maria Vicencio Photography
via Style Me Pretty (as before) | Middle Row Left: via
White Loft Studios
| Middle Row Right: via Glitzy Secrets | Third Row Left: via
Your Cloud Parade
| Third Row Right: via
Nancy Ray Photography
| Bottom Right:
Maria Vicencio Photography
via Style Me Pretty (as before)
Gentle pinks and soft creams need to be a big part of your colour palette for an opal themed wedding and if you add in some rich gold tones with a little bit of glitter and sparkle, you've got the makings of something truly gorgeous.
For your gown, why not opt for a blush pink wedding dress? This super flattering colour is incredibly feminine and looks simply heavenly. Think masses of tulle offset with delicate embellishments and you're absolutely on the right track. Accessorise your gown with traditional cream toned shoes and maybe add a little touch of glinting gold to the heels. Bridesmaids, depending on their colouring, would look amazing in golds or creams and golden glittering accessories are absolute must-haves.
If you've looking for a motif for your opal themed wedding, then twinkling stars are an ideal addition and will perfectly pick out any other glitter tones you've used throughout the day. Sequins are also spot-on for this theme so why not consider hiring some shimmering tablecloths or table runners in either blush pink or gold? I also love tassel garlands right now and blush, cream and gold combinations look beautiful. The lightness of the tissue paper works so well too and these are an easy DIY.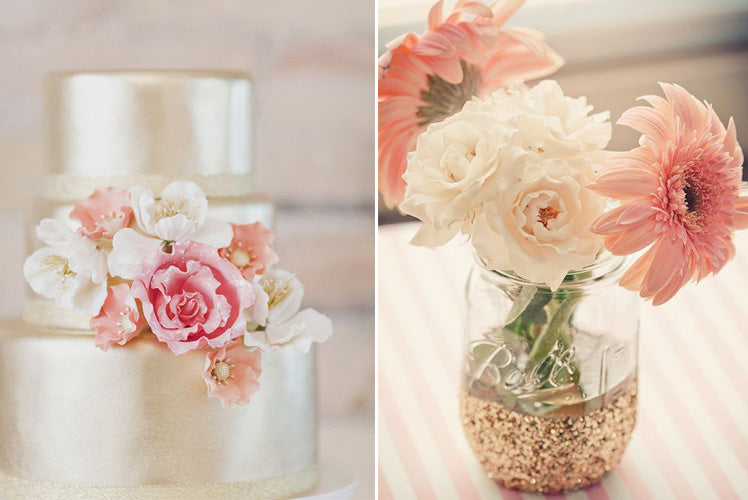 Left: via
Vicky Starz Photography
| Right: via
Lauren Armstrong Photography
Tablecentres obviously need to include lots of luscious pink and cream flowers and pillow-soft peonies and roses would be perfect. Add a little hint of flashing gold with glitter-dipped jars or golden table numbers plus hints of gold on stationery too for added lustre. Cakes should certainly be cloaked in shimmering icing (naked is simply not an option!) and pale pink macarons decorated with flecks of gold would make delicious favours.
I am now absolutely head over heels with this on trend theme – blush pink, cream and golden touches seem to me to be the thing that wedding dreams are made of. This colour combination creates a luminous wedding day and whether you choose to bring the bling with added gold or edge toward the ethereal with soft pinks and lighter touches, it will be simply stunning.