Perfect Peony Flowers for your Wedding Bouquet
It's fair to say a beautiful peony wedding bouquet never fails to have us swooning! Frothy petals of perfection, this delicate bloom is up there as one of our favourite wedding flowers. Originally cultivated in Asia for more than a thousand years, lucky spring brides are best placed to take advantage of these billowing blooms during their short season from April to June.
That's not to say you can't opt for peony flowers if you're tying the knot in late Summer, Autumn and Winter but expect to pay a higher price tag as florists will often import from China and Japan. If your heart is set on a peony bouquet, you'll be thrilled to know you have a lot of choice as there's 500 varieties to choose from. Reminiscent of tulle ballerina skirts, who could resist the feminine charms of peonies?!
Green Base
Boost a subtle pink peony bouquet by adding delicate greenery around the base to outline and accentuate the full shape of the flowers. Similarly, add contrast by including peonies in varying stages of bloom from small buds to full open heads for a naturally beautiful look.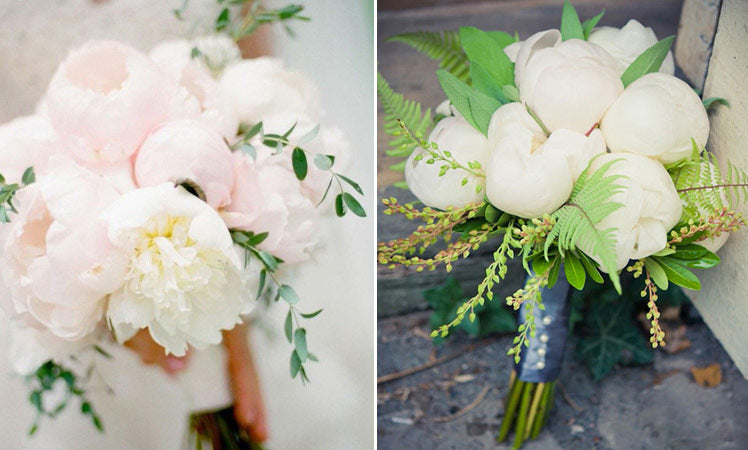 Images: Left via Bloved  | Right via Colin Cowie Weddings
Two Shades
For a relaxed bouquet with statement style, mix complimentary shades of peonies together such as pink and white or varying tonal shades of the one colour. Alternatively add some petite pale roses to a springtime bouquet for subtle accents of light throughout. Finish the arrangement with matching ribbons tied around the stems and held in place with a pearl-headed pin.
Images: Left via Mod Wedding | Middle via Erin Volante Floral | Right via Style Me Pretty
Go Dark
Typically associated with pastel shades, peonies have a darker side too. Go gorgeously gothic with a dark-coloured peony arrangement of burgundy and deep magenta flowers with roses and ranunculus. The full headed peony will stand out as the dominant flower and make a dramatic impact amid these deeper, luxurious colours.
Images: Left via Brides | Right via Style Me Pretty
All White
Traditional brides will love an all-white peony wedding flowers to compliment the elegance of their gown without fuss or distracting colour. Peonies are such a large bloom that a collection of just a few stems can make impact in its own right without the need for other flower varieties. If in doubt add a touch of soft greenery to break up the expanse of white and add differentiation between your dress and bouquet.
Images: Left via Bridal Guide | Right via Platinum Floral Designs
Peach and Grey
Peach is making a wedding comeback so it's no surprise to hear a modern peach bouquet is a popular choice for spring and summer brides. Fresh and subtly feminine, this soft hue is a fabulous alternative to pink peony flowers which are more often used. Add garden roses, ranunculus and eucalyptus to your peony bouquet to create variants in texture and shape. Country charm perfection!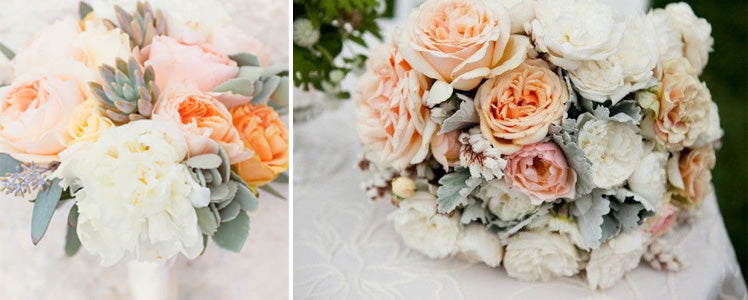 Images: Left via The Sweetest Occasion | Right via Society Bride