Photo Booth Ideas for a Wedding Day to Remember
Your wedding photographer will be able to capture the most amazing photos of your wedding day that you will treasure forever. But why not have some fun and silly snaps of your wedding day that you can also treasure – a photo booth will mean you get even more pictures to enjoy – and they will have a completely different style and vibe to your official wedding album.
Firstly, you want your wedding guests to know exactly where your photo booth is! You will be able to find so many gorgeous wedding sign ideas that will be a perfect addition to your wedding day along with props that you and your guests can have so much fun with. Once you have your wedding sign and your props, you can then find the perfect backdrop for your wedding day.
Taxi Photo booth
If you are getting married in a busy city then what could be more perfect than a black cab photo booth located just outside your wedding reception. Your evening guests won't be able to miss it as they arrive and it will be something they haven't seen before.
Wallpaper
Vintage wallpaper will be a pretty finishing touch to your vintage celebration – add in some decedent furniture to really complete the style.

Images: Left via Mad Booths | Right via Deer Pearl Flowers
Hanging Frames
If you have lots of outdoor space then simple frames hanging from the trees will look great and will add a romantic look to any wedding day.
Camper Van
Are you a couple that loves to travel? Or do you have a love for vintage cars? Then a camper van photo booth will be a perfectly on-style addition to your day.

Images: Left via Deer Pearl Flowers (as before) | Right via Southbound Bride
Chalkboard
How amazing is this chalkboard backdrop? Personalise your very own backdrop just like this style from Etsy.
Crate Backdrop
This crate backdrop is super simple yet so effective, it would be perfect for a barn wedding or a stylish warehouse wedding day.

Images: Left via Etsy | Right via Weddings Online
Flower Wall
Kim and Kanye put flower walls in the spotlight and it looks like they are here to stay – which is no surprise when you see how elegant they are.
Ribbons
Hanging ribbons are such a simple idea but can look so stunning – especially when they are matched to your colour scheme.

Images: Left via Weddingomania | Right via Pop Sugar
Instagram Frame
Have you created your own wedding hashtag? They you are going to love this Instagram frame that can be personalised with your names and wedding location.
Portrait Photo booth
Add some stately home style to your wedding with this decedent wall with empty frames just waiting for your portrait.

Images: Left via Weddingomania (as before) | Right via Andrew Gleed Photography
Horse Trailer
Whether you love horses or you are planning a wedding in the countryside, then this beautifully decorated horse trailer will be something completely different for your wedding guests.
Paper Booth
Create your very own DIY photo booth by creating vibrant paper fans and flowers to stick to your chosen backdrop.
Trailing Flowers and Ivy
Keep your photo booth simple and elegant with a trail of ivy and flowers cascading down the wall –perfect for a boho wedding day!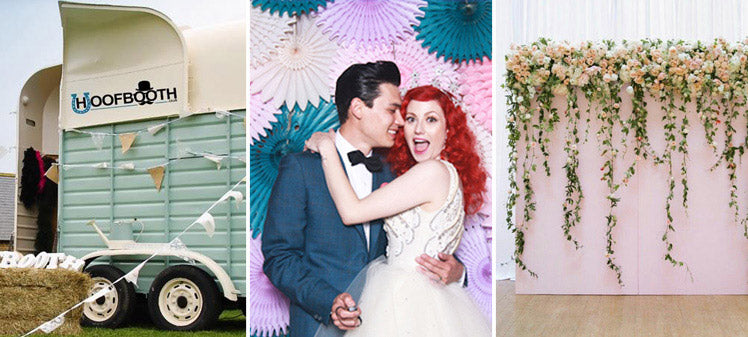 Images: Left via The Photo Hoof | Middle via Weddbook | Right via Martha Stewart Weddings