Picking The Perfect Wedding Colour Scheme
When you're planning your wedding, one of THE most exciting things has to be choosing wedding colours. Wedding colour schemes are so numerous and so full of possibilities that it can be hard to know where to start! What will work with your vision for the day? What will suit your venue and how can you be sure you'll end up with a colour palette that you absolutely love? Don't worry, we're here to tell you everything you need to know about beautiful and brilliant wedding colour combinations…
Wedding colour schemes
Choosing your colour scheme from all of the amazing options can be a tricky task and it really is worth taking the time to do this with thought and care. The colours that you choose will have so many implications right across your wedding so it's really important you're sure you love your choices before you leap into planning and purchasing.
So, what are the options for wedding colour schemes? Well, it's no exaggeration to say that the sky is the limit! Over the last few years, we've seen a huge increase in the wedding colour combinations that couples have been using and now, there really are no rules. That said, we've got a few helpful tips to help you choose the perfect colours for your big day.
Choosing wedding colours
When you're choosing wedding colours, here are a few things to keep in mind:
Think about your venue. As much as you might love certain combinations, if these shades clash with your venue's décor, it's never going to look as great as it might.
Take inspiration for your location. For example, a riverside venue, will look gorgeous with muted, natural shades while a warehouse could take much more vibrant tones.
Work with the seasons – pastels are never going to look their best in winter while they look absolutely brilliant in spring and summer. Stark reds, whites and greens are made for cold frosty days while brighter colours are ideal for summer.
What's the atmosphere that you want to create? Luxurious, opulent weddings have to include touches of gold, natural weddings needs greens and earthy tones while dramatic weddings just cry out for deep colours and jewel-inspired tones. Colours can really influence how you feel so use this to your advantage!
You know what you love so use your own personal favourites as a starting point. If bottle green just gives you flashbacks to your hated school uniform, why choose it for your wedding even if it is an on-trend colour? Your wedding is about you so start with colours that you love.
Keep your colour palette simple – you only need 2-4 colours for your palette so choose your tones and go from there. Don't be afraid to use varying tones of these colours throughout the day – this stops your wedding looking too matchy-matchy!
Think about more than just the colours, think about the textures too. Bringing more texture, not just more colour, into your wedding really makes things interesting and totally brings your look alive.
Images: Left via Wedding Chicks | Centre via Etsy | Right via Wedding Sparrow
Wedding colour schemes 2018
Of course, there are always trends in colours and whilst I don't advocate choosing a colour combination just because it's the current fashion, I do love looking at the new wedding colour schemes that are emerging right now. Here's what's going to be hot in the world of wedding colour schemes in 2018:
Greys – definitely not your traditional wedding colour but when you get it right, grey is just gorgeous.
Forest greens – taking our love of foliage one step further, deeper forest greens are going to be really popular.
Navy blue – oh yes, there's going to be more navy. Teamed with other shades (particularly yummy peach), deep blue is a colour to love.
Neutrals – now neutrals might not sound exciting but taupes, camels and gorgeous neutral tones are all kinds of gorgeous in 2018.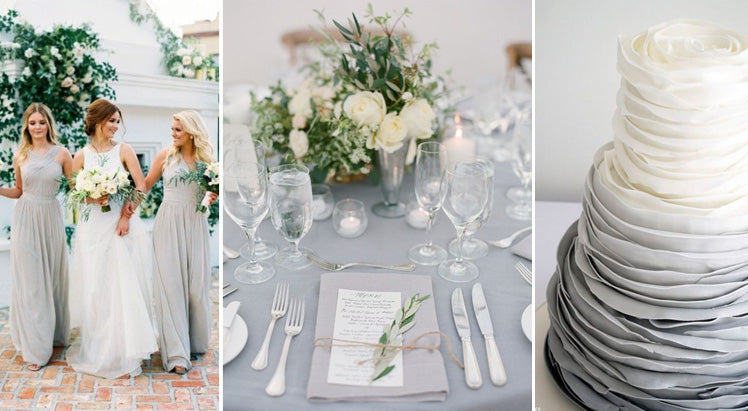 Images: Left via Want That Wedding | Centre via Style Me Pretty | Right via Breakfast with Audrey
Images: Left via The Pretty Blog | Centre via Boho Weddings | Right via Rock My Wedding
Images: Left via Junebug Weddings | Centre via Style Me Pretty (as before) | Right via Burnett's Boards 
Image: Left via Whimsical Wonderland Weddings | Centre and Right via Rock My Wedding (as before)