Purse-Friendly Bridesmaid Looks Your Girls Will Adore
There are a number of high street brands that have affordable bridesmaid dresses and shoes to complement their look, so don't fear – there is no need to break the bank when it comes to finding the perfect outfits for your best girls.
Lemon Dream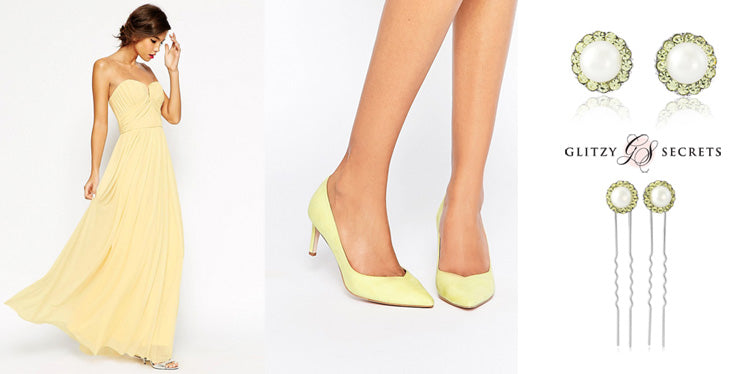 Images: Dress and Shoes via Asos | Lemon Dream Earrings and Hair Pins – Glitzy Secrets
Planning a glorious Summer wedding full of sunshine? Then you'll love the idea of zesty lemon accents or soft buttercup yellows. Make sure your bridesmaids feel comfortable with the shade of yellow you choose – you don't want to make them wear a gown that's too garish for their skin tone. Lighter tones are probably the best option when it comes to bridesmaids' dresses, whereas lively sunshine tones look great in their accessories. The Lemon Dream earrings by Glitzy Secrets will look beautiful if your girls wear their hair in a loose, graceful up-do adorned with lemon bridesmaid hair accessories.
Sky Blue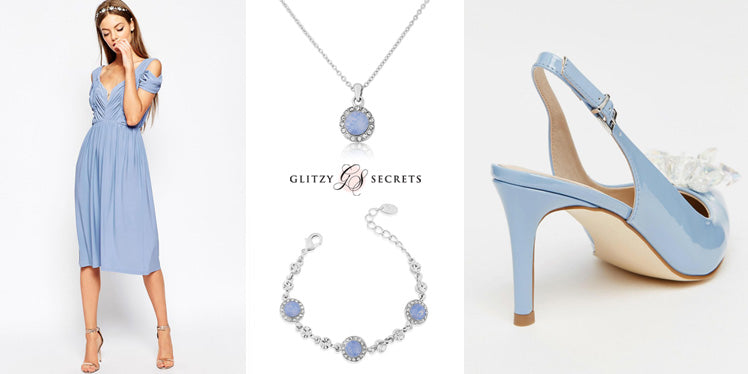 Images: Dress and Shoes via Asos (as before) | Shimmering Sky Pendant and Bracelet – Glitzy Secrets
You can't go wrong with a fresh blue wedding theme, especially as it's a colour that is guaranteed to suit all of your girls. From delicate pastel hues to vibrant sky blue, there is something for everyone. Plus, they can be your 'something blue' for your big day! I love the idea of dressing your girls in different hem lengths for a bit of mix and match fun! Complete their look with a pretty blue pendant such as Glitzy Secrets' Shimmering Sky and voila!
Paradise Pink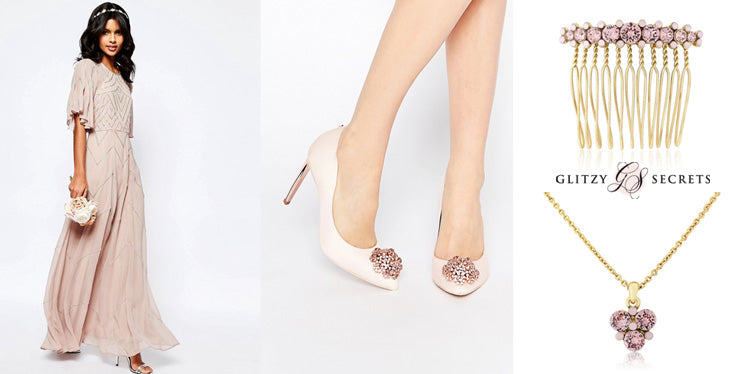 Images: Dress and shoes via Asos (as before) | Pink Paradise Hair Comb and Pendant – Glitzy Secrets
Pink is one of the most popular colours for bridesmaids to wear and we can see why! This completely romantic colour suits almost anyone and is super pretty and utterly feminine.  Fitting perfectly to a country garden wedding theme with a hint of Hollywood glamour, your maids will dazzle on your special day. Accessorise an antique, sequin gown with the Paradise Pink hair comb for a touch of vintage sparkle or go all out with the full Paradise Pink collection which includes a bracelet, earrings and a necklace.
Allure of Lavender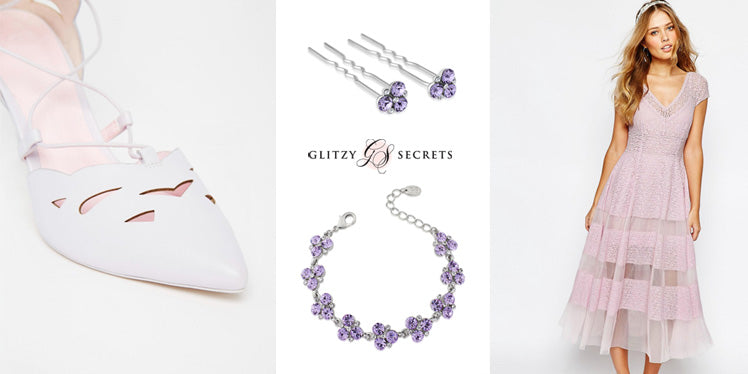 Images: Dress and Shoes via Asos (as before) | Allure of Lavender Hair Pins and Bracelet – Glitzy Secrets
'Cadbury Purple' used to be a huge contender when it came to choosing a colour scheme in the wedding industry, but now it's all about lilac and lavender shades. And what is more elegant than delicate lavender hues? A beautiful colour option for your girls, there are tons of different shades out there to suit your skin tone. Purple or lilac hair pins will add a subtle pop of colour to your bridesmaids' outfit, and will look absolutely beautiful with their wedding bouquets. Lilac and lavender shades look stunning in any length dress, from 50s retro or dramatic full-length gowns you are spoilt for choice!
Peach Passion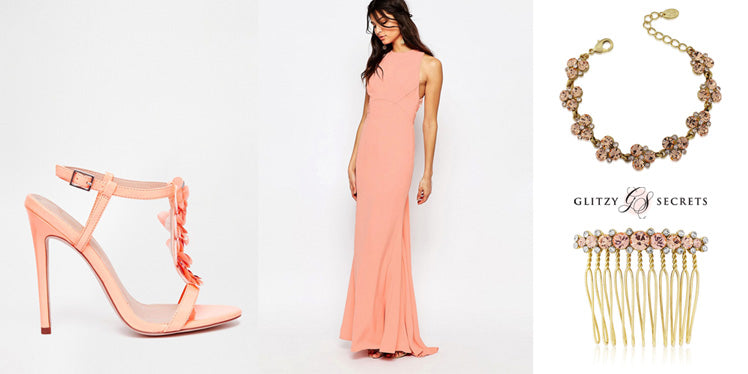 Images: Shoes and Dress via Asos (as before) | Peach Passion Bracelet and Hair Comb – Glitzy Secrets
A peach wedding is all about soft, delectable tones and it's a colour that looks lovely during the hazy summer months. Why not consider elegant maxi dresses for your best girls? Team with high heels for a glamorous feel or add pretty sandals if you want a nod towards a relaxed, boho theme.  The Peach Passion bracelet will work beautifully with this oh-so-pretty wedding theme and will add a hint of sparkle to your bridesmaids' look.
Pink and Navy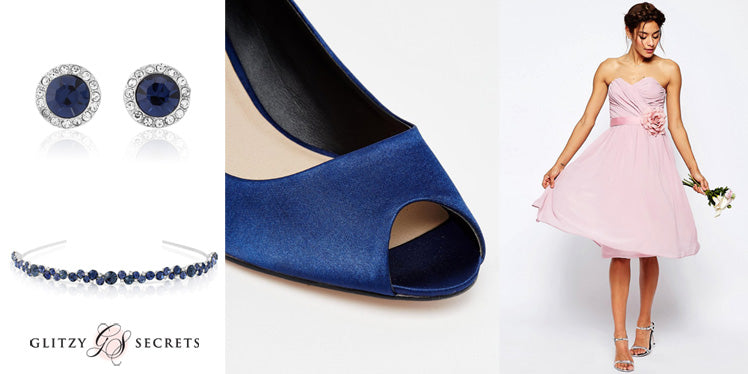 Images: Moonlight Shimmer Headband and Earrings by Glitzy Secrets | Shoes and Dress via Asos (as before)
Navy is a timeless classic colour, and when paired with pretty pink you've got yourself a beautiful colour combination that your girls will simple adore. Navy alone can sometimes look too strong so a little splash of pink will add a feminine touch. Play around with how your girls wear each colour – maybe dress some bridesmaids in pink dresses and others in navy? Accessorise accordingly to the colour of dress – you want to make sure both colours are balanced.
Mint Green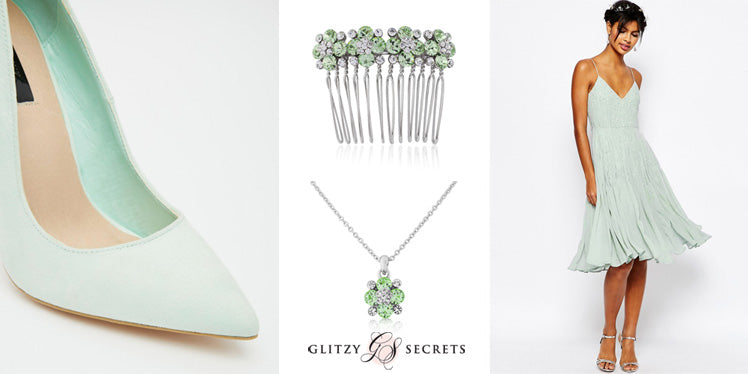 Images: Dress and Shoes via Asos (as before) | Peppermint Green Hair Comb and Pendant by Glitzy Secrets
Mint green is an increasingly popular colour choice for all seasons. It works wonderfully for Spring and Summer weddings when paired with shades of blossom pink and lilac, yet it also can look fabulous at an icy winter wedding when combined with crisp white and silver tones. So it's no wonder that there is an abundance of fresh and pretty mint shades out there for your maids. If you want a completely coordinated look opt for the same shade for each bridesmaid, or if you want to rock the mix and match trend consider different lengths, fabrics and hints of mint.
Grace of Grey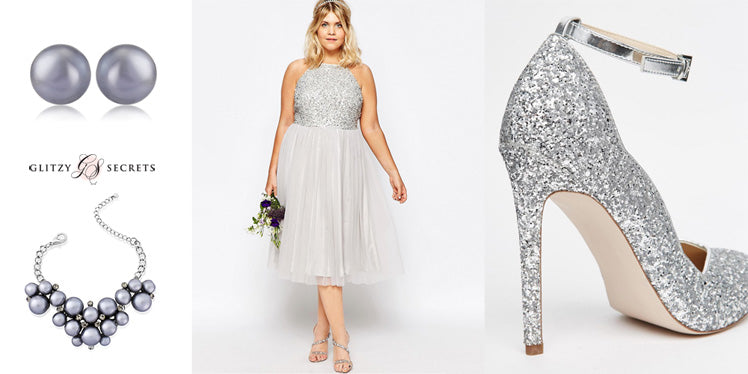 Images – Grace of Grey Earrings and Bracelet by Glitzy Secrets | Grey Dress and Shoes via Asos (as before)
Grey is an effortlessly elegant and chic colour for your girls. Pair the glamorous Grace of Grey earrings by Glitzy Secrets with a simple grey gown for maximum impact. If you want your girls to wear a bit of sparkle, some glittery shoes are the perfect addition! It'll fit in flawlessly with your grey wedding colour scheme, and your girls will be able to wear the earrings again and again!