Sarina and Jamie's wedding captured by Kerry Ann Duffy
We recently had the pleasure of meeting Kerry Ann Duffy at the Perfect Wedding Awards and were especially excited to see one of her weddings featuring our beautiful Darling of the Twenties Headpiece. Luckily the stunning bride, Sarina, was delighted at the prospect of being featured on GS Inspiration and today we can bring you the fabulous wedding memories which were captured by Kerry.
By way of a little background, Kerry is a Wedding photographer based in Kent and she loves to photograph people and capture emotions. She explains that for her "there is nothing better than looking at a photo and instantly being transported back to that moment and feeling. Due to my obsession with fashion and magazines, my style is very editorial and my aim is to make you and your wedding look as though it belongs on the pages of those magazines. That said, above all else it's the emotions of the day that I feel are most important to capture, so I guess a combination of those two is what would define my style. Editorial and emotional. In order for me to achieve this you must feel totally comfortable and confident in front of the camera, something that most of us don't find easy I know! However, that's what I make it my mission to achieve. By putting you at ease in front of the camera and getting you to be yourselves, I can capture the real you. The you that is rarely captured on camera because we are usually too busy feeling so self conscious".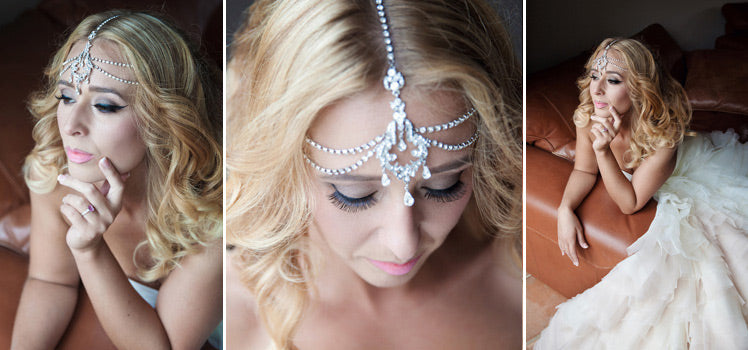 Sarina explained that as soon as her and Jamie had booked their wedding they knew they wanted Kerry as their photographer as they had previously seen some of her amazing work. Their romance is a true love story "Jamie and I met when he was 22 and I was 18. We instantly fell in love and have been together ever since. We knew we would marry at Saint Francis Roman Catholic Church in Maidstone where both sets of parents had got married and it would have such special meaning for us all".
Sarina and Jamie shared their amazing day with their 3 beautiful boys and family and friends. Sarina looked absolutely stunning in a Mori Lee champagne pink ombre gown with organza ruffles and was lucky enough to have her hair styled by her brother as her family have their own hairdressing business. To complete her style Sarina explains "I bought the Darling of the Twenties Headpiece from Glitzy Secrets. It was such a statement piece I didn't need any other jewellery".
The couple's wedding reception was held at Oakwood House Maidstone which is a truly beautiful venue with the most amazing gardens where Kerry captured some fabulous images. Sarina said "After all the months stressing and planning it turned out more than wonderful than I had dreamed. I truly felt like a princess".
With such stunning images Kerry summarised Sarina and Jamie's special day – "They wedding had a glamorous black and white theme which really suited Sarina's italian background. I loved the glamour of Sarina's dress and the fact that she chose to wear her hair down. The headpiece from Glitzy Secrets was a real statement which complimented her look perfectly and gave a wow factor to it all. The whole day was a real pleasure to photograph and was full of emotion."
Suppliers…
Photography: Kerry Ann Duffy
Dress: Mori Lee
Headpiece: Darling of the Twenties by Glitzy Secrets
Venue: Oakwood House, Maidstone