Su and Paul's Real Wedding by Matthew Rycraft Photography
We always feel incredibly proud to see a real bride wearing our products and love admiring their different styles and the little touches which make their day truly memorable. Beautiful bride Su certainly didn't disappoint us and we feel privileged to be able to share her and her husband Paul's special day with you.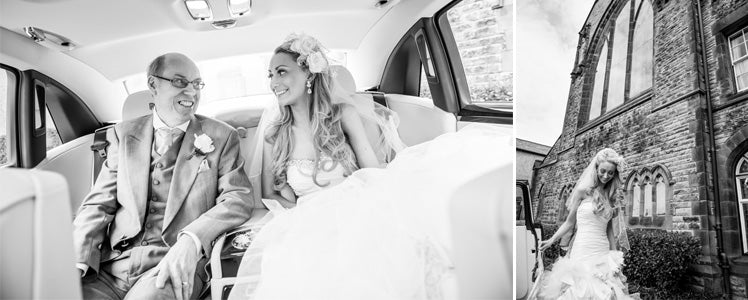 Su and Paul got married at St Peter's and St Paul's Church in Crosby with an impressive reception at Malmaison Hotel, Liverpool. Their day was captured by talented photographer Matthew Rycraft who is recognised as one of the most sought after wedding photographers in the North West. Matthew covers Merseyside, Lancashire and Cheshire and is incredibly passionate about making his clients shine on their wedding day and he explains that "one of the reasons he became a wedding photographer is that he loves producing memorable wedding stories for his clients".
He thrives on the fact that his business has grown with great customer feedback, referrals and testimonials over the past 8 years and enjoys getting to know his customers and understanding, what they want to make their wedding day perfect.
Matthew describes his photographic style as timeless. He enjoys "mixing photojournalism with a touch of directional magic". He elaborates this by explaining that he aims to "bring the best out in my clients and venues, whilst retaining a natural finish. To bring a wedding story to life, every client is presented with a personalised wedding album. Each wedding album is hand designed with the upmost care and attention. Capturing the day's love, life, fun and laughter is all part of the job and there's nothing more exciting about immortalizing that one magical moment".
Su embraced statement style for her special day with an absolutely stunning wedding dress – "Flower Bomb" by Ian Stuart and said that nothing else compared to "the one". Her bridal shoes were from Benjamin Adams and she accessorised with glamorous Glitzy Secrets Precious Heiress Earrings. Su is proud to admit that she was "completely calm" whilst getting ready.  "I just thought it's here and now, this is it! I was just ready to get on with it – get ready and get there and get married!! I just enjoyed being with the girls and having pictures taken in the hotel.  It was just surreal that it was all really happening.  I was just glad the day had arrived and all the planning and preparation was about to come together."  Su finds it rather amusing that Paul would tell you he was relaxed as well but the giveaway to his nerves was that "he couldn't turn around when I walked up the aisle!".

We smile when Su admits that her calmness disappeared when she heard the priest say "Will everyone please stand for the arrival of the bridal party", and the choir started up. She explains that it hit her "like a ton of bricks that everything was really about to happen and I forgot how to breathe!".  The choir was conducted by Su's sister which really made the ceremony special for the couple and all their guests commented on what a special touch it was.
Su and Paul loved the way they combined old and new on their special day – "we had a full traditional wedding mass, and held our reception in a glamorous, city chic venue with moody dark lighting".  They particularly enjoyed "seeing Su's Nan and two Grandads enjoying the day and having pictures with them" and "sitting back during the wedding breakfast and seeing our guests chatting, laughing and enjoying the delicious food – with the live music playing from saxophone player Paul Leonard, aka Mister Sax, the atmosphere was so warm and lovely".
We hope you will agree that Matthew has captured both the emotion and glamour of Su and Paul's fabulous day.