The Best Blooms for Vintage Wedding Flowers
Wedding bouquets have changed drastically throughout the years. From cascading shower bouquets of orchids, lilies and jasmine with ribbon streams in the 1920s, to garden bloom bouquets of tiger lilies and roses in the 1940s and smaller posies of a more defined shape featuring lily of the valley, gardenia and bud hyacinths in the 1950s, each vintage era certainly has its own style of wedding flowers. Once you have chosen your gown, shoes and accessories, your thoughts often turn to your bridal bouquet, floral décor, corsages and boutonnières and, with lots of our brides opting for a vintage wedding theme, the infinite array of blooms available can mean the task of choosing the perfect flowers for a vintage wedding is a difficult one. I have asked some wonderfully innovative and creative florists to share their top vintage wedding flowers and some inspirational photos of their fabulous creations. I am sure you will agree their beautiful designs are truly stunning.
Top row left & right: Clare Luke at The Traditional Vintage Flower Company | Second row: Ruby & Grace | Third row: Cindy Kirkland
Heavenly Scented Blooms
"Today the word "vintage" has many meanings; originally it was used to denote a year's wine harvest but today it is used to describe anything that is or looks old-fashioned.  When talking about vintage flowers we mean the latter by harking back to a past where old style blooms, muted colours and heavenly scented flowers were the key.
Flowers such as Peonies, old fashioned Garden Roses, Delphiniums, Stocks, Sweet Peas, Pinks, Sweet Williams, Dahlias, Snapdragons and Carnations (to name a few!) are all just the ticket in making a perfect vintage bouquet.  The use of those soft muted colours like dusky pink, brown, lilac, yellow, ivory and green provide the basis for a vintage arrangement. Myself, I love garden roses with large blousy blooms, heavily scented along with lots of foliage.  I tend to leave the guard petals on just to give a more authentic look; as if I had gone back in time and picked the flowers from another era.
I try to use reclaimed materials where and whenever we can in our bouquets to enhance that vintage feel, so vintage lace, velvet, old fashioned broaches and pins are excellent for this.  I also love using old vintage tins, pots, pans, bottles, crates and books for features such as table centres, just to set the scene.
There are always an abundance of flowers that could be used so don't be afraid to experiment a little choosing flowers that you love for your vintage bouquet. Just try to pick flowers for the seasonal as it will be more cost effective that way. And don't forget to have fun!" – Clare Luke of  The Traditional Vintage Flower Company
Dusky Pastel Blooms
"Hydrangeas in mottled shades and roses in muted tones are perfect for achieving a vintage look.  Colours that work well are dusky lilacs, sandy pinks, blush peaches and antique pinks. Mix these with soft grey foliage to help achieve this look perfectly" – Hannah Bignell, Creative Director at Ruby & Grace
Big Blousy Blooms
"Big blousy Sarah Bernhardt peonies are always a winner and roses – the introduction of pearls and vintage brooches provides the desired vintage look" – Cindy Kirkland at Creative Works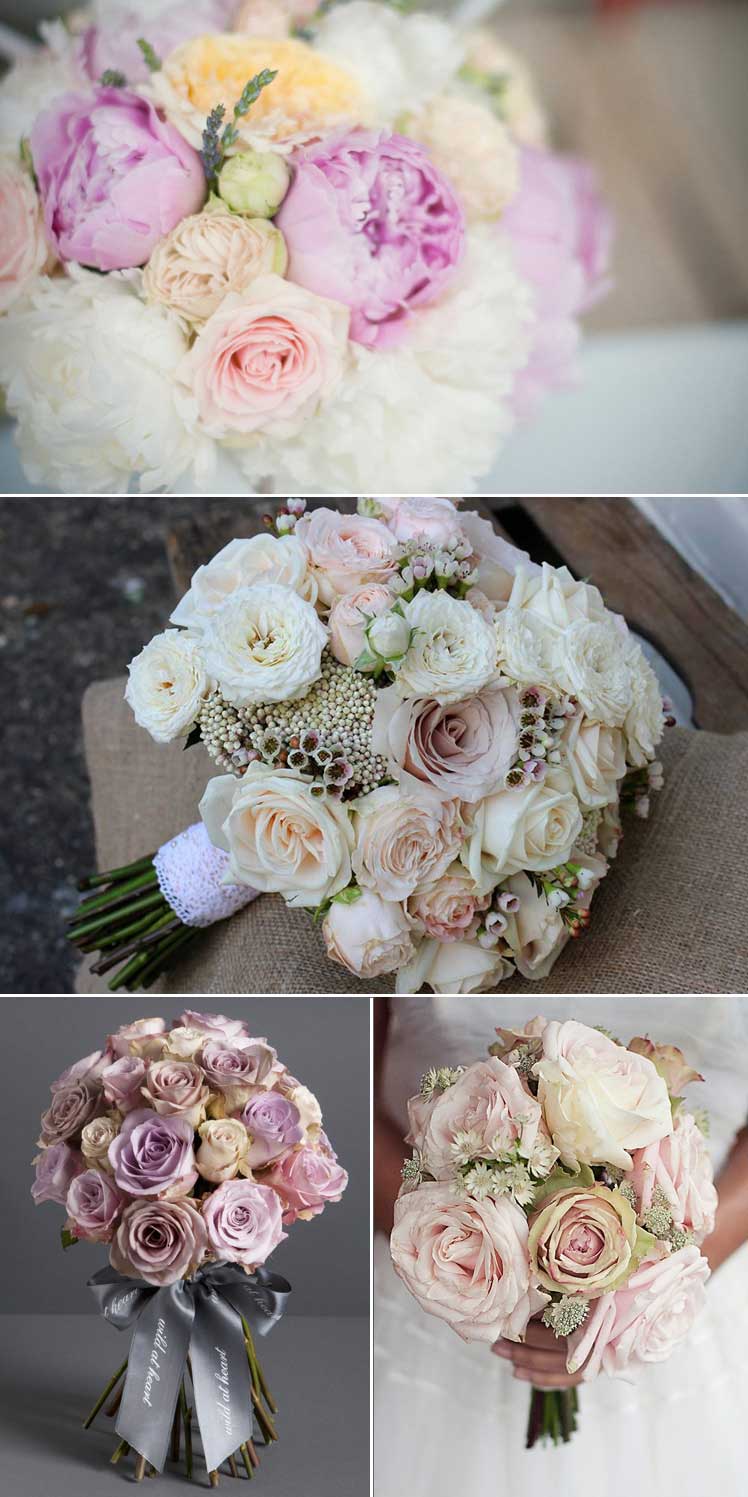 First row: French Flower Style (© Susie Lawrence Photography) | Second row: Ruby and Grace | Third row left: Passion for Flowers (© Daffodil Waves Photography) | Third row right: Wild at Heart
Feather Like Flowers

"The key flowers which give that vintage look are large blousy blooms such as Peonies, Ranunculus and large garden roses.  I also love bundles of Gypsophila which also has that vintage feel. Astilbe is a beautiful feather like flower which has a vintage quality about it. Hydrangeas can also have a vintage look if used with other vintage style flowers. If a Winter / Spring vintage flower is required then Anemones also have that particular "look"" – Lisa Gatenby at French Flower Style
Vintage Roses
"The rose is often top of a brides list and it's not surprising as it has everything a bride could possibly wish for in a bouquet – beauty, a delicate fragrance and timeless elegance. Vintage inspired bouquets such as our classic Vintage Rose Knot is a popular bridal choice and features a beautiful collection of Amnesia, Memory Lane, Faith and Sahara roses" – Nikki Tibbles  at Wild at Heart 
Texture
"For vintage blooms include an abundance of roses in soft faded colours, we love Amnesia Roses, Memory Lane and Sweet Avalanche Roses. For texture, combine with Astrantia and Wax-flower with snippets of Eucalyptus.
Use a range of vases and vessels for vintage looks, we love footed bowls, delicate silver and crystal containers and think about plenty of props, baskets for vintage bicycles, trimmed with lace and gorgeous bunches of flowers. Collect glass crystal decanters for an elegant look or cake plates and vintage chine if you are looking for an afternoon tea party. A collection of vintage books is always a great addition to any table dressing and adds instant interest to the tables" – Karen Morgan at Passion for Flowers