The Bun: The Grace Bridal Hairstyle
Worn low at the nape or high on the crown, the simplicity of the bun undoubtedly makes this beautiful up-do the epitome of grace and poise. With ballerina-esque wedding gowns a key bridal trend and featured in many designer's spring collections, from the tea-length creations at Justin Alexander and Ian Stuart to the floor skimming full skirted tulle sensations at Pronovias and Vera Wang, this elegant hairstyle has made a well-deserved come back for brides who adore a simple yet classic look.
Timeless and elegant, the bun complements all styles of wedding gowns from Edwardian empire line to tea-length ballerina dresses and is a versatile up-do which can be adapted to enhance your bridal look. Taking lead from the catwalks, oversized high buns bestow a modern take on the classic bun for fashion-led brides or, in contrast, a low bun secured at the nape of the neck embraces classic ballerina style. Brides who favour less structured styles can opt for a softer version by loosely securing their bun and allowing strands to naturally fall free.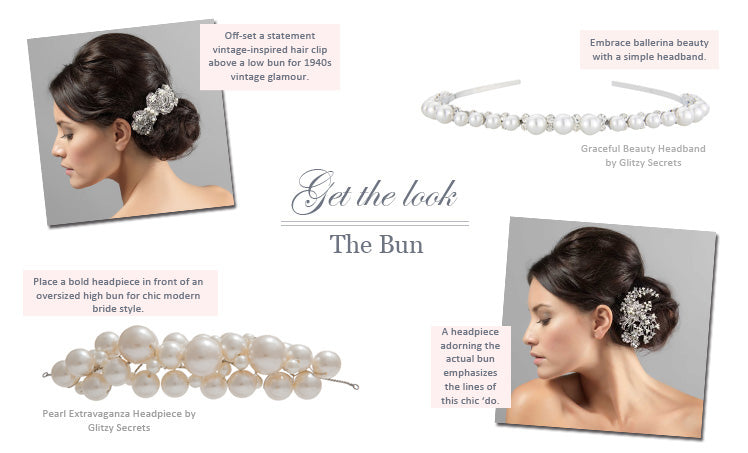 Accessories for The Bun
The simple style of the bun gives great scope for dressing with wedding hair accessories, whether to enhance its understated graceful charm or contrast by adorning with elaborate headpieces. For subtle embellishment, crystal bridal hair pins randomly set in the actual bun captivate with delicate shimmer or dress with a simple pearl headband for chic ballerina style.
For a more dramatic look, a bejewelled wedding hair clip off-set to the side of the bun embraces vintage glamour for a hint of 1940s Starlet style or a bridal headpiece placed at the back of the head below a low bun and above a high bun emphasizes the elegance of the hairstyle to perfection. Brides who adore traditional wedding tiaras, should consider placement depending upon the height of their bun. A high bun works well with the tiara placed just in front of the bun itself whereas a low bun balances beautifully with the tiara worn towards the front of the head.
3 Top Tips for the Perfect Bun
• Keep a few spare Kirby grips to hand so you can tuck in any strands which fall loose during the day without disturbing the rest of the bun.
• Fine hair types can easily achieve an oversized high bun with a doughnut shaped bun ring.
• Can't find the perfect wedding hair accessory to wrap around your bun? Try a pearl necklace and place a crystal and pearl hair clip at the centre to hide where the necklace clasp meets.