The Must-Read Wedding Checklist For Newly Engaged Couples
If you're reading this with a new and sparkling ring on your finger after a super romantic proposal, congratulations! Getting engaged is such an exciting time and it's a hugely momentous moment in your life and in your lives together. Now you're ready to start planning your wedding, you might feel like there's a lot to do. STOP! Don't do anything at all until you've checked out our must-read checklist for newly engaged couples. It's all you need right now!
Images: Left via White Magazine | Middle via Fab Mood | Right via Etsy
Take some time out. As tempting as it might be to jump into planning your day right this minute, don't. Getting engaged is a really big deal so take some time to savour the moment. Buy a few wedding magazines and set up your wedding Pinterest board by all means but don't feel that you have to start making decisions and booking things at this stage. In fact, you absolutely shouldn't be confirming arrangements right now! So, sit back, relax, maybe open another bottle of champagne and just enjoy being in love.
Announce your engagement. This is the moment that everything gets real! Whether you upload that #ringselfie to Instagram with a cute note about your proposal or whether you visit or call your nearest and dearest to tell them the news, announcing your engagement is so much fun. Of course, you could copy the celebs and go old school with an announcement in The Times or one of the big national newspapers. It definitely feels official when it's in black and white!
Celebrate! Whatever you do, don't miss the opportunity to celebrate your engagement. You might like to throw a big party or just host an intimate dinner for your closest friends but definitely celebrate! Why let such a brilliant excuse for a get-together slip by?
Insure your ring. Now I know that this isn't the most exciting thing on the list but it's incredibly important. Speak to your home insurers and make sure that you ring is insured. They might offer various levels of cover so pick the one that's most appropriate for you and know that everything is safe and secure.
Talk about your priorities. So now it's time to start those wedding planning conversations. The first thing to discuss is what your priorities are for your wedding. Do you both share the same vision for the day? What's a must-have for your partner and what can't you do without?
Set your budget. Talking about money and how much you have to spend on your wedding is absolutely essential. You can't plan anything without knowing how much you sensibly have to spend. Once you've got this figure agreed, you can look at your priorities and start to allocate your cash.
Draw up a (rough) guest list. The number of people that you want to invite to your wedding will have a major impact on lots of your decisions too. So, whilst you don't need exact figures right now, you need to know if you're looking at 50 or 100 guests. You can't think about venues or the costs of food and drink without having an idea on the size of your guest list.
Decide on your bridal party. It's highly likely that your closest friends will have been dropping hints about being your bridesmaids and groomsmen from the moment you announced your engagement. However, take your time asking people to be in your bridal party because it's a BIG job and having the right friends by your side will make wedding planning (and the big day itself) so much easier. Think about who'll be able to take on the responsibility and help you out and only ask when you're absolutely sure.
Start with your venue. The first thing to confirm when you're planning your wedding is your venue. So many things feed from this decision so it's important that this is the first step you take. Think about the style of wedding you want, the numbers of guests you want to invite and, of course, how much you have to spend. There are plenty of guides to venue hunting on the major blogs so do your research before you visit any.
Don't forget to date! Wedding planning is a BIG thing and it can easily take over all your free time. Whatever you do, don't forget to date! Make sure that you spend time just the two of you, enjoy being in love and look after your relationship because you're getting married, not just planning a wedding.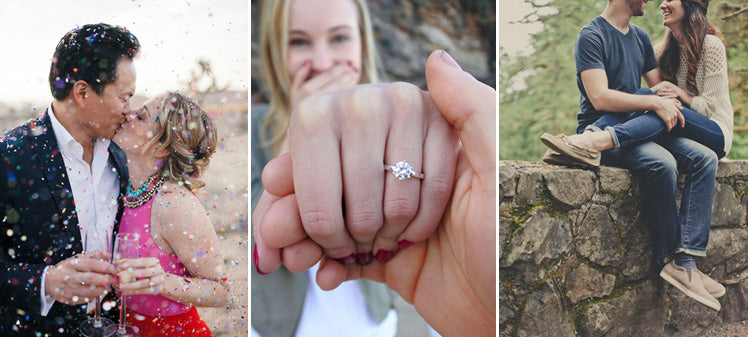 Images: Left via Buzzfeed | Middle via How He Asked | Right via Bridal Musings