The Queen's Diamond Jubilee: A Look Back at our Favourite Royal Tiaras
To mark the Queen's 60 years reign as Monarch, a sparkling exhibition displaying the Queen's finest gems will be held from 30th June to 8th July and 31st July to 7th October. The highlight of The Diamonds: A Jubilee Celebration exhibition will be seven of the nine principle stones cut from the Cullinan Diamond, the largest rough gem quality diamond ever found, with a weight of 3,106 carats! In addition, favourite 'pieces' will also go on display including the Girls of Great Britain Tiara.
With the country preparing a wealth of celebrations to honour the Queen's Diamond Jubilee, we take a look back at three of our favourite Royal tiaras.
Regal Romance: The Strathmore Rose Tiara
One of our favourites from the Royal Collection is the Strathmore Rose Tiara, which was given to the Queen Mother by her parents in 1926 after she married Prince Albert. A divine and dainty 1920s floral design worn lower on the forehead in true 1920s style, this beautifully adheres to this season's roaring Twenties wedding trend and, with a romantic flower design, is less structured than most Royal tiaras. Embrace Regal Romance with Garland of Beauty Tiara by Glitzy Secrets.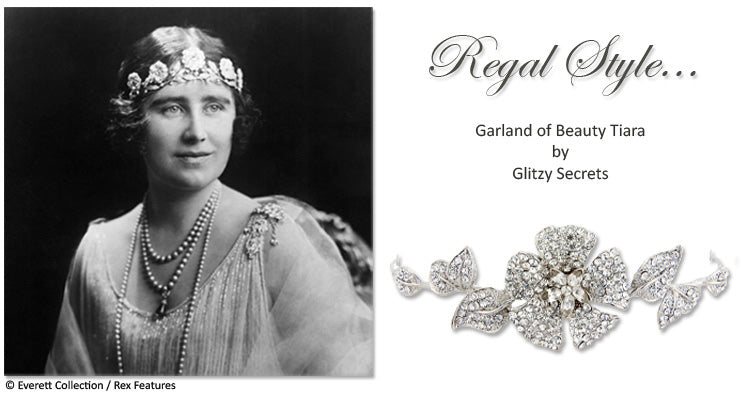 Fit for a Princess: The Cartier Halo Tiara
Now most famous for being worn by Kate Middleton on her wedding to Prince William, the Cartier Halo Tiara was originally a gift given to the Duchess, The Queen Mother, by The Duke of York. The tiara was then presented to her daughter, Princess Elizabeth, on her 18th birthday. Featuring sparkling scrolls set on a diamond encrusted band with a central brilliant cut diamond, the Cartier Halo Tiara is a classic design. Brides who adore classic 'fit for a princess' wedding tiaras, will adore Classic Romance Tiara by Glitzy Secrets.
Hints of Deco: The Greek Meander Tiara (Greek Key)
When Zara Phillips married Mike Tindall last year, she wore the Greek Key tiara loaned to her by her mother, Princess Anne. Once owned by Princess Alice of Battenburg, the mother of the Duke of Edinburgh and later a wedding gift to Princess Elizabeth from her mother-in-law, the tiara features a classic Greek key pattern with a central large brilliant cut diamond in a diamond wreath. Its simple geometric lines are reflected in tiaras from the Art Deco era and brides can achieve a divine Deco style with Glitzy Secrets Deco Extravagance Tiara.