Through The Decades – Popular Vintage Hairstyles From The 1920s To The 1970s
I often think that I've been born in the wrong decade; such is my love of history so I can't tell you how happy the passion for vintage makes me. Embracing a bit of the beauty of the past when you're looking to start your future really is rather special and so many brides find inspiration for their wedding day look somewhere in the last century. Once you've chosen your era, it's time to bring everything together with your gown, your accessories, your make-up and of course, your hairstyle. Here's a little look at some of the most iconic styles of the twentieth century…
Let's start way back in the 1920s when women cast off the old stereotypes and embraced a whole new look. They threw away their corsets and cut their hair before hitting the dance floor in the new short, loose dresses of the period. The blunt bob is the archetypal flapper hairstyle and no one did it quite like Louise Brooks, actress and style icon. You need a precise cut and super shiny locks to really do this look justice.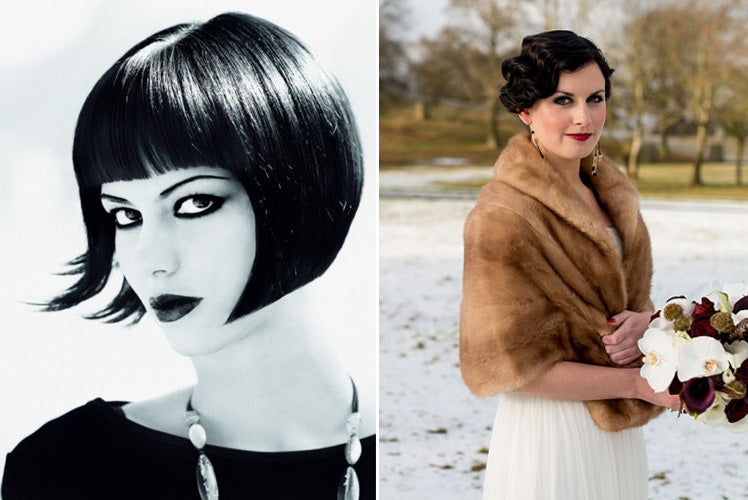 Images: Left via The Best Fashion Blog | Right via Love My Dress
The 1930s saw an added edge of femininity and the angular bob was replaced with slightly longer hair, waved and curled to perfection. Marlene Dietrich, Bebe Daniels and Mae West complemented this style with coloured lips and immaculate brows. Today, marcel waves and finger waves are the go-to vintage style for many brides and it just oozes sophistication.
Images: Left via Want That Wedding | Right via Wedding and Wedding Flowers
Hair kept getting longer into the 1940s and shoulder length locks were de rigeur. However, with the need to keep working through the war, snoods (fashionable hairnets) were worn to keep hair under control and out of the way. Women still wanted to feel feminine so the patriotic Victory Roll became the style of choice for many women. The top rolls kept hair out of the way and the back length could be let down when off-duty.
After the utility looks of the 1940s, the 1950s were all about glamour. Women had more time and more opportunity to pamper themselves and the super serviceable styles of the war were forgotten in a riot of curls – nearly all women curled their hair and straight styles were a big no. The kick against regimentation continued with the shaggy, sexy Poodle cut, made forever famous by Marilyn Monroe.
Images: Left via Glitzy Secrets | Right via Wavy Girl Hairstyles
Against this 'just out of bed' look, Audrey Hepburn championed the well groomed and sophisticated with her elegant up-dos. Variations on this chic look after rightly popular with brides today and the 'hair up' bridal look is one of the most requested wedding day styles. It's easy to see why and it's easy to personalise with hair adornments and accessories.
Images : Left via Naomi Neoh | Right via Glitzy Secrets
Female freedoms were a big part of 1960s culture and lots of women embraced this in a more radical way than their 1920s ancestors by chopping their hair right back to the pixie cut made famous by Twiggy and Mia Farrow. This short style was accessorised with big eye make-up and nude lips. For women who didn't want to brave the gamine crop, hair was often scooped into girlish ponytails or styled to perfection in the legendary beehive.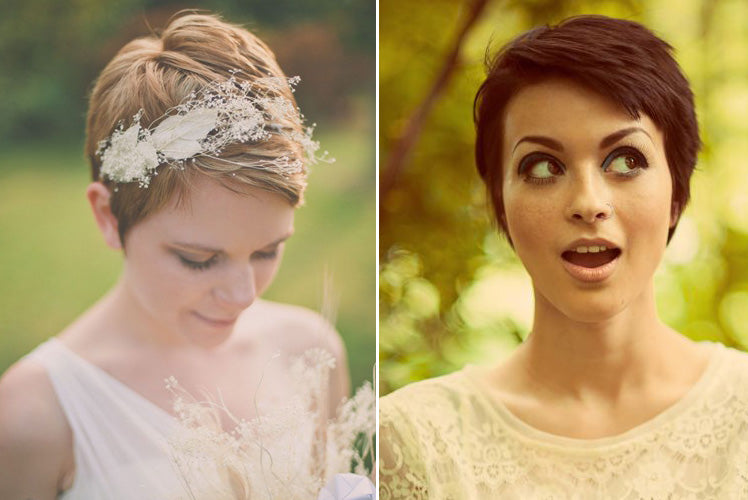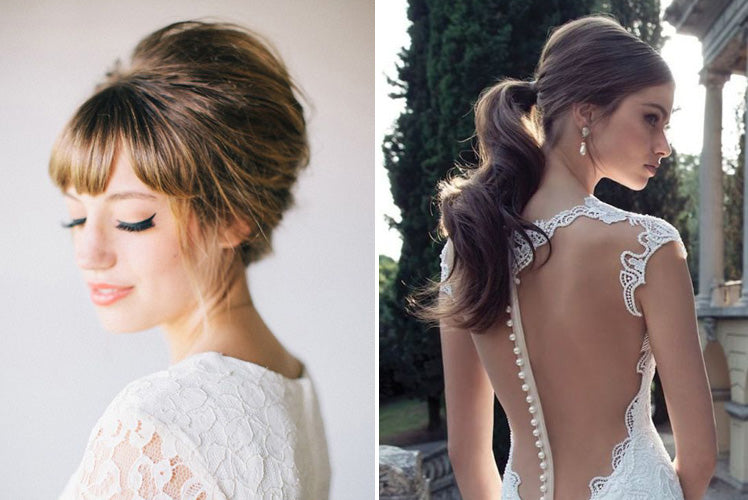 Images: Top Left via Michaella Photography | Top Right via Beauty High | Bottom Left via One Fab Day | Bottom Right via Bridal Musings
By the time we hit the 1970s, the bohemian look was all the rage and hair was either left long and loose with a centre parting or plaited and worn up for a casual elegance. Both of these looks are the perfect foil to the flower crown that's so popular right now.
Images: Left via Wedding Chicks | Right via Bridal Musings (as before)
The last century has seen so many styles that continue to inspire and I'm sure the women of the past would adore our love of their vintage style.