The Favourite Creations of 4 Top UK Wedding Cake Designers
When it comes to wedding planning, there's one task in particular that would fill us with sheer mouth-watering joy. You got it – choosing the wedding cake. You can guarantee we would spend hours seeking inspiration on Instagram and Pinterest. You can also rest assured we would have a fleeting concern the creation would be too beautiful to cut, let alone eat, and then decide it would be just rude not to because cake is cake, right?!
We often see the exquisite masterpieces couples have chosen for their special day but we wanted to speak to some of the UK's leading wedding cake designers and find out about their personal favourite design.
Hayley has been a professional cake designer for 7 years and loves working closely with her clients.  She has a wonderful eye for creativity and is an absolute whizz at bringing ideas to life.  You are free to let your imagination run wild as she ensures you have exactly what you want.
Comtemporary design is her forte and she is a leader in on-trend colour palettes and textures.  Her sugar flowers are outstanding and could easily be mistaken for the real thing bringing elegance to your unique wedding cake design.
Hayley's favourite wedding cake this year is:
Photography by "Tell your story" www.tellyourstory.photography/
She explains "The couple gave me free reign to design this cake with their colour scheme and flowers.  The feel was English country garden 'esque' with a modern twist.  The colours were soft and dreamy with blousy sugar blooms of roses, peonies, hydrangeas and buds with an unstructured emphasis on the foliage.
I always produce my best work when I'm allowed an artistic licence to create like this.  The bride, Lyndsey did come armed, to the consultation, with images of my previous work and let me know what she liked from each, so I could get a feel of what she was after.  Gareth was happy to just eat cake.
Its soft colours and beautiful sugar work compliment one another and I poured all my love and attention to detail into to create something that Lyndsey and Gareth were over the moon with".
Established by Laura, Deluce Cakes is a boutique wedding cake company.  Laura holds a Diploma from the prestigious Le Cordon Bleu culinary school where she trained as a pastry chef.
After being asked to make a wedding cake for a friend Laura used her experience in patisserie art and passion for design to create Deluce Cakes.  She aims to create the most beautiful cake imaginable making sure it is a stunning centrepiece for you and your guests to admire.
Laura adores intricate sugarwork and creating life-like sugar flowers.  Her work is known for being elegant with timeless aesthetics.  She provides a personal and professional service working with her clients to create a masterpiece which will beautifully complement your wedding theme.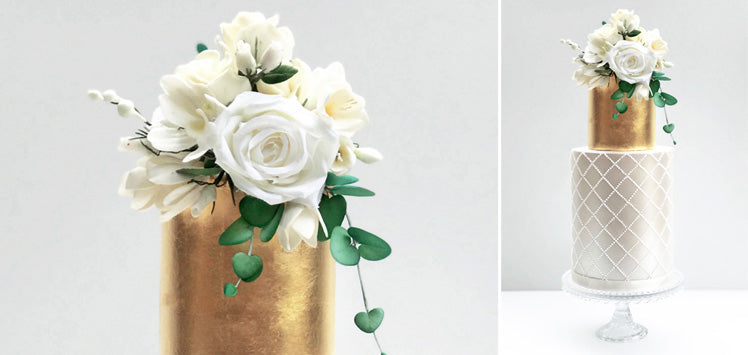 When we asked Laura about her favourite wedding cake design she explained – "We like to think of this cake as representing out signature style – a modern classic with a touch of luxe. It is one of our most requested designs. The traditional bridal colour tones have been updated and enriched by the satin fondant finish and some subtle piping. The tall structure and the clean sharp edges add a contemporary feel, while the 24 carat gold leaf and hand-made, life-like sugar flowers elevate this petite cake into a luxurious centrepiece for an intimate wedding".
Rosalind Miller Cakes began in 2005 after a visit to New York's Magnolia Bakery inspired Rosalind to start baking and decorating cupcakes which she sold in Greenwich market at weekends.  With her cupcakes proving to be a huge success Rosalind expanded her business into wedding cakes and dessert tables and earned an enviable reputation for her designs.  She joined her daughter Yasmine in 2013 and they have since won wedding cake maker of the year twice. With their cakes gracing the pages of Brides and Vogue and their products selling in Harrods' Food Hall the business has soared.  They have even had the honour of catering for royal weddings around the world.
Images via Rosalind Miller Cakes 
Rosalind and Yasmine's favourite cake is their Majestic Floral cake, which was actually made for a Royal Wedding in the Middle East.  They have told us – "We also did 2 dessert tables, where the decorations of the dessert table items were made to go with the main cake.
The whole wedding had a floral theme, which is where the inspiration for this cake came from. We did a mix of hand-made sugar flowers and hand painted flowers, with mainly hand painted flowers.
It gave us the chance for a whole cake to be covered in hand painted flowers. We fell in love with the hand painted design and to hand paint the whole cake took a long time, but we were absolutely thrilled with the result!"
The Frostery was opened in 2011 by the talented Suzanne Thorp.  Having grown up surrounded by cakes in the family bakery, Suzanne learnt her craft and developed a passion for cake creations.  The Frostery boasts traditional techniques combined with contemporary designs and is established as one of the UK's most creative cake design studios.  Suzanne has won many awards and contributes to the Extreme Cake Makers show on Channel 4.
Suzanne's favourite wedding cake design is exquisite.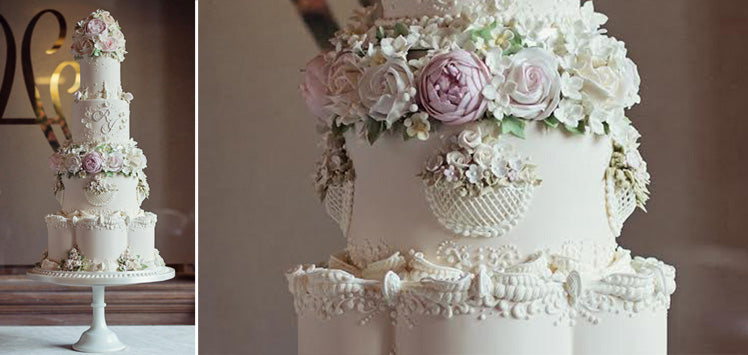 Images via Tiree Dawson Photography
"With this cake design I really wanted to celebrate traditional cake decorating skills, which if not used, are in danger of being forgotten. I used lattice baskets and hand-piped royal-icing scrolls to create a highly decorative look and combined these techniques with the straight edges of contemporary design and beautiful sugar flowers to create a unique modern classic, popular with couples wanting something special for their wedding cake".