UK Wedding Stationery Designers Share Their Winter Invitation Tips
As they say, first impressions count so it's no surprise that your wedding stationery for a winter wedding is hugely important. The ideal opportunity to set the scene for your special day and offer your guests a glimpse into your theme and colour scheme, it's your chance to share a peak of one of the most important occasions in your life.
As soon as your save the date cards and invitations land on your loved one's doorsteps, both you and your guests will start feeling excited and everything will become very real. So, understandably you want your stationery to be the perfect fit for your celebration and reflect your style.
To help inspire you, we're chatting to 5 fabulous UK wedding stationery designers about their favourite designs for weddings taking place in those crisp, cold months. It's time to festive!
Inkflower Press
An artisan print studio with a romantic soul, Rosie of Inkflower Press has an elegant style inspired by nature.
"I love weddings that reflect their season, so without question my Winter Seedheads design is my favourite for a winter wedding. The design was inspired by the bright, watery sunlight on those perfect crisp mornings; when it's low enough to silhouette a blade of grass, and dances like fireflies over the frost. Its delicate pattern of dots printed in gently shimmering white ink evokes that magical seasonal light."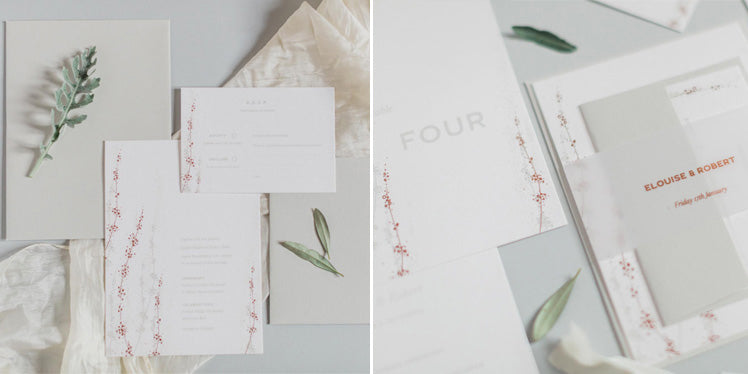 Image via Inkflower Press – Bethany and James Fine Art Media
Sarah Wants
Inspired by the wild and whimsical, Sarah Wants creates rustic wedding stationery that will capture the heart.
"The Winter Wonderland range is inspired by the magic of those cold months with outdoor elements of logs, pine needles, with delicate snowflakes and a touch of sparkle. This collection is just perfect if you are having a winter wedding and want to create a Nordic style tone for your day. Co-ordinate with logs, greenery and mercury glass on your tables and lots of fairy lights!"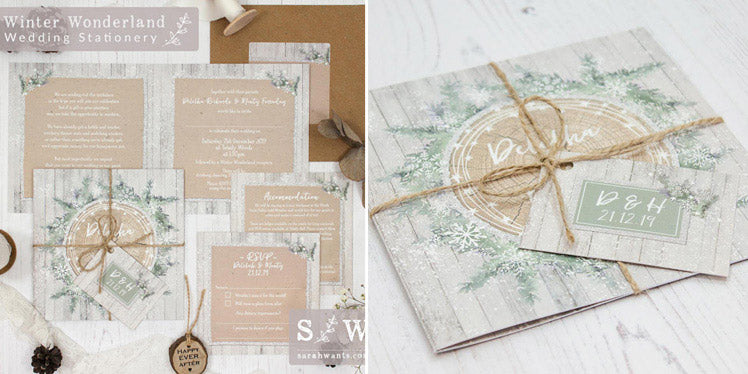 Image via Sarah Wants
Eliza May Prints
For the prettiest paper goods, we adore Eliza May Prints and her award-winning studio. For this magical season, Eliza explains, "Winter wedding stationery doesn't have to be ultra-glam or feature seasonal colours, snowflakes and baubles. If you prefer the simplistic look, metallic tones throughout your stationery make a lovely subtle theme. If foil isn't your thing, monochrome tones are also really fitting for a wedding during those cold months. You can add finishing touches like ribbons and wax seals for some seasonal charm."

Image via Eliza May Prints
Dimitria Jordan
When it comes to creating wedding stationery for the style-conscious couple, Dimitria Jordan certainly knows a thing or two. We can't get enough of the Skylar collection – it's the perfect match for this enchanting season with its contemporary skyline.
"My favourite winter wedding design is modern and printed on a beautiful thick white card. This could then be complemented with gold or silver foil to add to the overall look. Other textures and materials such as gorgeous velvet ribbons in rich dark colours, bold envelope colours, or wax seals will also add to a wintery wedding design."
Image via Dimitria Jordan
Paperknots
Huge fans of Paperknots and Lisa's luxurious wedding stationery, we are truly smitten with the Modern Mono design.
"Getting married during winter months doesn't mean your stationery has to be a cliché of snowflakes and OTT sparkle. We prefer to be inspired by soft lighting, fresh air, alpine tones and maybe a just a dusting of snow to create that magical seasonal feeling. This contemporary stationery collection sets the tone for a winter wedding with its clean crisp style and subtle touch of metallics to reflect glistening snow or the celebrations of the festive season. With plenty of texture, these tactile suites are bundled up into perfect little packages and finished with a hot wax seal. The minimalistic style and mostly monochrome colour palette make for a timeless design, you'll look back on and still love in years to come."
Image via Paperknots – Beccy Goddard Photography
Whether you're tying the knot with a classic or festive theme, we hope these super talented professionals have helped inspire you on your big day planning journey to find the most beautiful invitations.
A huge thank you to each stationer who has shared their creations and advice with us to show how modern brides can achieve the perfect style for the season.