Vintage Wedding Dresses For Every Era
I love history and I love the fashions that come with it. I admit to studying the costumes in period dramas and if you asked me to choose my favourite era, I would certainly struggle. Vintage inspired gowns are still so incredibly popular and, when you see the beautiful looks that the last century has created, it's no surprise. If you love the idea of looking to the past to inspire your future then this little look at some gorgeous gowns with a vintage vibe is sure to make you smile…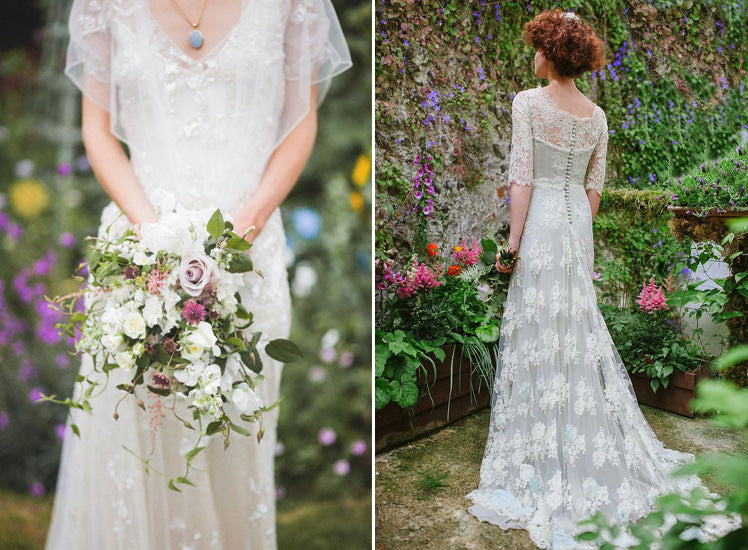 Images: Left via Love My Dress | Right via Joanne Fleming Design
The Edwardian age with refined, sophisticated and downright decorous but it was also a period of increasing freedom for women as they began to wear clothes without the dreaded corset constricting them underneath. Lengths were still long, necks could be high or cut to slightly lower but there were beautiful details aplenty – from intricate button backs and flattering sleeves to delightful embellishments and laces, the Edwardian age was naturally feminine.
After the First World War, women's roles had changed and they began to demand dresses that fitted with their ever-increasing freedoms. Hems rose to make movement easier and the quintessential flapper look was born. Dropped waists were incredibly popular as were deep V-necks, draped fabrics and glittering details that added extra femininity to a look that was a huge step forward for women.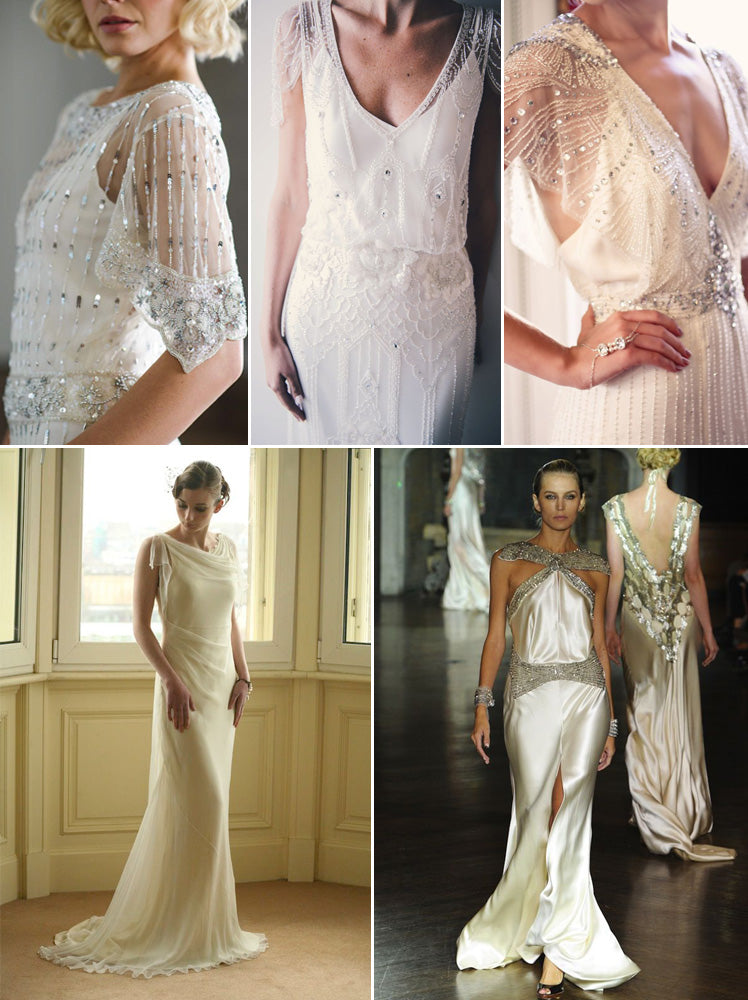 Images: Top Row Left via Love My Dress | Top Row Middle via Style Me Pretty | Top Row Left via Brit & Co | Bottom Row Left via Deco Weddings | Bottom Row Right via The Bijou Bride
The 1930s, so often missed in the rush from the glamour of the 1920s and the hardships of the 1940s was actually a very important period and here, women gained a real confidence. Whilst skirts and suits for daywear kept their high hems, evening gowns returned to longer lengths and the slinky bias cut became the style of the decade. It draped a woman's form in a way that had never been seen before and gowns that combined with luxurious fabrics such as satin and silk with this sexy silhouette were, and still are, absolutely showstopping.
Before the exuberance of the post-war 'New Look', the 1940s were a period of austerity and excess fabrics were removed from all dresses. Designs embraced this simplicity but still remained incredibly feminine, accentuating waists and busts as much as possible. Women made wedding dresses from unusual fabrics or combined materials to complete their gowns. Lines were simple, embellishments were limited or absent altogether but beautiful designs still looked elegant.
Images: Top Row Left via French Wedding Style | Top Row Right via Style Me Pretty | Bottom Row Left via Ruffled | Bottom Row Right via Bridal Musings
After the return to femininity of Dior's 'New Look' with nipped in waists and voluminous skirts towards the end of the 1940s, the 1950s continued in this vein with round skirts and underskirts aplenty. Styling cues from this era include boat necks and elbow length sleeves whilst if you want to accessorise then you're definitely going to need gloves and a shoulder length veil with volume to match your skirt!
Hems rose higher in the 1960s and the mini skirt arrived. A simple super short shift dress is an iconic sixties look and it can have long or short sleeves or be entirely sleeves. High or round necks are the best bet if you're working the sixties vibe and a simple thick white Alice band would make the perfect accessory and you'll also need make-up to give you those evocative big eyes.

Images: Top Row Left via Rock n Roll Bride | Top Row Right via Brit & Co | Second Row Left via Graham Morgan | Second Row Right via Asos | Third Row Left via Magnolia Rouge | Third Row Right via Gary Guy | Bottom Row Left via Wedding Wonderland | Bottom Row Right via Etsy
The Bohemian 1970s are now a huge inspiration for brides looking for a laid back wedding day. Long, flowing gowns, often with cut-away backs are de rigeur and we're also seeing lots of layering, with nude underskirts topped with lace. I love the flared sleeves and relatively high waists, often accessorised with a belt or sash, and of course, flower crowns, natural make-up and long loose hair are fabulous for this look.
When you look back, it's easy to see why so many brides are inspired by vintage but it's so hard to choose a favourite. If you're not sure what era you should call your own then why not take a look at the Glitzy Secrets Inspirational Style Era app and discover your vintage fashion decade?