How to Choose Your Winter Wedding Accessories
There's no doubt about it – I absolutely LOVE winter weddings. They're romantic and beautiful in the extreme. You've got so many options for themes and styles, all your guests will be in the mood to enjoy themselves and, when it comes to your bridal accessories, the choices are literally endless. From rose gold and glamorous gold to an icy winter wonderland look, here's how to choose your winter wedding accessories…
Glamorous in gold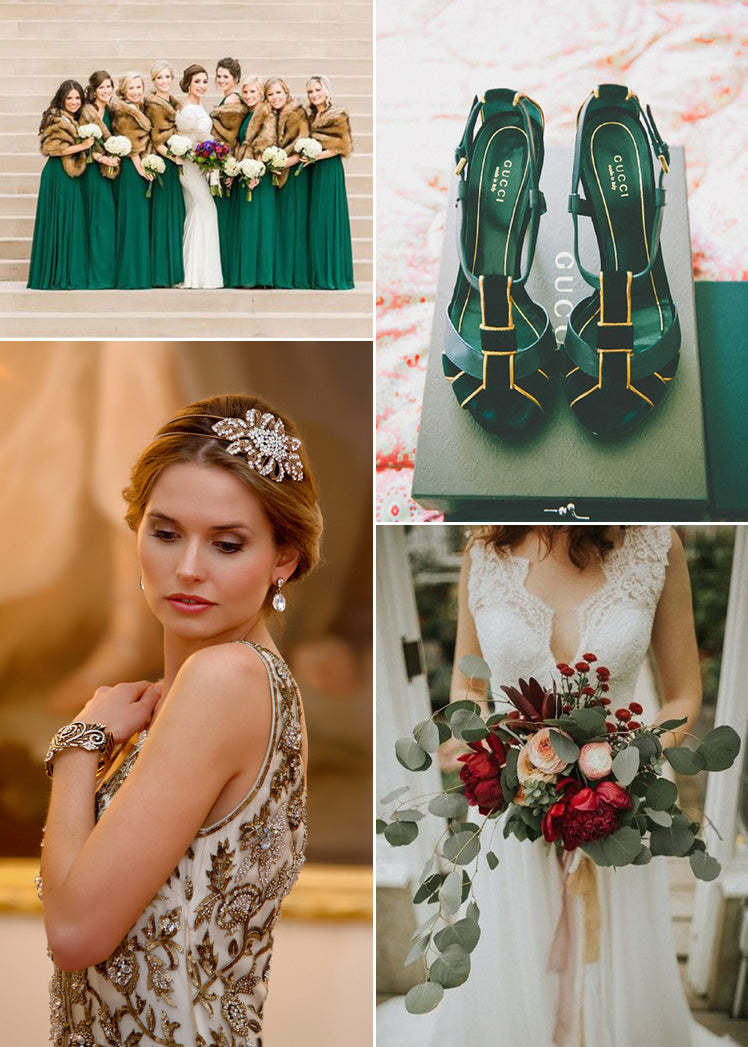 Images: Top Row Left via Borrowed and Blue | Top Row Right via Whimsical Wonderland Wedding | Bottom Row Left – Antique Extravagance Side Tiara, Treasured Beauty Bangle and Golden Society Earrings by Glitzy Secrets | Bottom Row Right via Want That Wedding
Gold is such a traditional Christmas colour that sometimes, it can be overlooked for seasonal weddings. This is such a huge shame because gold can be sophisticated, glamorous and luxurious too. For winter weddings, I'd definitely team gold with rich greens and reds for a really grown-up take on those favourite festive colour palettes. The key here is definitely to use gold as the accent colour while you let the rich jewel tones do most of the talking. So, think about emerald green shoes edged with gold or garnet inspired bouquets finished with trailing golden silk ribbons.
Your jewellery should definitely feature golden surrounds with coloured stones – elegant drop wedding earrings or a statement necklace are perfect choices. A golden headpiece will make a wonderful finishing touch but with all your accessories, consider your wedding dress. A delicate lace dress will look beautiful with delicate accessories while a gown in say heavier silk Mikado can stand up to weightier pieces.
Winter wonderland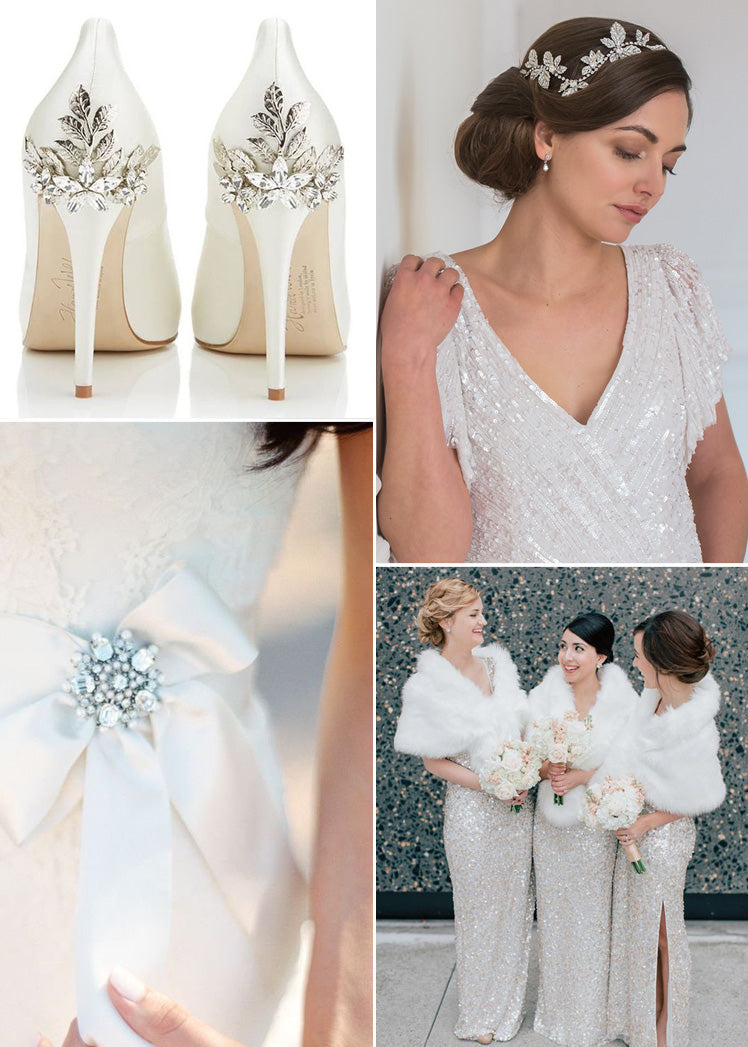 Images: Top Row Left via Want That Wedding (as before) | Top Row Right – Vine of Extravagance Headpiece by Glitzy Secrets | Bottom Row Left via Style Me Pretty | Bottom Row Right via Southern Weddings
A snowy, icy theme definitely needs accessories to complement this wintery look and what could be better than silver and pearl pieces? A silver and pearl headpiece would be the best focal point for your bridal look and you can make this as refined or as bold as you like. For a chic look, pearl wedding earrings are perfect and, depending on the neckline of your wedding dress, add a pearl necklace too.
If your gown has a smooth skirt, definitely go for a bracelet or cuff that catches the light and choose dazzling, sparkling accessories for ice inspired glamour. One of my favourite bridal accessories has to be an eye-catching brooch. These are just so adaptable – pin one on a wrap or onto your dress or use two pretty wintery brooches to personalise your wedding shoes.
Blushing rose gold
Images: Top Row Left – Rose Gold Blooms Hair Comb by Glitzy Secrets collection of Rose Gold Wedding Hair Accessories | Top Row Right via I Take You | Bottom Row Left via English Wedding | Bottom Row Right via Hi Miss Puff
Well, if there's one jewellery trend we've all fallen for of late, it has to be rose gold. This soft, feminine shade is just everyone's favourite right now so all the best jewellery and accessories collections are featuring plenty of rose gold design for brides and bridesmaids.
One of the best romantic and elegant colour palettes for winter weddings has to be blush pink with hints of rose gold and I absolutely adore this delicious theme. Bridesmaids in blush pink with rose gold accessories, you in a delightfully soft and dreamy gown with an exquisite rose gold hair comb and rose gold earrings is a thought that always makes me smile. The rose gold really warms the blush pink, especially in the bright, almost harsh, winter light and it's super flattering on all skin tones too. This is the ideal look for modern brides who still want their wedding to include more than a touch of romance. The rose gold adds a contemporary flair to blush pink and so opting for rose gold wedding accessories really does finish this look brilliantly.