Kelly & Rowan's Real Wedding by Chris Downton Photography
When we were contacted by beautiful bride Kelly with images for our Brides of Style Gallery we just knew we had to feature her inspirational wedding on our Real Weddings blog. We are thrilled to bring you this stunning outdoor wedding which was delightfully captured by the talented Chris Downton Photography.
Chris and Helen Downton have worked together as wedding photographers for the past 10 or so years and have developed a fresh, stylish and eye-catching style which includes a mix of reportage and classic images. Helen explains "We pride ourselves on being friendly, unobtrusive and thoroughly professional, with an unstuffy approach and just the right degree of intervention to help couples achieve natural, relaxed photos which allow their true character and enjoyment to shine through".
For weddings the pair aim to "capture faithfully the special atmosphere of each couple's wedding celebrations. Our approach is "observational" – we create pictures from scenarios occurring naturally as events unfold, (rather than taking over a big chunk of the day for endless line-ups) and we're both on the lookout for emotion and interaction between the couple and their guests. We also pay particular attention to all the important details into which brides put so much care and thought. So that we have a good rapport on the day, we like to get to know our couples beforehand, learning about their families and hopes for their big day".
Helen found Kelly and Rowan a joy to work with. Helen said it was "obvious they were made for each other, extremely photogenic, full of energy and (Kelly in particular) bursting with ideas. I was full of admiration for Kelly's vision and attention to detail: the bouquets and floral arrangements in soft muted tones; the beautiful dress handmade by her mum, featuring exquisite lace panels and a crest carrying special meaning for the family; the personal and fun touches to the wedding breakfast, such as their table plan – in an ornate frame and on first glance formal, but on closer inspection revealing an image of a superbike! (a passion echoed in their use of motorcycle racing champions for their table names)".
Kelly is clearly incredibly proud of her stunning wedding dress which was designed by her and her Mum and then hand sewn by her incredibly talented Mum, Wendy, and I am sure you will agree, it is absolutely gorgeous. Kelly chose to accessorise her dress with three simple items of jewellery – a pair of 0.66ct princess cut diamond earrings set in 18 ct white gold, that were bought for her by her late Grandfather, and the two items she purchased from Glitzy Secrets – Glamour of Gatsby bracelet and Twenties Romance Headpiece.  Kelly explains her reason for choosing to buy from Glitzy Secrets was the simple fact that "your jewellery is stunning! It is so beautifully and intricately designed, nothing else I saw compared".
Helen and Chris were clearly delighted with Kelly and Rowan's choice of wedding venue – "They chose an outdoor ceremony in the White Garden of the magnificent Birtsmorton Court, a medieval moated manor house set in rural Worcestershire against the backdrop of the Malvern Hills. Its combination of elegant historic buildings and stunningly picturesque grounds with fabulous, friendly service from the wedding planning team make the Court ideal for romantic, relaxed celebrations. We all watched the weather forecasts rather nervously beforehand, but in the event there was no need for our wet weather plan and Kelly and Rowan thoroughly enjoyed their wonderful summer wedding day in the great British outdoors – and we're immensely proud to have captured all this in our pictures!!"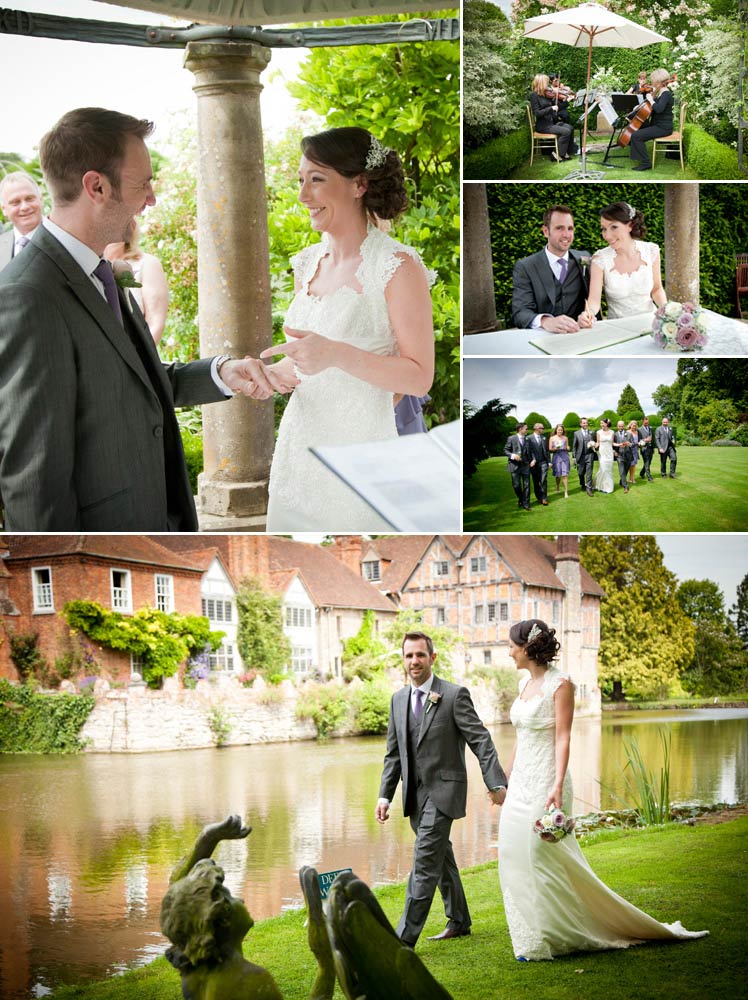 We hope you agree with us at Glitzy's – this is truly a beautiful outdoor wedding in a magical setting!