Do You Know The Tradition of Wedding Garters?
Bridal garters have long been a customary part of a bride's attire.  But have you ever wondered about the history behind this wedding tradition?  Why do we adorn our perfect (ahem) pins with a pretty accessory? And why on earth have grooms chosen to throw an item of our lingerie to their male guests in a similar way to the bride throwing her bouquet?
It all stems back to the Dark Ages when it was customary for relatives and guests to accompany the happy couple to their marital bed. The guests would then toss the bride's garter at the groom's nose and it was thought that whoever managed to get the accessory to land on the groom's nose, would be the next to marry.  Unfortunately for the bride, as time passed it was seen to bring good luck if guests also got a piece of the bride's clothing in the process and the tradition became more and more rowdy. With male guest's tearing at the bride's dress and attempting to remove the accessory themselves, a more refined tradition was introduced where the groom removed the bridal garter himself before throwing it to the awaiting crowd.  The lucky male guest who received it would then wear it proudly on his hat, before giving it to the girl of his choice for luck.
There are many variations of the custom.  One of which, from the 19th century, alludes that local youths would race from the church to the bride's house.  Whoever reached the destination first was considered the winner and would have the honour of removing the bride's left garter which he would then tie this around his own true love's knee to ensure faithfulness.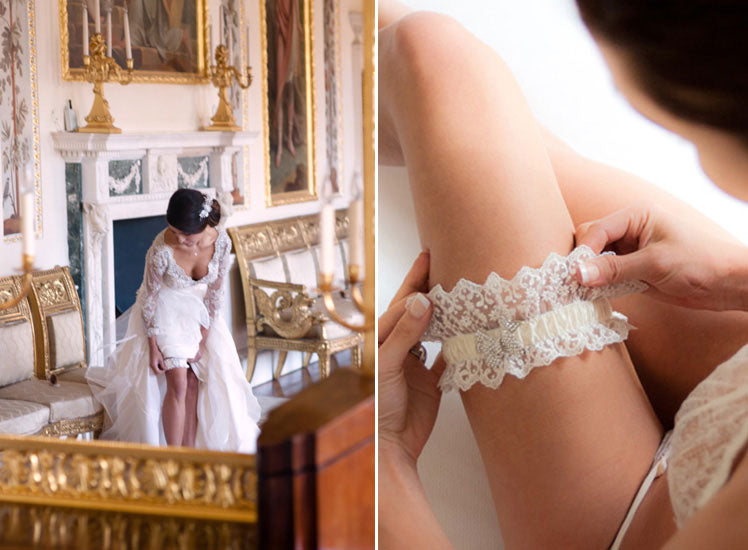 Thankfully, for brides today, the custom has become much more refined with most couples preferring to acknowledge the tradition in a more refined way by posing for the classic photograph. Where the custom of tossing the garter is followed, brides will now often wear two. Thought to originate in North America, a simplified tossing garter is removed by the groom and thrown to the male guests and the other is kept by the bride as a treasured keepsake of her Special Day.
Will you wear a bridal garter and follow one of the oldest wedding traditions on your big day?