The Perfect Summer Flowers for your Wedding Bouquet
When it comes to choosing wedding flowers, summer brides get the pick of the bunch. From fluffy peonies in early July to decadent garden roses throughout the season, there's a wealth of choice and colour waiting to be explored. Often forgotten sweet peas and lavender make beautiful arrangements too paired with fellow summer blooms or hand-tied on their own in delicate flowing bouquets. Let us help you with make your floral choice with some of the best blooms for a summer wedding.
Sweet peas
Appearing in late spring, these pretty flowers are relatively hardy despite their delicate appearance. They have a lovely free-flowing quality that suits the fun and fresh feeling of wedding bouquets and are known to last well in different temperatures. Often overlooked in favour of the more popular rose or peony, the informal sweet pea makes the perfect bouquet simply tied together or arranged in a centrepiece at rustic and country weddings. Widely seen in shades of pink and purple, the relaxed petals of this sprightly flower seem to have a personality all of their own.
Images: Top Left via Brides | Top Right via Style Me Pretty | Bottom Row via Brides (as before)
Gerbera
If flowers had a personality, the gerbera would fun and happy. This popular daisy-like flower might seem simple but it comes in a range of colours and looks wonderful arranged in a bouquet with delicate foliage. Part of the sunflower family, it has similarly dramatic, bright petals and a dark centre. White gerberas are often paired with bright roses for a more traditional style and to offset their size and shape but why not let zesty colours sing and embrace the dramatic hues available.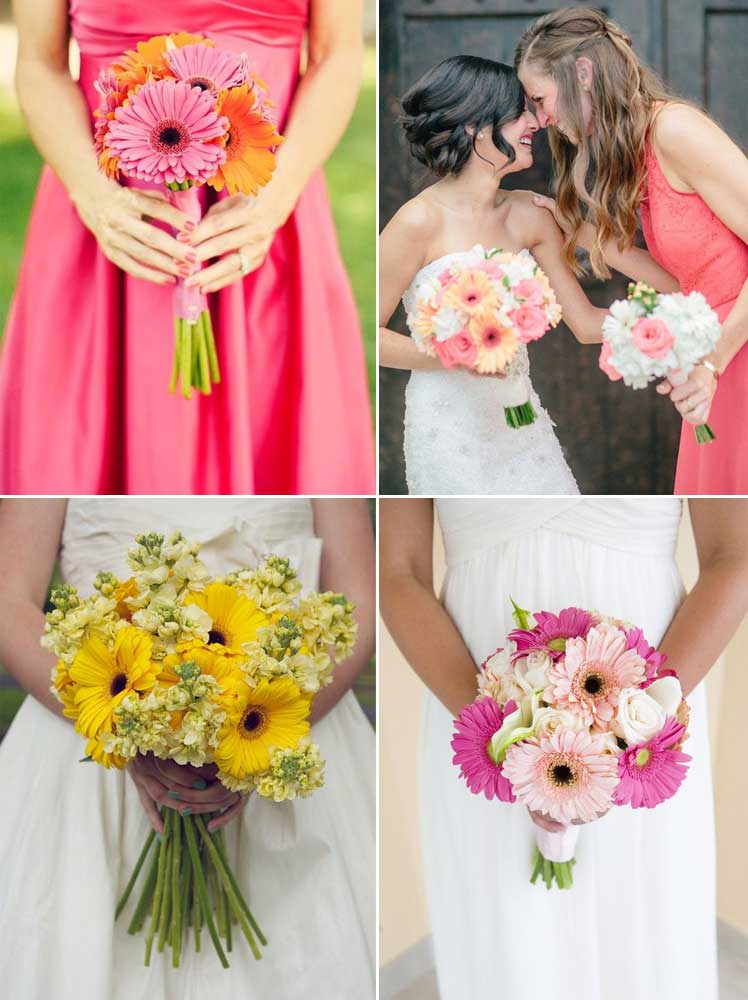 Images: Top Row Left via Indulgy | Top Row Right via Confetti Day Dreams  | Bottom Row Left via Bridesmaid | Bottom Row Right via Style Me Pretty
Roses
With so many varieties, roses continue to be a classic choice because of their natural beauty and huge colour range. With most shades under the rainbow on offer, you can easily match your theme to an exact shade of rose from soft pastels to vibrant sunshine colours. By far the most popular wedding flower, roses are widely recognised as a foolproof choice for beautiful hand-tied bouquets. A style chameleon, the rose works perfectly with so many special day styles; from soft, muted blush tones set amid wild foliage is perfect for a rustic or country wedding day, to a chic posy of all white roses for a stylish city wedding. Remember that a display of white and cream roses can be just as effective as a multitude of colours.
Images: Top Row Left via Artfully Wed | Top Row Right via Belle the Magazine | Bottom Row Left via Love My Dress | Bottom Row Right via Elizabeth Anne Designs
Lavender
Inspired by bountiful fields of purple petals, the humble lavender flower is becoming ever present at summer weddings. Famous for its beautiful scent, this unassuming flower offers an effective and inexpensive way to decorate your venue and create a photo-worthy bouquet. Often paired with delphiniums and cornflowers, lavender works well grouped together in large scale arrangements particularly when the props used to house the flowers are unusual. Use discarded milk pails, old baskets and wooden crates as alternatives to traditional vases to show these flowers at their best.
Images: Left via Wedding Party App | Middle via Style Me Pretty | Right via English Wedding Blog
Hydrangeas
A big bloom with lots of impact, the hydrangea is a faithful friend with just a few bunches forming a dramatic centrepiece. They bloom profusely in summer making them a good, inexpensive flower for weddings in June, July and August. There are over 75 varieties and they come in shades of white, blue, purple and pink, so there's plenty of choice. Their light, chiffon-esque petals move gently in the breeze and complement the soft folds of a wedding gown perfectly. The perfect summer wedding flower to make a statement with an air of femininity.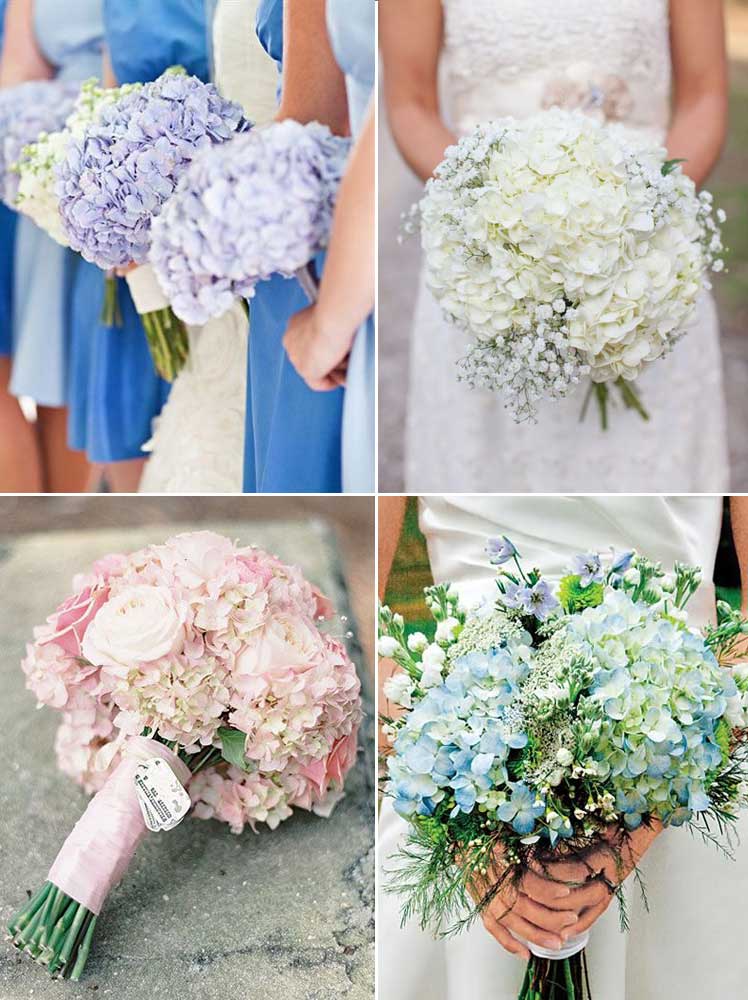 Images: Top Row Left via The Knot | Top Row Right via Wedding Colors | Bottom Row Left via Project Wedding | Bottom Row Right via Destination Wedding Mag
Peonies
A real crowd pleaser and a beautiful choice for brides tying the knot in early July, this soft, feminine flower has layers of delicate ruffles that echo the folds of a tulle wedding dress. Thanks to their large open heads, a collection of five or six is enough to produce a sizeable bouquet with an abundance of impact. Peonies work best in hand-tied bouquets or alongside ranunculus, dahlias and roses in a single-coloured arrangement that showcases their beautiful texture. Unfortunately, they're only available in early summer but large David Austen roses make a very worthy alternative.
Images: Top Row Left via Wedding Chicks | Top Row Right via Brides | Bottom Row Left via I Take You | Bottom Row Right via Wedding Chicks